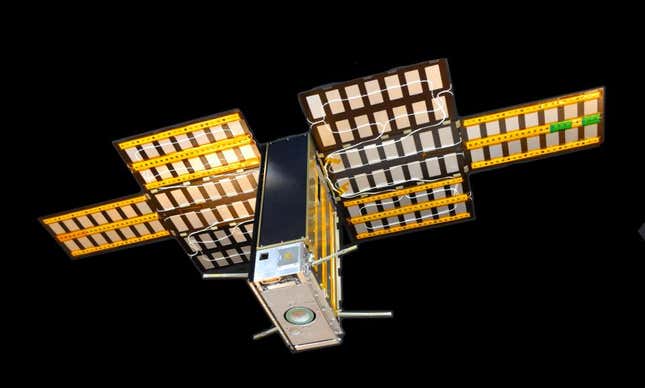 A shoebox-sized satellite may soon meet its untimely death after failing to fire its thrusters. The cubesat may have been compromised as it excessively waited for launch on board NASA's Space Launch System (SLS) rocket in advance of the Artemis 1 mission last year.
Three Astronauts May Be Stranded on the ISS After Disturbing Soyuz Coolant Leak
Engineers have been working to try and salvage the LunaH-Map cubesat mission, hoping to engage its propulsion system and give it a second chance at entering lunar orbit. It may be too late for the tiny satellite, however, as the team behind the mission could end its operations at the end of this month.
Speaking at the Interplanetary Small Satellite Conference on Monday, Craig Hardgrove, the mission's principal investigator at Arizona State University, revealed that the team would officially call off the mission by the end of May if they cannot ignite the cubesat's propulsion system, SpaceNews reported.
The team is trying to free a stuck valve inside the system, which may be what's preventing the cubesat's thrusters from firing. "At some point, we may burst through the valve, which could be good or could be very bad," Hardgrove said. "It's really all we have left to try at this point."
LunaH-Map, short for Lunar Polar Hydrogen Mapper, is designed to orbit the Moon and explore possible water-ice reservoirs beneath its surface. NASA launched the satellite on November 16, 2022, along with nine other cubesats, as secondary payloads aboard the Artemis 1 mission. Luna-H Map was one of six Artemis cubesats capable of transmitting confirmation signals to ground teams, while the other four remained silent and were never heard from again.
Hardgrove blamed the multiple delays of the Artemis 1 mission for the cubesat's unfortunate fate. The cubesats were tucked inside NASA's Space Launch System rocket in mid-2021, and the mission teams had no way to access their payloads until launch. "We had informed NASA that this propulsion system was not built to withstand a long launch delay, longer than four or five months," Hardgrove said, according to SpaceNews. "If we didn't have to wait over a year, I think we would at least have had a chance at conducting our full science mission."
Luna-H Map's thrusters use iodine as propellant, which Hardgrove suspects may have vaporized during the cubesat's long wait inside the rocket. As a result, the satellite failed to fire its thrusters, preventing it from performing its intended lunar flyby on November 21, 2022. Data collected by the mission engineers suggest that a valve within the spacecraft's thrusters is partially stuck, and they are attempting to use heaters in the propulsion system to free the valve.
The team still has a couple of weeks to try and free the pesky valve in hopes that the tiny satellite can perform some science in orbit.
For more spaceflight in your life, follow us on Twitter and bookmark Gizmodo's dedicated Spaceflight page.