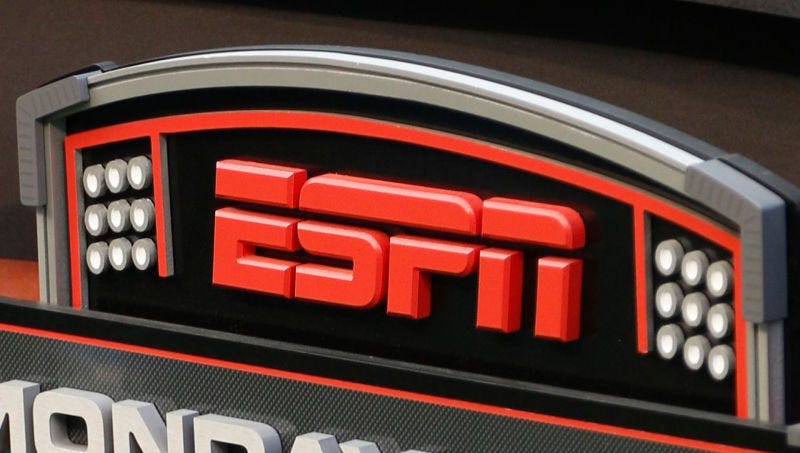 Yesterday Disney CEO Bob Iger went on CNBC's Closing Bell to talk about the company's earnings, and brag about Black Panther's extraordinary ticket pre-sales. During the course of the chat he mentioned a new streaming service for ESPN that's expected to go for $5 a month. That might sound cheap, but by all accounts it looks like ESPN's new streaming service, ESPN Plus, will be a total ripoff.
It's no secret ESPN has been struggling. The behemoth sports news and broadcasting franchise laid off 150 employees last November, after a previous bloodbath layoff spree in April that saw many high profile analysts and hosts tweeting about a sudden lack of employment. ESPN's subscription base has shrunk over the last few years, even as the company spent billions (billions!) on broadcast rights for major sports leagues. As noted by Deadspin last year this was a bad move for ESPN.
Which is why, on the surface, ESPN's push into streaming seems like a smart play. It can give the cordcutters a taste of what they're missing for a measly five bucks a month. I spend more than that on Seamless!
But the scant details Iger provided about ESPN Plus, the new service, paint a picture of a crap service. Iger told Closing Bell that ESPN Plus would "include an array of live programming that is not available — live sports, live sports events — not available on current channels."
Which presumably means the big game all your friends are watching with their ESPN subscription, through their cable, satellite, or streaming service provider, would not be on ESPN Plus. There's no guarantee your smaller passion team would appear on the service, either.
According to CNBC, the "platform will feature about 10,000 sporting events each year, will have content from the MLB, NHL, MLS, collegiate sports, and tennis' Grand Slam events." Which, again, sounds pretty good! Yet Major League Baseball, the National Football League, and the National Hockey League all provide their own streaming services, and those services start, at minimum, at around $4 a month. It seems unlikely that they will provide the same content to ESPN's service for a lot less money.
So what you're really looking at isn't great live streams of first-run games you're invested in, but the castoffs and cheapies. Or worse than cheapies. Iger said that the programming is the stuff not available on current channels—which means the stuff so boring that ESPN can't even bother to broadcast it now.
Why on earth would anyone pay $5 a month for ESPN's crummy sports cast offs? Instead you can spend $20 on Sling TV or $35 on YouTube TV for live broadcasts from ESPN and its rival Fox Sports Network. Then, if that doesn't cover all the gaps for your particular events, you can pay the leagues directly.
None of those options are necessarily cheap, but they at least let you watch the sporting events you want at the time you want. ESPN Plus basically sounds like a new, crummier ESPN channel for $5. Unless the company announces some really cool events, it's not worth the price of a mocha.