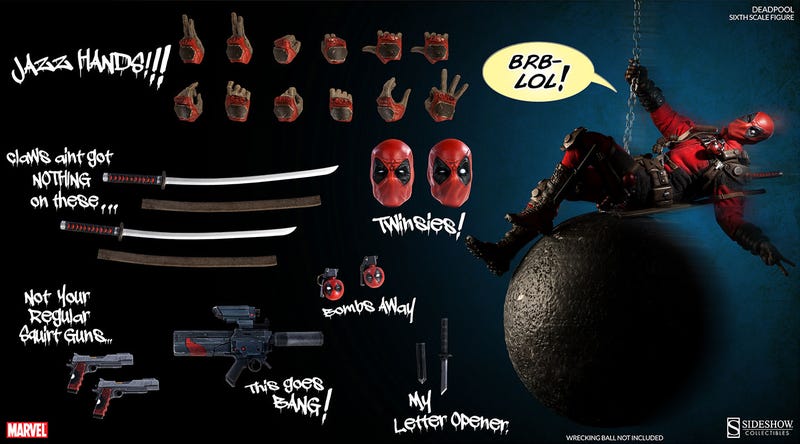 Sideshow Collectibles are kicking off their line of Marvel 1/6th scale figures with a new figure of the Merc with a mouth - and judging by the promo pictures, I'm not entirely sure there's any fourth wall left to break after this.
Deadpool's preorders go live today, with each figure coming with a bunch of weaponry as well as 6 alternate pairs of hands, an alternate head and even a bunch of nameplates to recreate his wacky internal monologue (unfortunately, the wrecking ball is not included):
It's been a pretty good week for 1/6th Scale collectors between this and Hot Toy's remarkable Star Wars figures from yesterday.
If you're interested in picking one up when it comes out (there's no confirmed release window yet, but expect sometime next year, as it usually is with these sorts of figures), Deadpool will set you back $230. Check out plenty more pictures at the Sideshow Blog linked below!
---
You're reading Toybox, io9's new blog for all things pop culture. From merchandise to awesome fan creations, TV recaps and critical commentary on the hot topics of the day, you can find it all here!