What a week for me. I got to talk about both Bill Gates' prison record with him, and touch the iPhone for 15 minutes. No one saw it coming — the rumored touchscreened iPod and iPhone are the same device. Hell, we didn't even know it was going to be called an iPhone after Cisco claimed the trademark.
In case you missed it, here's everything we know about the iPhone, including our own hands on, photos, videos, and more. (Macworld Photos by wonderboy Logan Kugler)
And if you'd like to relive the keynote, here's a link to the entire event, unfolding post by post. Ugh, I'm such a fanboy, I disgust myself. DON'T LOOK AT ME! <-SHAME.
If you're not in the mood to hear about the iPhone anymore, remember, we're only 50% through CES.
G/O Media may get a commission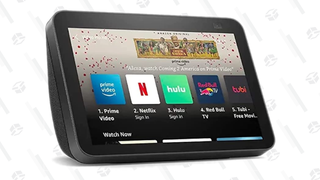 Apple iPhone [Gizmodo]
Macworld Keynote 2007: Chronological order [Gizmodo]
CES 2007 [Gizmodo]