You've heard Terminator: The Sarah Connor Chronicles has approached Battlestar Galactica levels of awesomeness, but you're hopelessly behind. No worries! Here's everything you need to know to watch tomorrow's season finale, with exclusive behind-the-scenes pics.
Terminator: The Sarah Connor Chronicles started out as a continuation of the first two Terminator movies, but it's developed into a complex story about divided loyalties and compromised humanity. Season one picked up after Terminator 2, with Sarah and John Connor on the run after destroying Cyberdyne Systems and (they thought) averting the robot apocalypse.
And then in season two, things got seriously twisted.
Here's everything you need to know about what's happened to our heroes, with some amazing BTS pics. If you want to see any of the recent episodes for yourself, they're all online at Fox On Demand. (Oh, and there are spoilers, up to and including last week's episode, "Adam Raised A Cain.")
Cameron, the teenage-girl Terminator:
G/O Media may get a commission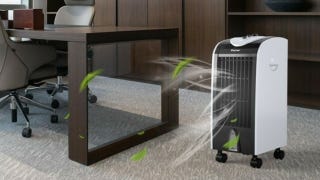 Save $10
Evaporative Portable Air Conditioner Cooler with Filter Knob
Summer Glau (from Firefly) plays Cameron, a Terminator who comes back and saves John Connor from another Terminator. She whisks the Connors forward in time to 2007, and (apparently) helps them find Skynet.
But at the end of season one, she got caught in a car-bomb explosion, and the chip damage made her revert to her original programming: to kill John Connor. The Connors almost killed her - and when she was begging for her life, she told John she loved him. (Was she lying? We still don't know.)
John managed to repair her chip, but she's still shown signs of glitches since then. She's worried that she might go bad again, so she's planted a bomb in her own head, and given John the detonator on a chain around his neck. Meanwhile, Cameron has followed up her declaration of love by acting seductive around John, laying on a bed next to him at one point in a come-hither pose. When John had a girlfriend, Riley, Cameron saw her as a threat - and not just to John's safety.
At the same time, Cameron sometimes lies to John about what she gets up to when he's not around. In general, Cameron seems to have an agenda to make John more dependent on her. Which brings us to...
The U.S.S. Jimmy Carter:
The show recently had a two-part episode featuring a lot of scenes set on a nuclear submarine in the year 2029, or thereabouts. The doomed mission of the U.S.S. Jimmy Carter was like a microcosm of everything that may have gone wrong with John Connor in the future, thanks to his dependence on Cameron.
Instead of human resistance fighters being in charge of this mission, they were placed under the command of a Terminator, who'd been reprogrammed to fight on their side. According to Jesse Flores, who was "Captain Queeg's" second-in-command, that wasn't an unusual circumstance: John Connor has reprogrammed Terminators serving in every base, and sometimes they revert to their original programming with no warning. (Just like Cameron.)
None of the humans on the Jimmy Carter was privy to the nature of their mission, which was to collect a liquid metal Terminator from a seabase. The sub's Terminator captain's secrecy drove a wedge between the captain and the crew, and then their lethal cargo got loose and started killing people. In the end, Jesse had to dispose of her captain, and scuttle the submarine.
But before Jesse abandoned the sub, the liquid metal Terminator delivered a message for John Connor: The answer was no. What was the question? Apparently, Connor was seeking an alliance. Jesse tried to deliver this message, but she couldn't see John Connor face to face: she had to deliver it via his aide... Cameron, the same Terminator who follows Young John around.
So in a nutshell, in those episodes, we learned that the future version of John Connor is so dependent on machines that he's cut off from his human comrades. (We don't even know if Future John is still alive, or if the machines are just pretending he's the leader.) He's considering making an alliance with what appears to be a rogue faction of Terminators, against Skynet. So in a sense, the future Resistance is close to becoming a war between machines, not humans against machines. And it's all because John Connor spent his whole life depending on Terminators to protect him against Terminators. (First Arnie in T2, then Cameron.)
So Jesse decided to try and drive the young version of John Connor away from Cameron. She brought a cute blonde, Riley, back from the future, and sent Riley to seduce John. She became John's girlfriend, and then Jesse found ways to make Cameron see Riley as a security risk. Cameron was supposed to kill Riley, showing John that he couldn't trust his Terminator bodyguard. It didn't work - but even Cameron had killed his girlfriend, John admitted that he wouldn't have gotten rid of Cameron anyway. John's already resigned himself to the need to use machines to fight machines, however risky it may be.
Sarah Connor's Crazy Quest:
Sarah Connor agreed to jump forward from 1999 to 2007 because it was her best chance of stopping Skynet. But stopping Skynet has turned out to be a lot more complicated than it first appeared. The 1990s version of Skynet was a single project, developed by one company. The new iteration has many pieces, and at times it seems like artificial intelligence and super-weapons are being developed everywhere you look.
This target-rich, intel-poor environment has driven Sarah to paranoia and conspiracy-mindedness. Her best clues to Skynet's genesis came from a Resistance fighter from the future, who died in her garage - but first, he managed to scrawl a bunch of clues in his own blood. She chased down several of them, but the most mysterious remain three dots, in a triangle pattern. A dying attempt at pointilism, in the style of early Seurat? Or a symbol of Skynet's future?
The three dots led Sarah to a UFO conspiracy fair, where she met someone who used to work at a hidden factory - which turned out to be building prototype aerial Hunter-Killers, the VTOL assault vehicles Skynet uses to kill people in the future. That factory got destroyed, but at least two people escaped. One of them, George McCarthy, escaped with one of the prototype Hunter-Killers. The other, Ed Winston, kidnapped Sarah and drugged her, then implanted a GPS tracker into her breast.
Following that GPS tracker, some people (who are strongly hinted to be working for Skynet) attacked John Connor. Whoever sent those people then sent a Terminator to kill Savannah Weaver, the daughter of ZeiraCorp CEO Catherine Weaver. (It failed, but it did manage to kill Derek Reese, John Connor's uncle.)
The Toys In The Basement:
So who exactly is Catherine Weaver (Shirley Manson)? She's a liquid metal Terminator, which killed the real Catherine Weaver and her husband a year ago, and took Catherine's place. (We don't know if she's the same liquid metal Terminator who wreaked havoc aboard that submarine.) Since then, she's been steering her company, ZeiraCorp., in a brave new direction... involving artificial intelligence.
Catherine Weaver paid someone to steal a super-advanced A.I., which the Connors had been tracking. This A.I. was special: it didn't always follow the rules laid out for it, and it sometimes told riddles. She gave it everything it needed to accelerate its development. And she recruited James Ellison (Richard T. Jones), a former FBI agent who'd been investigating Sarah Connor, to teach the A.I. right and wrong. Eventually, they hooked it up to the body of a defunct Terminator, so it could speak to people, and even play with action figures.
The A.I., now known as John Henry, formed a sort of friendship with Ellison, and also became close friends with Catherine Weaver's daughter Savannah. But even as he's been learning the value of human life, he's also been learning that sometimes you have to lie. And that sometimes people are expendable, for the greater good.
And then John Henry came under attack from another A.I., one with the same code base as his own. This "brother" A.I. launched a highly sophisticated worm that took over 75 percent of the world's computer systems, seeking John Henry. (It's implied, but not definite, that the other A.I. is the nascent version of Skynet.)
In the most recent episode, John Henry wonders if he and the other A.I. are acting out the story of Cain and Abel. Catherine Weaver replies that perhaps, in this version of the Cain/Abel story, John Henry is God.
There's A Showdown Coming:
I know exactly as much as you do about the season finale, but it's clear that a showdown is coming. Sarah and John Connor have just found out that ZeiraCorp's basement harbors a super-advanced artificial intelligence, hooked up to the body of a Terminator that they killed. (And Ellison lied to them about this, repeatedly.)
And now Sarah has just gotten arrested by the cops, on the suspicion that she was involved in the kidnapping of young Savannah. (And she's a wanted terrorist, from her days of destroying Cyberdyne Systems.) So John and Cameron are on their own, with the knowledge that one of their allies has been secretly working to develop an A.I. that sounds like Skynet.
Meanwhile, a confrontation between John Henry and his "brother" A.I. seems almost certain - although who knows if it'll happen tomorrow night?
Unanswered Questions:
Here are some of the questions that we hope tomorrow night's episode will answer, or at least provide some hints on:
Why has Catherine Weaver been mothering a Skynet-esque A.I. anyway?
And is she actually the liquid metal Terminator that Jesse met on that submarine?
What is the meaning of those three dots?
Is John Henry's "brother" really Skynet? If so, what part does John Henry play in the future?
Did John really send Cameron back in time to protect himself? What's her real mission?
How much does Ellison really know about what he's gotten himself into?
Just how far will John Henry take this "human life is expendable" lesson he's learned?
Who was behind the factory making those Hunter-Killers? And what happened to the prototype that George McCarthy took?
Just how crazy is Sarah Connor anyway?
Many thanks to Fox/Warner Bros. for these behind-the-scenes pictures from the series.