It's that time of year again. To enjoy the great outdoors, we're supposed to spend our precious few weeks of vacation abandoning all the luxuries we work so hard buy, then hike deep into mother nature, and rough it for a few days like our ancestors did.
It's hard to argue that fresh air and a quiet lake aren't an extremely enjoyable way to relax. But at the end of a day in the woods, do you really want to crash in a nylon tent with nothing but beef jerky and reconstituted stew in your belly? Not at all. So here's everything you need to make roughing it not so rough. You can have your s'mores and eat them, too. [jump]
There's really no better way to relax than with access to an endless supply of decadent food. Why do you think cruise ships put on those elaborate buffets? So instead of heating up dried rations over a fire, you can fix delicious five-course meals on this portable deluxe camping kitchen that packs everything—including a simple kitchen sink.
G/O Media may get a commission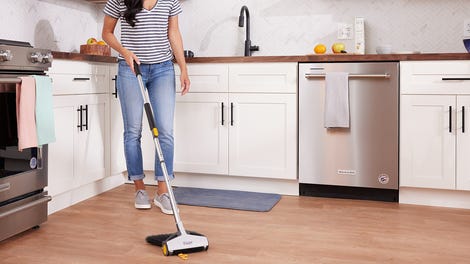 BOGO 50% Off
Flippr - BOGO 50% Off
You'll have to add the propane stove yourself, but everything else a chef away from home could possibly need can be stashed in this compact kitchen's cubby holes and shelves. And the whole thing packs up into a moderately sized case, ensuring that wherever you spend the night, you'll end your day's adventures with a fantastic meal. $160
There is some charm and romanticism to spending an evening in a tent, listening to all the creatures of the night, and enjoying the fresh smell of pine trees. But who wants to lay on the cold forest floor?
These Tentsile tents are designed to hang between multiple trees like a massive hammock, serving as a comfortable way for up to eight persons to sleep without the risk of having the local wildlife breaking in. They're almost like a portable condo in the woods, minus the condo fees and guilt of never tipping the doorman. Coming Soon
There's nothing stopping you from having a relaxing soak or even taking a quick bath in a lake—except for the fact that the water temperature is usually cold enough to put you in shock. So when you head out into the woods be prepared for your thrice daily bathing needs with this inflatable heated spa.
With an air pump, it inflates in mere minutes, and thanks to its portable heater and water pump you can climb in and enjoy the swirling currents heated up to 104°F. On top of all that, there's no risk of encountering leeches, fish, or other underwater creatures brushing past your legs. That alone is worth the price of admission. $650
Many people feel that camping is supposed to be about getting away from it all. But tell that to the people who run the major broadcast networks and keep pumping out great content all summer long. Who can be expected to leave that behind? With this portable satellite dish, no one has to.
To set up the VQ3000, all you have to do is place it where it has a clear view of the southern sky. Everything else is fully automatic, and in seconds you'll be enjoying the same satellite TV service you do at home. It's even got built-in active motion tracking so you can still get perfect reception while driving, as long as you're already paying for satellite service from one of the big providers. That's not included in the price tag. $1,700 plus service
Sure, hiking is a great way to get in tune with nature. Until you twist an ankle, step in poison ivy, or even have to start trekking uphill. Then it stops being enjoyable, and, instead, starts to feel like a death march. So while the Segway hasn't exactly caught on in all cities, it's the ideal tool for backwoods excursions.
Equipped with extra-large pneumatic tires, a handlebar pouch for carrying a water bottle and tools, and re-inforced cargo plates, the Segway x2 Adventure can carry you—and all of your gear—into the great outdoors. Just make sure you don't ride it for longer than half of its expected battery life. Otherwise, you'll have to carry this back to your vehicle on top of all your other gear, or just abandon it to mother nature. $7,400
Leaves? Do experienced campers and hikers really expect you to use leaves after taking care of business deep in the woods? It's bad enough you have to dig a hole to hide what you just did, but using the local foliage to clean up the scene of the crime is reprehensible. You should always travel with a roll of toilet paper, and since you'll probably be well away from streetlights and the such, this glow in the dark option is even better.
While far more expensive than your run-of-the-mill variety, this TP is highly visible even in the dark of night. So it makes it easier to find where you're going, and to keep tabs on what you're doing. And if you should get lost along the way, embalming yourself like a toilet paper mummy will make it extra easy for search parties to find you in the dark. $7
But who are we kidding. The only way you're actually going to enjoy a week-long camping trip is in a monstrous motorcoach packed with all the amenities of home. And Vario-Mobil's Perfect model has all that, and then some.
Besides the usual luxury features like air conditioning, a full bathroom, a home entertainment center, and an elaborately equipped kitchen, the back of the aptly-named Perfect hides an actual garage with enough capacity to carry a Smart car wherever you travel. It's perfect for day trips and shorter excursions where driving your massive bus is a challenge. And when pulling into town to dine in style, should you really trust your home away from home to a valet? $1.4 million