Over the next month, NOVA is going to confirm what most sci-fi enthusiasts already suspect-that everything we've been taught about space and time just might be total B.S. The past is not just a series of faded events, the future isn't yet defined, and despite what science prudes say, we probably aren't alone.
The Fabric of The Cosmos, the four-part follow up to acclaimed physicist Brian Greene's The Elegant Universe, takes an intensely in-depth look at all we think we know-and then turns it upside down. So in the weeks leading to the November 2 series premiere on PBS, we'll be giving you a brief primer on what to expect from each brilliant episode. So far we've explored space,time, and a little concept known as quantum mechanics. Today, we take one step farther into the unknown, in order to understand the theory of the multiverse.
G/O Media may get a commission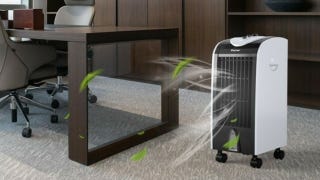 Save $10
Evaporative Portable Air Conditioner Cooler with Filter Knob
Just when you were positive that you were indeed a unique snowflake, "Universe or Multiverse?"—the final installment of The Fabric of The Cosmos—melts all those notions away. Brian Greene ventures to explain the hard-to-swallow, yet scientifically plausible theory of alternate realities. Imagine a world, eerily similar to our own, populated with familiar faces—namely, yours. Some physicists believe that it's entirely possible that somewhere out there, in the infinite abyss, we each have a doppelganger. Explore each of these Bizarro worlds with Brian Greene, and learn about the concrete science that continues to awe even the hardest of skeptics.
Check out the trailer to the left, then head here to get up to speed on the very real science behind the series. And don't forget to tune in to NOVA's The Fabric of The Cosmos series starting on Wednesday, November 2 at 9/8c. Only on PBS.
[CGI of multiple universes from The Fabric of the Cosmos: Multiverse or Universe?]