A certain Chinese noblewoman—potentially Lady Xia, grandmother to the first emperor of China—had a menagerie buried with her in her tomb: a leopard, a crane, an asiatic black bear, a lynx, and, most notably, a gibbon. That gibbon was part of newly identified, now-extinct genus and species, researchers reported Thursday. The existence of a previously unknown gibbon that lived just 2,200 years ago suggests that throughout history, humans may have caused even more ape extinctions than we thought.

"We assumed all of the [gibbon] species alive today were the ones alive in the past," said James Hansford, a zoologist at the Zoological Society of London who studied the gibbon skeleton. "But the fact that we've discovered this new genus indicates there was at least one or maybe more gibbons that we had no idea existed. They're far more vulnerable to human impact than we thought before."
The tomb is located in what is today the Shaanxi province of China. At the time, gibbons were highly regarded by the Chinese, and it wasn't uncommon to bury noble people with important items and treasures, Helen Chatterjee told Gizmodo in an email. Chatterjee is another of the study's authors and a primatologist at University College London. "We know that gibbons commanded high cultural value due to the considerable amounts of chi (energy) that they channeled—hence why we see gibbons appearing in poems, stories, and artworks throughout many Chinese historical periods."
Chatterjee, Hansford, and their colleagues determined that the ape belonged to a different genus than today's gibbons by studying its facial structures and the shapes and sizes of its teeth. Those features were significantly different enough to place it in a new category, as described in their study published today in Science. Hansford told Gizmodo that it was very lucky to find such a well-preserved gibbon skull.
"You just don't see preserved gibbons like this," he said. "They're too fragile and break down too easily, especially with scavenging from rats and such."
G/O Media may get a commission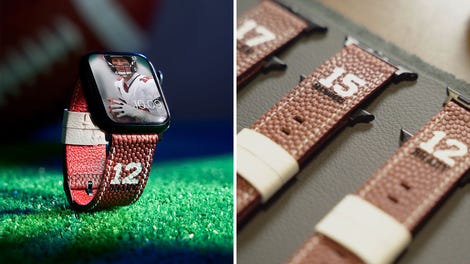 Official NFL PRODUCTS
Official NFL Apple Watch Bands
They named the gibbon Junzi imperialis—using the Chinese word Junzi, which means "scholarly gentleman" or "man of virtue or noble character."
Though a "natural" extinction not related to humans might have been the case for Junzi, Hansford and his co-authors argue that it's extremely likely the species died out at the hands of people.
"It can't be ruled out this is a natural, climate-driven extinction, but the Holocene has been the most stable period of climate the world has seen," Hansford said. And at the rate ancient people in China expanded cities and agriculture, it's very probable gibbon habitats were destroyed and even that the animals were hunted.
Today, gibbons occupy southwestern China, Vietnam, Laos, and Thailand. They are apes, not monkeys, and share a common ancestor with the great apes (gorillas, bonobos, chimpanzees, and orangutans) between 16 million and 20 million years ago. Like other apes, gibbons are highly threatened by humans.
"There are four species of gibbons in China today, and if you add up all four species, it comes to about 1,500 individuals," said Paul Garber, a primatologist at the University of Illinois who wasn't involved in the new study. Gibbons today are most often in danger from habitat loss from human farming and urban expansion, Garber told Gizmodo.
One gibbon species, the Hainan gibbon, occupies an island in southern China and has fewer than 30 individuals left. Another, the Skywalker hoolock gibbon, numbers fewer than 200. "If China can't protect them, they're gone," said Garber.
That's why understanding how humans have affected apes in the past is so important.
"It helps us get a better understanding of the evolutionary history of the apes, our closest living relatives, but also helps determine the vulnerability of ape species to human pressures and their conservation requirements," Alejandra Ortiz, one of the study's author and evolutionary anthropologist at Arizona State University, told Gizmodo in an email. "Ultimately, all of this is important to raise public awareness of the rapid extinction of species we are now facing and that we, as humans, are most likely culprits of their extinction."
[Science]