After finally breaking free of an epic drought, you'd think California would be feeling pretty good about itself. But 2017 is the year we can't have nice things.

Turns out, all that rain and snow last winter, combined with a record hot summer to dry things out, primed the Golden State to turn orange with flames. Wildfires left a trail of destruction in the Los Angeles area in early September. Fires also devastated wine country earlier this month. Now, dangerous fire weather and record-setting heat are returning to Southern California this weekend.
An abnormally strong ridge of high pressure will saunter over the state on Saturday and continue to build throughout the week. Temperatures will rise up to 30°F above normal for this time of year.
"The heat associated with the very strong ridge next week will indeed be extraordinary and likely record-breaking, even [for] a region accustomed to autumn heat waves," Daniel Swain, a postdoctoral researcher at UCLA, told Earther.
It could peak on Tuesday when temperatures are expected to reach the 100°F mark in Los Angeles. If that occurs, it would be the latest 100°F day on record for the city. It will also make the first game of the World Series, slated for Tuesday in Los Angeles, very uncomfortable.
G/O Media may get a commission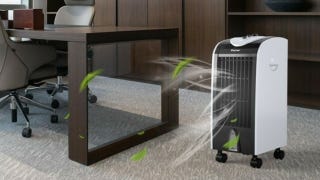 Save $10
Evaporative Portable Air Conditioner Cooler with Filter Knob
Other heat records could fall around the region, including some that have stood for nearly 90 years, according to the National Weather Service's Los Angeles office.
The heat alone will make things extremely uncomfortable, but bad things come in threes, and this heat wave is no different. The ridge bringing the heat will also drive intense Santa Ana winds, ferocious gusts triggered when high pressure moves inland and low pressure sits off the coast. The NWS San Diego office is forecasting winds up to 50 mph on Sunday.
Those winds will also push any humidity out of the region, creating a trifecta of conditions that could turn the weather from uncomfortable to deadly.
Wildfire conditions will spread across the region on Saturday and continue until the middle of next week with "potential for rapid fire growth and extreme fire behavior" according to the NWS Los Angeles.
By early next week, up to 6.9 million people could be affected by critical fire weather, according to the Storm Prediction Center. That's in addition to the fire weather watch spanning much of Southern California this weekend. Along with the threat to life and property, smoke could create hazardous health conditions, particularly for people with asthma or other breathing problems.
While Santa Ana winds and fall warmth are normal, climate change is helping turbocharge basically every heat wave nowadays. The seemingly small uptick in background temperatures is pushing heat to new heights, as evidenced by the way record highs are rapidly outpacing record lows.
In the West, all that extra heat dries out fuels and is making major conflagrations more common. Couple it with humans living in harm's way and our penchant for sparking fires, and you've got a recipe for disaster.
While the coming wild weather hopefully won't spark a disaster like what unfolded in wine country, it's a reminder we really need to be thinking long and hard about our relationship with the climate, nature, and where we choose to build.
If there's any sliver of good news in all this, it's that Northern California will be spared from the dangerous conditions and worst of the heat. But after all of the insane weather, California might just be better off sliding into the ocean at this point. At very least it would help cool things down.