Facebook doesn't like boobs (even when they're just elbows) so much that it banned a mother from the social network for posting pictures of her breastfeeding her children. What's interesting is that Kemp's photos weren't especially revealing (in the explicit sense of the word) and that Facebook actually allows photos of breastfeeding to be posted. What's horrible is that Facebook banned her not once but twice for it. What happened?
Apparently, it was a mistake of Facebook's overzealous all prude and no boob team. Facebook's nudity and pornography policy states:
Facebook has a strict policy against the sharing of pornographic content and any explicitly sexual content where a minor is involved. We also impose limitations on the display of nudity. We aspire to respect people's right to share content of personal importance, whether those are photos of a sculpture like Michaelangelo's David or family photos of a child breastfeeding
Kristy Kemp, the mother who was banned from the 'book, runs a Facebook page for Breastfeeding/MamaTalk and was booted when one of the page's followers posted the picture above even though that picture was clearly of a child breastfeeding. Kemp was kicked out for a day and the photo was taken down.
After being reinstated, another user posted another picture of breastfeeding. This time, Kemp was kicked out for three more days. Kemp had tried to get in contact with Facebook but never heard back until FOX 40 News got in touch. Facebook now says it was all a mistake (even though that same mistake was made two separate times but whatever).
G/O Media may get a commission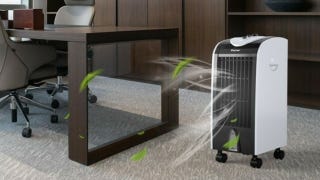 Save $10
Evaporative Portable Air Conditioner Cooler with Filter Knob
Facebook, to its credit, has apologized to Kemp. Facebook said:
"A member of our team accidentally removed something you posted on Facebook. This was mistake [sic], and we sincerely apologize for this error."
Seriously, you can do a lot worse on Facebook than posting pictures of a mother being a mother. Watch the news report about Kristy Kemp and Facebook's boob ban here. [CNET via PetaPixel]