Facebook has hired Nick Clegg, the former UK deputy prime minister, as head of global affairs and communications. Clegg isn't very well-regarded in his home country, but Facebook apparently feels he's the man for the job at a time when its influence over politicians is more crucial than ever.
According to the Financial Times, Facebook co-founder Mark Zuckerberg has spent months "wooing" Clegg to take on the role. With increased regulatory scrutiny in Europe and political fires related to Facebook's role in society igniting in virtually every corner of the globe, the job is a tough one. Eliot Schrage previously held the position for 10 years and left in June. In August, Facebook's top communications executive, Rachel Whetstone, also saw the writing on the wall and headed over to the lucrative and relatively calm confines of Netflix.
Clegg confirmed his role at Facebook in a, uh, Facebook post on Friday. He wrote, in part:
"Facebook, WhatsApp, Messenger, Oculus and Instagram are at the heart of so many people's everyday lives – but also at the heart of some of the most complex and difficult questions we face as a society: the privacy of the individual; the integrity of our democratic process; the tensions between local cultures and the global internet; the balance between free speech and prohibited content; the power and concerns around artificial intelligence; and the wellbeing of our children.

"I believe that Facebook must continue to play a role in finding answers to those questions – not by acting alone in Silicon Valley, but by working with people, organizations, governments and regulators around the world to ensure that technology is a force for good."
We've reached out to Facebook for comment on the hire but did not receive an immediate reply.
After a five-year stint in the European Parliament, Clegg spent a little over a decade leading the Liberal Democrats into political devastation. He became deputy prime minister in 2010, and it was all downhill from there. The party went from holding 57 seats in Parliament to eight in in 2015. He was ousted from public life in 2017.
G/O Media may get a commission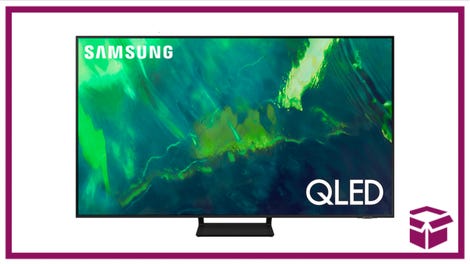 35% off
Samsung Q70A QLED 4K TV
Save big with this Samsung sale
If you're ready to drop some cash on a TV, now's a great time to do it. You can score the 75-inch Samsung Q70A QLED 4K TV for a whopping $800 off. That knocks the price down to $1,500 from $2,300, which is 35% off. This is a lot of TV for the money, and it also happens to be one of the best 4K TVs you can buy right now, according to Gizmodo.
But the Financial Times says that he's attractive to Facebook because of his connections to members of the European Parliament and broader influence across the continent. Facebook has the occasional dust-up with lawmakers in Washington, but that's nothing that record-setting lobbying and a Potemkin war room can't fix. Europeans have taken hard positions on increasing privacy protections and penalizing tech companies for irresponsible practices. Facebook's latest breach of 29 million users' data could result in a fine of $1.63 billion. And the EU's extremely misguided copyright directive looms over every tech company in 2019.
Last year, Clegg wrote an op-ed for iNews UK in which he argued that Facebook is not perfect but is "hardly" a "threat to the continued existence of humankind." It's possible that strong defenses like that made him attractive to Zuckerberg.
Most recently, Clegg has been fighting to stop the Brexit disaster, and it looks like that will be another black mark for his resume.