When you know everything about two billion people but don't want to tell anyone what you know, it's tough to convey an image of transparency without actually being transparent. One solution that Facebook has come up with is hiring Liz Spayd, a former public editor for the New York Times to "consult" on "transparency" in an effort to get everyone to shut the hell up about it.

According to Recode, a Facebook spokesperson has confirmed that Spayd will "help expand early moves to chronicle what it does related to everything from terrorism to fake news to privacy." The job is kind of like being the public editor of a newspaper, but at Facebook—which is not a media company. That position involves listening to the concerns of readers, finding out what decisions led to those concerns, and publicly addressing how those concerns are valid, invalid, or both. Liz Spayd was legendarily terrible at this job. She was so bad at her job that the New York Times just said screw it and completely eliminated her position in June. In other words, she's perfect for helping Facebook not do this thing that it doesn't want to do.
G/O Media may get a commission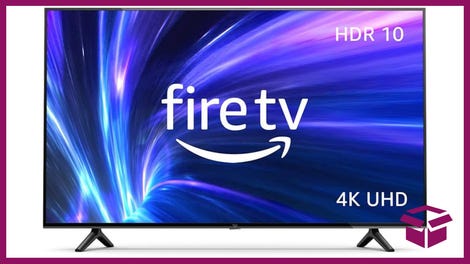 42% Off
Amazon Fire TV 50" 4K Smart TV
The list of things that Facebook is criticized for is virtually endless, but some of the more recent issues include its unique power to proliferate "fake news," its seeming ability to censor photo journalism but inability to stop hate speech, its facilitation of terrorist propaganda, and it's genuinely creepy knowledge of users lives. It likes to either deny that issues exist or drop a 6,000 word essay from Mark Zuckerberg about how seriously his company takes its responsibilities. Recently, the social network—which is not a media company—has attempted to do something about the criticism it faces over the news that's shared on the site. It hired former CNN correspondent Campbell Brown to lead its news partnerships team and former New York Times staffer Alex Hardiman to head its news product division. Spayd is the latest news veteran to enter the fold and look busy.
Spayd's tenure at the Times lasted a little less than a year, and she had the unfortunate duty of taking over for Margaret Sullivan, one of the most beloved journalists in the business. Her time at the paper was consistently mocked by the media elite that cares about such things. For most people, a public editor's column isn't a go-to when they open up the paper, and most outlets don't even have one. But the role can be extremely important for explaining how a paper works or holding it accountable from within. Spayd was often tone deaf and wasn't very good at listening to her colleagues.
In one famous instance, she addressed a reader's concern that the sports section is more focused on longer human interest stories than tallying scores and running play-by-plays. The Times sports editor Jason Stallman explained to her that between the internet and ESPN, readers can easily find all the scores they need. "We don't want to turn our backs on those straight-up sports stories, but we're always looking for what people wouldn't get elsewhere, for what's not being done," he said. Spayd implied that the New York Times sports section can't "afford" to focus on "obscure" stories. But the fact is the Times has great sports writers, easily accessible scorecards on its website, and follows the mainstream news in sports just fine. Stallman's point that people need a reason to look to the Times in a new media landscape just went right over her head.
The incident that really sunk Spayd's reputation was the time that she went on Tucker Carlson and bolstered his biased New York Times narrative by chastising tweets from her colleagues that offered political opinions. When Carlson presented her with some incredibly mild tweets as examples, she said:
Yes, I think that's outrageous. I think that that should not be. They shouldn't be tweeted … I don't know that any of those people should be fired, but I do think that when people go over the line like that, and I think some of those are over the line, that there ought to be some kind of a consequence for that.
Carlson is a talking head that appears on Fox News to praise Donald Trump for staring at the sun, and he founded The Daily Caller, a website that published a "useful" compilation video about mowing down liberal protestors with cars. The bowtie-loving buffoon has never filed a newsworthy story in his life. Meanwhile, Eric Lipton, one the New York Times reporters that Spayd criticized, pointed out that his tweet mocking Ivanka Trump's use of the White House to sell her merchandise was followed by a formal apology from Trump's company.
All of this is to say that Spayd is a bad listener and an even worse interpreter of difficult situations. She might be ineffectual in her new position at Facebook, and I can't imagine Zuckerberg would have a problem with that as long as it looks like she's doing something. But, Facebook also might get some totally absurd recommendations out of left field that it never imagined anyone would be dumb enough to think as a good idea. If the social giant really wanted to create its own internal public editor that was worth a damn, it should've looked to Margaret Sullivan who has written about the company's failings on numerous occasions. Among her recommendations to Facebook that are already on the record, she suggests it acknowledge that it's a media company. But, of course, she's already employed at the Washington Post and doing great.
[Recode]