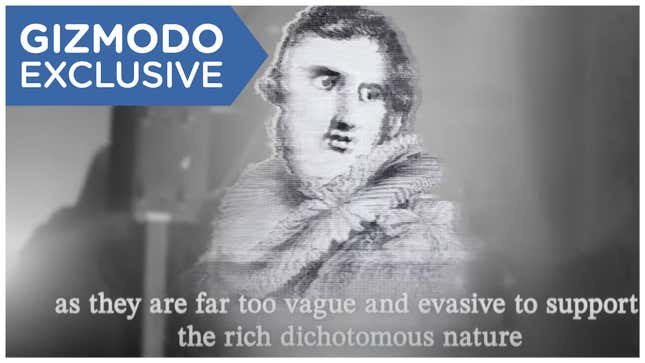 Can you make a meme into a movie? More to the point, would you watch a half-hour mockumentary about a 2015 Facebook meme?
Ernie Hudson | First Fandoms
That's the idea behind Sir Isengord's Theory of the Magnificent Spinning Quasi Table, a new film from director Dyland Mars Greenberg. Sir Isengord tells the story—in a roundabout, nearly nonsensical way—of a professor who traps his consciousness in a little black box after his death in the 1800s.
Greenberg describes the film as "a parody of pseudoscience and overly-wordy philosophy so I wanted to make kind of a dadaist mockumentary-satire that skewered media worship and sort of 'turn back the clock' on delusions of grandeur created by social media."
The original meme first appeared on a Facebook page created by Greenberg's friend Ezra Pailer, a mock public figure who spouted pseudo-academic nonsense. The profile picture shows a dark, distorted picture of a vaguely 19th-century British noble overlaid with text: "Consider that feeble things such as sex and art are most likely not real as they are far too vague and evasive to support the rich and dichotomous of the reality cemented by Sir James isanburks infallible theory of the spinning skience ball. Rather it is most logical and of the most fruitful wisdom to consider everything to be small pieces of Isengord's magnificent spinning 'quasi table,' the real origin of all life and motion."
Subsequent posts follow a similar format, and the words of the meme appear in the film. The movie makes real the elements of the meme's cerebral universe, giving Sir Isengord a classroom, the black box that holds his mind, and a present-day team of fake scientists investigating his ideas and life. The professor himself speaks as a hologram created by an old-school transparency projector.
Published on YouTube, "Sir Isengord" follows the growing trend of Instagram's memers expanding beyond the two-dimensional and the solely online. Memers are now putting on and selling out live art and comedy shows around the country, an evolution from the format of text and image to in-person performance. Zola, released in 2020, turned a viral Twitter thread into one of the buzziest movies of the year.
Greenberg previously created a music video for Michael C. Hall's band Princess Goes, which premiered in Rolling Stone, and a short film for Cartoon Network's Adult Swim. It stars Joe Estevez, the brother of Martin Sheen, Tony Zaret, a standup comedian who runs a popular Instagram meme account, Jon Leiberman, a reporter for the Howard Stern show, and Bill Weeden, a Broadway playwright.