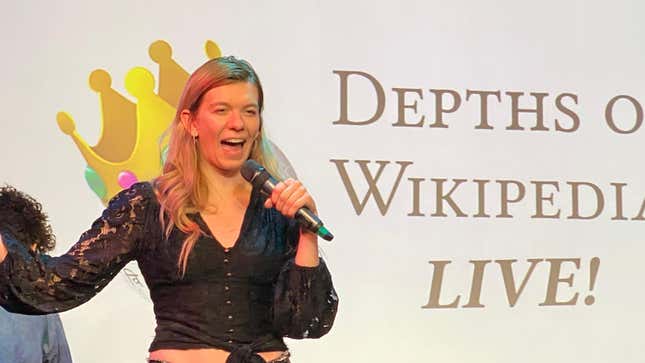 At 9:30 p.m. on a Tuesday night in a small Manhattan comedy club, Annie Rauwerda brought down the full house with a PowerPoint slide, a blurry picture of Vienna bread illustrating a Wikipedia entry. The baked good was enhanced with motion-blur, looking inexplicably like an oncoming car. The audience, around a hundred 20- and 30-somethings, roared.

On Instagram, the doctored picture brought in less than half the likes that screenshots of the Wikis for "Saudade," "Mr. Ouch," and "Unparliamentary language" garnered for her account @depthsofwikipedia. None of those more popular topics appeared in Rauwerda's onstage slideshow. Shared from her Twitter account, the rushing bread garnered only 300 retweets. Compare that to one of her smash hit tweets—a screenshot of the entry for "Death during consensual sex"—that accrued 25,000 retweets. But "Death" didn't make "Depths of Wikipedia Live!" either. Why?
"There are a lot of things that people laugh at online that they don't laugh at on a screen live," Rauwerda explained. "When you have this person up there reacting to internet humor or adding to it or showing what part is funny as some sort of audience surrogate, that can be helpful."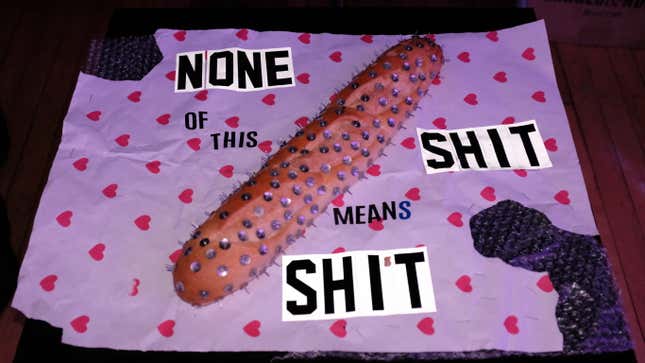 Rauwerda is part of a growing group of funny, often faceless people behind social media meme accounts who are taking their talents to stages around the country in an unexpected evolution of online humor: sold-out live shows. The IRL performances transliterate the deadpan, absurdist jokes of the internet into gags the audience members can laugh at together.

Another case in point: Touching Grass, a variety show put on in November in a converted Philadelphia warehouse that drew about 200 people who each forked over $20 at the door, according to Joelle Bouchard, the Los Angeles-based memer who organized the show. Bouchard runs @namaste.at.home.dad, which has 115,000 followers. The show consisted of stand-up comedy, live music, sculptures, and several DJ sets, nearly all accompanied by projectors that showed memes and images behind the acts. All the performers run Instagram meme accounts; the flyer advertised them by their handles. Combined, they boast more than three million followers.

"Touching Grass was sort of like a meet and greet, sort of like a rave. We were calling it a meme art show," said Bouchard. "It gives you a chance to come meet the people that you've had this parasocial relationship with online. We have a ton of fans, but we seem so intangible to them."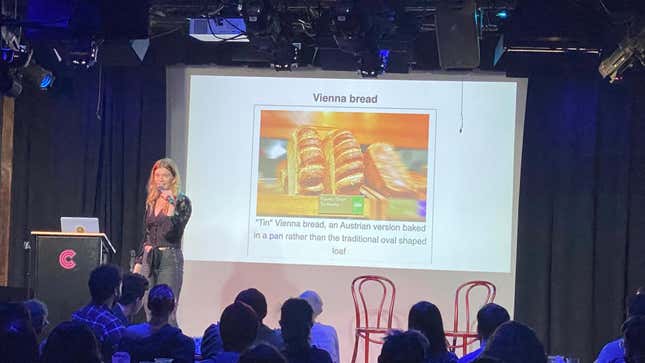 In contrast to lifestyle or travel influencers, who are adept at posing for controlled photo and video shoots, meme account admins operate behind the scenes. They are not themselves the subject of their accounts. The memers who spoke to Gizmodo took pride in creating original content both on- and offline, pairing images or footage they made or tweaked with overlay text and captions they penned. They write their own material, a skill that translates to IRL performance. They find themselves surprisingly well-suited to the stage.
Rauwerda runs the popular Depths of Wikipedia suite of social accounts: Instagram and Twitter are the franchise' most successful, with 1.1 million and 670,000 followers, respectively. She began performing in July 2021—she said her first show left her "full of dread"—but she's already been on one cross-country tour this year, selling out two 250-person shows in New York City and one in San Francisco as soon as tickets went on sale. Her similar-sized show in Austin sold out, too, she said, just not right away. She's hit Los Angeles, Detroit, and Seattle as well.
No niche is too deep to plumb for the delightfully weird at the memers' shows. Rauwerda tasked a spectator, Angie, with building a "Pringle Ringle" while the audience looked on. Angie, who paid $20 for a ticket like everyone else, sat beside the stage for at least an hour of the 90-minute show, not watching, dedicated to the salty duty, and came close to completing the ring several times only to be faced with chip collapse. Rauwerda asked if they wanted to stop three times, but Angie always declined.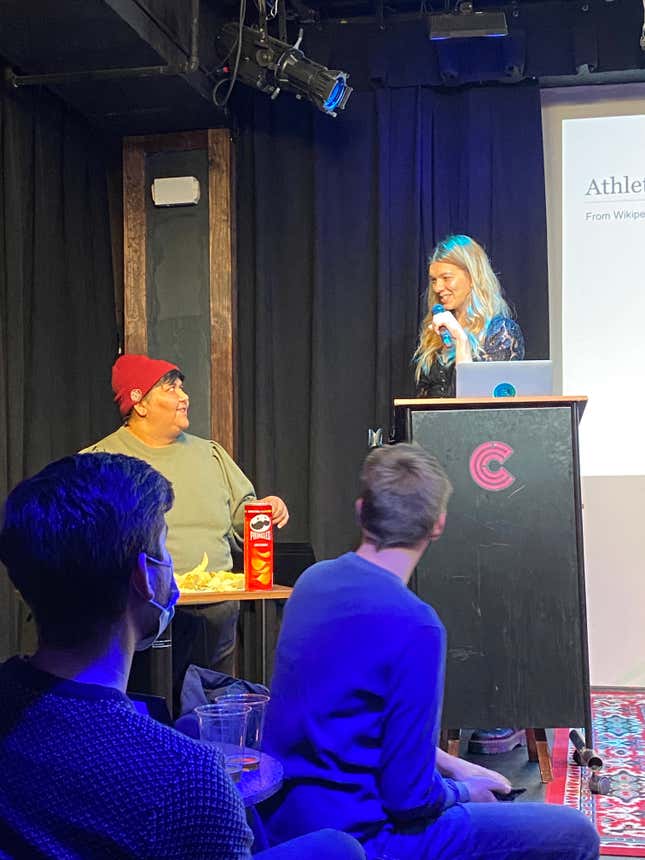 Alex Rubin, who runs @venerealdisneys, 107,000 followers, created an IRL meme for Touching Grass, a sculpture he called "a profoundly venereal experience." He glued thumbtacks to a baguette and placed the loaf on top of bubble wrap and paper emblazoned with red hearts. The nonsensical caption: "None of this shit means shit." At a punk art show last year in the Hamden neighborhood of Baltimore titled "Drug Problems," Rubin bought a cake with a meme printed on it, a picture of underwear pulled down to calves and Nike sneakers overlaid with "Suck my niche." At the end of the show, someone wrenched a handful of sponge and icing from the cake.
"It's me making fun of this thing I'm participating in," Rubin said. "I knew meme shows existed, but I thought they were dumb because I was jealous. I had never been invited to one. It was a huge honor to get asked to come by Joelle."
Bringing the specificity and seeming randomness of online humor into jokes delivered in real time takes a different form with each memer. Each describes their work, both online and off, in a way that would make the listener believe none of these people did the same thing.
"It's like the newborn baby of art and comedy," Bouchard said.
Ena Da, who runs the meme account @park_slope_arsonist (67,000 followers), took part in Touching Grass and has performed at Kellogg's Diner as part of "Live Laugh Live," a recurring standup show in Brooklyn. She said several attendees recognized her from her Instagram account.
"I was performing songs at my last show. Lately I've been having the thought 'Maybe I should have a concert, and maybe I should pivot to being a comedic musical artist," she said.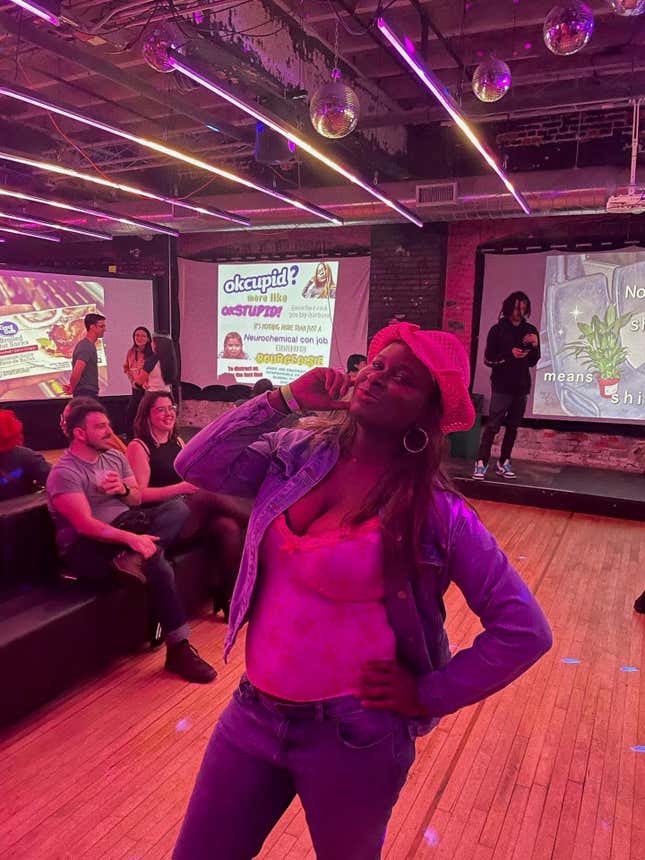 Is a meme show stand-up comedy with visual aids? "Big time," Rauwerda said.
"It's mostly a slideshow," Rauwerda added. "There are some songs. Improv games. The audience plays along, and we all learn and laugh." She ran through at least a hundred slides during the December show, aided by a guest appearance by the comedian Jonathan Van Halem.
Da, who at one point lived with Rauwerda, said she had difficulty defining her own omnivorous online oeuvre.
"I always considered myself a content creator. I know that these days that term has become so watered down and meaningless, but being a content creator used to be a very distinct type of artist where you're not an influencer—to me, 'influencer' is a slur—you're someone who gets online and makes different types of content that can span different genres and different mediums. That's why I feel like that term more accurately fits me," she said.
The shows present a new avenue of revenue for the content creators, one they're ready to capitalize on as they see their organic reach on Instagram diminish. Compared to content creators who fashion themselves into individual brands, meme accounts are relatively anonymous, with few photos of the memers themselves, and thus less likely to court a sponsor looking for a face to hawk a product. Most aren't monetized.
"I don't make much money off the account, so the relatively small margins of live shows is really nice," Rauwerda said. "Money is a big reason I'm doing live shows. The biggest one, really."
The shows are attracting newfound business interest as well as crowds. Meal replacement shake company Soylent sponsored Touching Grass, providing both cash upfront and drinks during the event itself. Bouchard said she didn't expect to be able to pay the performers until the Soylent sponsorship landed in her lap. Since the show, potential partners in other cities have reached out as well, she said.
Anne Huston, general manager at the Caveat Theater in Manhattan, said, "These types of shows are very popular. It's a good genre for pulling together lots of different kinds of audiences." Caveat has become a hub for internet-themed shows and played host to Rauwerda's two Depths of Wikipedia Live! shows in December. Da has also performed there.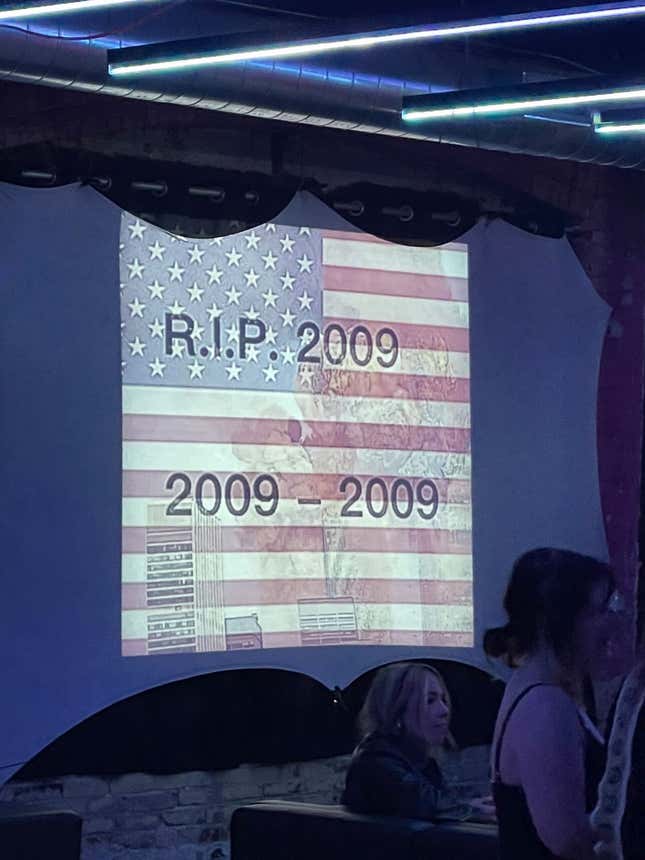 The basement comedy club started putting on shows like Rauwerda's and Da's in 2018. Huston said the the number of shows in the online-adjacent genre has been steadily growing, particularly after covid lockdowns lifted in 2021. As the meme-heavy shows spread, Huston has seen their influence on more offline comedy widen, too.

"You see comedians trying out memes as subject matter, taking a chance that there will be a couple people in the audience who are familiar with that meme or with being online in that specific way," she said. "Memes have been around for a long time, so they're not new, but they're entering into the social consciousness in a common, day-to-day type of way."
Rubin made similar remarks: "Everybody's consuming everything. There's not a particular audience for internet content. Early on in the internet, everybody had their segmented audiences. Now people just want to consume silly funny content while they're spacing out."
Tony Zaret, who runs @tonyzaret (113,000 followers), came to memes in the reverse of many of his online fellows. He's primarily a stand-up comedian, but he started a meme account to promote his comedy. Live shows were always his end goal. What he found, though, is that where successful stand-up jokes hit topics with broad appeal like relationships or the office, memes are niche. Internet references don't land with a crowd that didn't come for them. With an online crowd, his most specific, esoteric jokes online are his most successful, he said. He did a stand-up set at Touching Grass.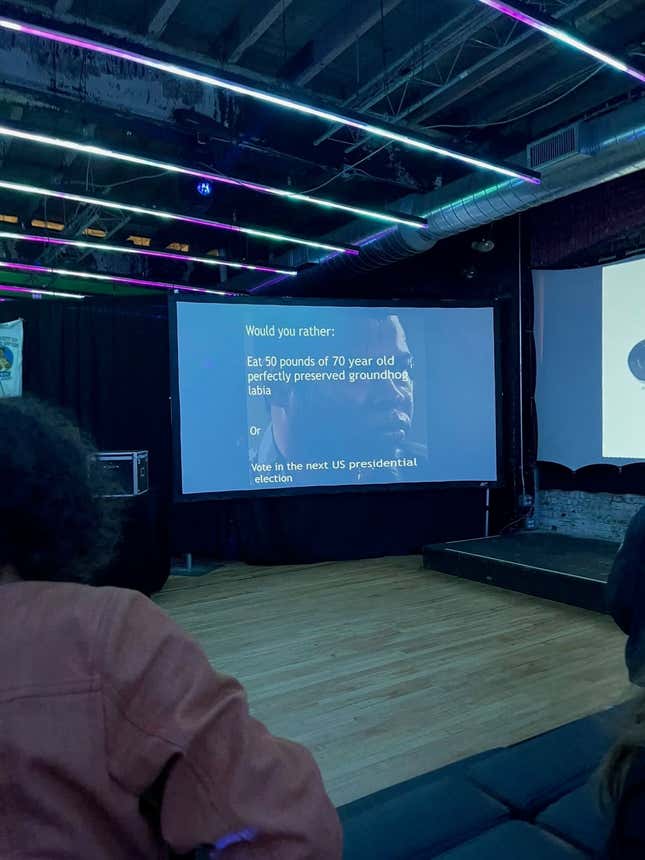 "A lot of stand-up is just showing up at a bar, so you have to talk about more normal things. With memes, people get excited to hear about Big Chungus and stuff like that. If you go to a bar and say 'Big Chungus,' half the people won't know what that is," Zaret said. "People online, they want to hear more references to things like YouTubers and video games. At a stand-up comedy club, you can't talk about that because there are more people that enjoy leaving their houses. They want to hear about things like marriage."
Rauwerda likewise said her audience preferred the niche.
"The fans are pretty loyal. They also aren't necessarily people that just go to comedy shows all the time. They're coming for a specific thing, and so they tend to be really enthusiastic, which is really fun," she said.
She added that the more typical route from internet to the stage would be TikTok impressions and front-facing comedy videos, a la SNL's Bowen Yang and Chloe Fineman.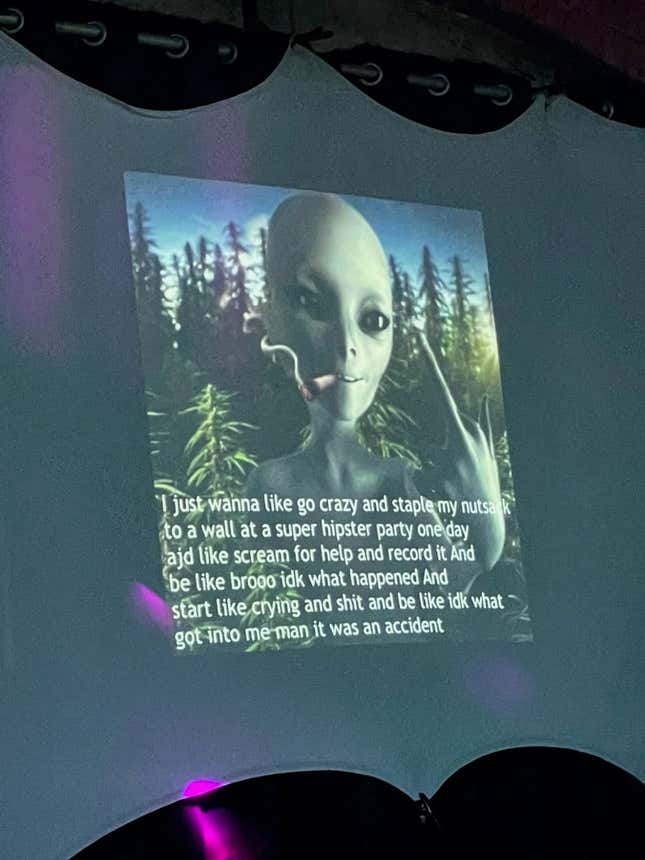 "To be a Wikipedia influencer turned touring comedian is somewhat unique," she said.

Da has noticed subtle differences in the pacing of speech between herself and traditional standup comedians.
"When it comes to traditional standup, there's a culture, a cadence, and a formula to the way that that is. So I definitely find myself very different from how those people perform," she said. "But I don't think there's so much of a disconnect between what we're doing so much as just very different approaches to comedy."
The recent spate of live meme shows aren't the first effort to bring memes beyond the web. A few years back, Bouchard participated in meme art shows in Los Angeles, but the Covid-19 pandemic curtailed them. In 2019, she wrote for and performed on a meme TV show, a short-lived Adult Swim program called Bottom Text, that challenged participants to come up with a meme on a newsy topic within half an hour. The Atlanta Journal-Constitution called the show, filmed in Turner Broadcasting's basement, a "chaotic, live-stream comedy of meme critique."
Bouchard feels that live shows have been a proving ground for her to break into standup comedy, much like freestyle rapping would be for aspiring musicians. She said her main motivation to organize Touching Grass was to give another outlet to original content creators chafing against Instagram's strictures.

"Let's get ourselves to touch some grass. Let's see what else we can do," Bouchard said. "I would say two-thirds of our lineup has been shadowbanned, self included. The way the algorithms change you have all these really talented people who are just being completely buried on the platform they dedicate themselves to."

Rubin started a live Twitch show in late 2022, Petty Images, that consists of interviews with content creators. He and his co-host Jack, the operator of @sexters_laboratory, are nine episodes in, and they're planning to take it to a stage later this year. He cited Bouchard's Bottom Text as inspiration for his own.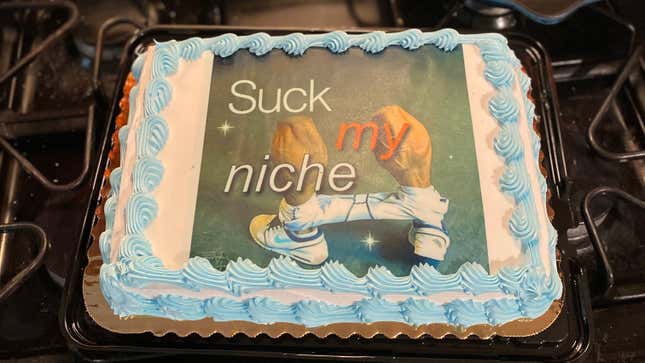 "Browsing and post are solitary experiences. Anybody who's creative has a desire for community, to link up with people," Rubin said. "I wanted to start the show because I was complacent with the mode of Instagram."
The changing emphases of Instagram—first photos, then videos, then Stories, then Reels—and of social media writ large mean that the memers are accustomed to rapid evolution. Staying with one format doesn't work. The live shows are the latest iteration of the work, but they aren't the end-all, be-all. What comes next?
"People say, 'You have so many followers,' and I'm always like, 'Yeah, for now.' I want to keep expressing myself, keep the relevance up," Da said. She said she would like to write for a TV show.
So why perform live at all?

"I do love attention. I love clout," Da quipped.