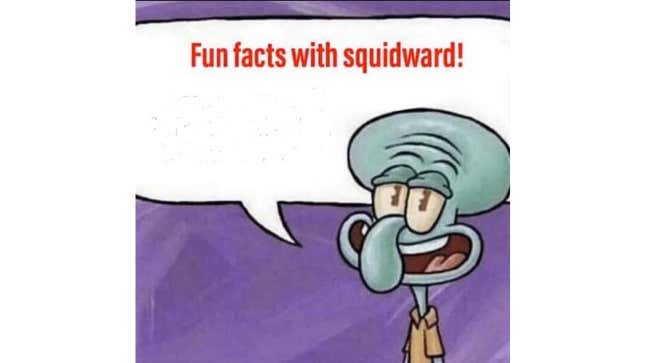 Meta's Oversight Board, the Supreme Court-like entity tasked with reviewing Facebook and Instagram's most contentious content moderation conundrums, is taking on a case involving a bizarre and unpleasant mashup: a Nazi Squidward meme.

Nobody's Really Watching Reels
In a blog post this week, the Oversight Board said it was looking into a since-removed meme posted in September 2020 meme depicting Squidward—the curmudgeonly Squid-man from Spongebob Squarepants—denying the Holocaust. The meme, posted by an unknown user with around 9,000 followers, showed Squidward next to a speech bubble reading "Fun Facts About The Holocaust." This appears to be a play on the popular "Fun Facts With Squidward," meme template, albeit with a heaping dose of vitriolic neo-Nazi idiocy.
The Oversight Board says the post repeated a number of falsehoods questioning or denying the existence of the Holocaust, including the thoroughly debunked conspiracy theory claiming the infrastructure used to carry out the genocide was made after the end of World War II. Additionally, the caption appearing below the post included tags related to other memes, some of which the Oversight Board says "may target specific geographical audiences." The Oversight Board says the post was only seen around 1,000 and garnered less than 1,000 likes.

Despite CEO Mark Zuckerberg's 2018 comments defending some Holocaust deniers, who he said didn't' "intentionally" get their facts wrong, Meta's policies have explicitly prohibited content that denies the genocide since 2020. Meta says those prohibited posts include content that "denies, calls into doubt, or minimizes the fact that the Holocaust happened, the number of victims, or the mechanisms of destruction used."
Nazi Squidward appeared on the platform two months before Meta officially altered its policies to specifically prohibit content denying the Holocaust. Users reported the post to Meta four times prior to its rules changes, then two times afterwards. Several of those reports, the Oversight Board claims, were assessed by Meta's automatic review process as having not violated any policies. Other reports were closed due to Meta's COVID-19-related automation policy, which prioritized content deemed "high risk" for the company's limited number of human reviewers.
In a blog post updated this morning, Meta's Transparency Center says it initially left the content up but then removed it upon further review. Meta says the original choice to leave the post up was "in error." Meta directed us to its blog posted when reached for comment.
So why is the Oversight Board looking into the meme if it's already been scrubbed from the platform? Like many cases the Board takes on, the specific post in question functions as stand-in for larger content moderation issues looming over Facebook and Instagram. In this case, Meta's response to Nazi Squidward speaks to a larger issue of appeals "questioning the way Meta enforced its prohibition on Holocaust denial." Policy changes sparked by Nazi Squidward could lead to larger changes in how Facebook and Instagram handles and responds to potential hate speech content.
The Board is accepting public comments on a number of issues related to the case, including the challenges of relying on automatic systems to accurately detect and remove hate speech content. Similarly, the board is also interested in comments addressing best practices for preventing automated systems from mistakenly removing content that could be satire or another form of accepted speech.
Members of the Oversight Board say they will review the comments over the next few weeks and then submit policy recommendations to Meta. And while Meta has to respond to the Oversight Board within 60 days of their decision, their policy recommendations are non-binding, meaning Meta can simply choose to reject them if they wish. That's precisely what happened earlier this week, when Meta announced it would not accept the Oversight Board's recommendation to immediately suspend the Facebook and Instagram accounts of Ex-Cambodian Prime Minister Hun Sen.