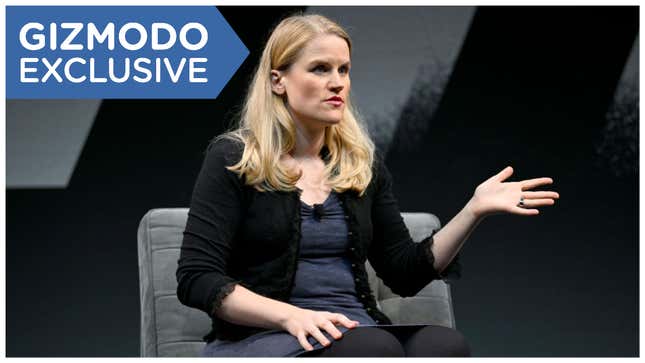 On Thursday, Facebook whistleblower Frances Haugen spoke to a national organization that convenes investors, telling them that Meta was an unwise place to put their money —specifically the version of Meta under the direction of Mark Zuckerberg.
Making the Facebook Papers Public
"It adds systemic risks to portfolios, particularly in countries in Africa and Southeast Asia," she said. She added that Meta intentionally keeps the public in the dark about problems it creates, which prevents investors from judging if the company would be a sound investment.
The comments were made during a Zoom call Gizmodo was provided access to, under the condition that we did not name the organization.
To ameliorate financial risk, Haugen urged the moneymen to foist transparency on Meta. What she wants as part of an initiative she's calling Duty of Care is for investors to demand that disclosures of risks and harms to users be included in the information that Meta is required to share as a company publicly traded on the stock market.
"If platforms don't have to do reporting, they'll never make progress," Haugen said. "There's a huge opportunity for the investment community to take a leadership role here and demand social platforms release a minimum level of information, to establish transparency and the minimum level of reporting."
Haugen wondered aloud what would happen if investors demanded to be told what harms Meta knew it brought to children—how many used its social networks after 2 am or for more than 6 hours per day, for example—and what kind of response that information would elicit.
"Facebook's version of transparency is that it only provides a list of the top 20 posts in the United States once a quarter—the cleanest version of Facebook in the world—and even in that list you see posts that get taken down," she said.
As a positive example, Haugen pointed to the European Union's Digital Services Act, which imposes transparency requirements on large tech companies like Meta. She called the idea "minimum viable queries" after the software engineering concept of minimum viable product.
"I don't think the U.S. will get a law on the scale of the Digital Services Act in the next few years, but we can begin to say, 'We can't assess risks on these investments. We need to develop a different set of norms on what info Facebook needs to share,'" she said.
Haugen spoke to the investors as part of the work of her nonprofit launched late last year, Beyond the Screen, which advocates for research into the problems caused by social networks. In the Zoom meeting, she described the nonprofit's initiative as "mapping harms"—the ills created by social networks—and "mapping levers"—the means to fix them.
Facebook did not immediately respond to a request for comment.
Individual investors are a new target for Haugen, who has spent the bulk of her time at the center of public attention warning that Meta, then known as Facebook, posed more social danger than financial, threatening the mental health and civic life of Americans and the world. Haugen made public Instagram's own research into how it was harming to the mental health of American teen girls, its failures on policing climate change and covid-19 misinformation, and its botched handling of election strife around the world. Haugen handed over thousands of internal Facebook documents to Congress to back up her 2021 testimony before panels of lawmakers.
Gizmodo has been redacting and publishing the Facebook Papers, as the documents were dubbed, since last year.
The whistleblower is no stranger to financial regulators and Meta's finances. She has filed eight complaints with the Securities and Exchange Commission attempting to tie the albatross of Facebook's moderation failures to its financial neck. In complaints to the SEC, she has accused the company of misrepresenting how well it could handle harmful content—of "choosing profits over safety," in her words—and alleging its negligence amounted to misleading investors as a publicly listed company. In the complaints, she singles out Facebook's allowance of hate speech, particularly in India, the social network's biggest market by users.
Facebook's stock has not brushed off her assaults, though other factors are at play in its ups and downs. The company's share price has been on a rollercoaster in recent years, cresting around a trillion dollars in market capitalization in 2021 before losing more than half that value. Its market cap now stands at $446 billion.

Correction: A previous version of this story misstated the name of Haugen's nonprofit.