The summer movie season is over—but the biggest films of the year are still to come. This fall's movies include some of the most long-awaited titles in history, but also some smaller films that could become instant classics. Here are the 30 movies you need to know about in the last four months of 2015.
Top image: Star Wars: The Force Awakens
SEPTEMBER
Bloodsucking Bastards (Sept. 4)
What it's about: Imagine if Office Space got invaded by From Dusk Till Dawn. That's basically the plot of Bloodsucking Bastards. A typical slacker (Fran Kranz) has a pretty bad day at work and gets dumped by his girlfriend—only to realize his day just got worse: His colleagues are also turning into vampires. Then the blood starts splattering.
The Forecast: The film is getting a limited release, but has strong buzz coming out of the horror festival circuit, so expect some chatter from people who catch it on demand.
G/O Media may get a commission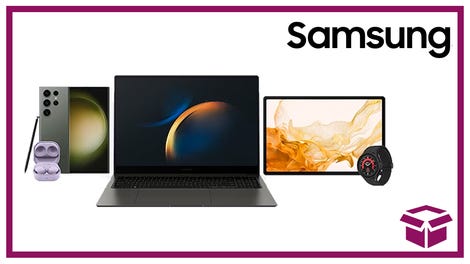 24 hour deals
Discover Samsung - Daily Deal
Dragon Blade (Sept. 4)
What it's about: A Chinese-produced, period epic war film starring Jackie Chan, John Cusack, Adrien Brody. In it, a Roman legion is opposed by a select group of elite soldiers during the Han Dynasty. There's obviously more to it, but look at that photo. If you think that looks insane and awesome, then you'll probably love this. It's not quite science fiction, but is arguably alt-history.
The Forecast: Though it was a big hit in China, Dragon Blade doesn't really have a ton of buzz going for it stateside. It feels like one of those movies if you want to see it and if a period, genre, action epic is your thing, you're going to love it. See the trailer here.
The Visit (Sept. 11)
What it's about: Two kids go to visit their grandparents for the very first time and quickly realize all is not well, especially after the sun goes down. It's M. Night Shyamalan's first foray into the found-footage/faux-documentary genre and a return to the thriller films that made him so popular 15 years ago.
The Forecast: The trailers are pleasingly creepy, and the movie—surprise, surprise—is actually pretty great. This could be Shyamalan's long-awaited return to form.
Listening (Sept. 11)
What it's about: A group of friends invent a way to read other people's minds. Initially, the idea sounds exciting and profitable, but they quickly realize this isn't a power humans are meant to have. They have no more secrets, people try to steal the tech, and slowly their lives are ruined.
The Forecast: This small indie by first time director Khalil Sullins has done very well on the festival circuit, winning awards and receiving some stellar reviews. This could definitely become a sleeper hit along the lines of Primer.
Maze Runner: The Scorch Trials (Sept. 18)
What it's about: Based on a popular series of young-adult novels, this second movie sees the teenage survivors having escaped from the maze—but now they're confronting an even uglier post-apocalyptic reality.
The Forecast: If you didn't see the first Maze Runner, it's worth catching up on. It's pretty good, and this sequel looks like more of the same—see for yourself. It's kind of Lost, with a tween twist.
Cooties (Sept. 18)
What it's about: Cooties is every teacher's fantasy. A school gets infected with a virus that turns all the kids into zombies, and the teacher have to kill them all. It's co-written by Leigh Whannell, who wrote Insidious and Saw, and has an amazing cast including Elijah Wood, Rainn Wilson, Alison Pill, Jack McBrayer and Jorgé Garcia.
The Forecast: The film premiered at Sundance in 2014, to rave reviews. It's since been tinkered with, including a new ending that feels somewhat tacked-on. But this is guaranteed to be a cult classic. Here's the trailer.
Everest (Sept. 18)
What it's about: We're including this because it's basically a huge disaster movie. It's based on a true story, about two groups of climbers on Mount Everest who got caught in a terrible storm.
The Forecast: The cast is incredible (Jason Clarke, Josh Brolin, John Hawkes, Robin Wright, Emily Watson, Keira Knightley, Sam Worthington, Jake Gyllenhaal) and director Baltasar Kormákur pushed them to the limits with practical effects. It's also getting a terrifying 3D IMAX conversion. So fingers crossed.
Before I Wake (Sept. 25)
What it's about: Two parents (Thomas Jane and Kate Bosworth) adopt a young boy who is afraid to go to sleep—because his dreams become reality. Let the real-life nightmares begin.
The Forecast: The premise is undeniably terrifying but this was a movie that was first supposed to be released in May, then got bumped back to fall. We don't know why that happened, but it usually indicates caution.
Hotel Transylvania 2 (Sept. 25)
What it's about: The hotel for monsters is now open for humans but Dracula (Adam Sandler) is worried about his grandson. He doesn't seem to have any monster in him, so he and his fellow ghouls (voiced by Mel Brooks, Andy Samberg, Kevin James, Steve Buscemi, etc.) try to bring out the kid's inner fiend.
The Forecast: The original Hotel Transylvania made $360 million worldwide so the audience for a sequel is out there. But I can't be the one who literally forgot that movie existed until this very moment, right? See the trailer, featuring Mel Brooks as Dracula's father, here.
The Iron Giant: Signature Edition (Sept. 30, Oct. 4)
What it's about: One of the best and most underrated animated films of the past twenty years, Brad Bird's magnificent film about a boy and his giant robot, comes back to the big screen in a limited Fathom event on September 30 and October 4.
The Forecast: This event is basically just promotion for an eventual Blu-ray release—but since basically no one saw it on the big screen in 1999, here's your chance to remedy that.
---
OCTOBER
The Martian (Oct. 2)
What it's about: Ridley Scott takes on Andy Weir's fantastic, action-packed book about an American astronaut who's stranded on Mars. Matt Damon stars as the astronaut, and he's joined by Jessica Chastain, Jeff Daniels, Kate Mara, Kristen Wiig, Michael Pena and many more.
The Forecast: Scott made two of the best science fiction films of all time, but his last few films have all kind of sucked. But this time, he has great source material, and the trailer looks fantastic. This could be one of the fall's best movies.
The Final Girls (Oct. 9)
What it's about: The daughter of a famous scream queen is drawn into a version of the horror film her mom was made famous for. It's a very meta take on the classic slasher formula, with Taissa Farmiga (American Horror Story), Nina Dobrev (Vampire Diaries), Adam DeVine (Pitch Perfect) and Thomas Middleditch (Silicon Valley) along for the ride.
The Forecast: The Final Girls has been a beast on the festival circuit, where it premiered back at South by Southwest. It sounds like a real crowd-pleaser.
Pan (Oct. 9)
What it's about: Remember how Steven Spielberg's Hook showed us what happened after the classic story of Peter Pan? Joe Wright's Pan is the story of what happened before it. Peter is just a boy discovering Neverland, Hook isn't the tyrant we all love to hate, and all of this is heavily influenced by J.M. Barrie's original writings with a huge treasure trove of special effects.
The Forecast: A great cast, including Hugh Jackman and Rooney Mara, will give this film a shot—but so far, the trailers don't make it look as though it's going to hit the heights of other recent live-action fairy tale films. But we loved Wright's Hanna, and the trailer makes Neverland look gorgeous.
Steve Jobs (Oct. 9)
What it's about: We're mentioning this one because it's such a massively important geek film. Aaron Sorkin, the Oscar-winning writer of The Social Network, takes on another iconic technology story: The life of Apple pioneer Steve Jobs, played by Michael Fassbender.
The Forecast: With Sorkin writing and Danny Boyle (Trainspotting, Slumdog Millionaire) directing, everyone is thinking Oscar night with this one. The trailer showcases Seth Rogen as Steve Wozniak.
Crimson Peak (Oct. 16)
What it's about: Guillermo del Toro's gothic haunted house romance stars Tom Hiddleston, Jessica Chastain, Mia Wasikowska and Charlie Hunnam. With its secrets, crazy creatures, surprises, and big heart, Crimson Peak feels like an American version of Pan's Labyrinth.
The Forecast: Del Toro's been done with this film for some time and the early reviews, from the likes of Stephen King, are over the Moon. And the trailer looks utterly gorgeous.
Goosebumps (Oct. 16)
What it's about: The popular children's book series gets the big screen treatment with a surprising twist. Author R.L. Stine (Jack Black) is the star of the film, and when the creatures from all his Goosebumps books are set loose on a small town, he and some local kids have to write a new ending. This movie reunites Black with Gulliver's Travels director Rob Letterman.
The Forecast: The idea of combining all the stories from the incredibly popular Goosebumps series into one film is a neat one. At the same time, adults probably won't connect to this movie's characters or story—but the effects and sheer scope of the movie will have kids jumping in their seats. Watch the trailer, and judge for yourself.
Jem and the Holograms (Oct. 23)
What it's about: The popular 80s cartoon gets a live-action, modern reboot. In it a young girl goes from rags to riches as her pop-music persona, Jem.
The Forecast: Everything we've heard from people in the know says the movie is actually good—but every single trailer, poster, or image seems to indicate that it's failing to capture any of what people loved about the original cartoon. Plus this film seems like it was rushed into production.
The Last Witch Hunter (Oct. 23)
What it's about: Vin Diesel is the title character, a cursed immortal warrior who once defeated a great Witch Queen—and now, centuries later, he has to destroy her again.
The Forecast: Vin Diesel doesn't necessarily need a bunch of fast cars to make a good movie—but, without them, he's very hit or miss. Considering this film has seemingly been in the works forever, expectations are low. But at least the trailer includes an epic beard.
Paranormal Activity: The Ghost Dimension (Oct. 23)
What it's about: The sixth, and allegedly final, Paranormal Activity film will attempt to link the mysteries of the previous movies with a story that stars a new family, but crosses over with Katie and Kristi, the heroines of the early films. It's also in 3D, a first for the series.
The Forecast: This series has been Exhibit A for the notion that horror sequels get less and less scary. But the spin-off was actually pretty decent. Fingers crossed this one can actually bring the series to a satisfying conclusion. Watch the trailer here.
Scouts Guide to the Zombie Apocalypse (Oct. 30)
What it's about: Doesn't the title say it all? A bunch of Boy Scouts fight zombies. Tye Sheridan, who'll be the new Cyclops, is the star.
The Forecast: The early buzz is that this one is a lot of fun.
---
NOVEMBER
The Peanuts Movie (Nov. 6)
What it's about: The whole Peanuts gang comes to theaters for the first time, in this beautiful looking CG-animated family comedy.
The Forecast: The trailer looks kind of weird, but also kind of charming. Producer Paul Feig promises this one will have a timeless feel, and we won't see Charlie Brown twerking.
Spectre (Nov. 6)
What it's about: James Bond is back and this time he's facing the evil group known as Spectre.
The Forecast: Spectre is being made by the same team who did the last film, Skyfall, which was mostly great. At the same time, the early buzz says this film had major problems with its ending that the studio was scrambling to fix. And the notion of exploring James Bond's family history seems like it could backfire. Watch the trailer here.
Rings (Nov. 13)
What it's about: Remember that movie The Ring? About a video tape that if you watched it you died? Well they made a sequel in 2005 and now, at last, we get the third part—which is, not surprisingly, set a bit over a decade after that last film.
The Forecast: A Friday the 13th release sounds cool, until you realize it's a horror movie coming out two weeks after Halloween. Hopes aren't high for this one. (Note: Above photo not from Rings, but The Ring. Photos from Rings aren't online yet. Another bad sign.)
The Hunger Games: Mockingjay Part 2 (Nov. 20)
What it's about: The final film in the insanely successful Hunger Games series will see Katniss (Jennifer Lawrence) face off with President Snow (Donald Sutherland) as her revolution marches on The Capitol.
The Forecast: The first three Hunger Games movies actually improved on the books, for the most part. But it remains to be seen if this film can pull off the book's incredibly dark ending. The good news? The trailer has the feeling of an actual war movie, rather than more war games.
The Good Dinosaur (Nov. 25)
What it's about: Pixar's second 2015 film follows a dinosaur named Arlo who gets separated from his family and stumbles upon a new pet: A young boy. The film exists in a world where dinosaurs never went extinct—so humans are regarded as dumb animals.
The Forecast: Footage at the D23 Expo last weekend left many in tears but, personally, the only thing really grabbing me with this one thus far is the fact that it's Pixar. The full trailer does look beautiful.
Victor Frankenstein (Nov. 25)
What it's about: A revisionist take on the classic story of Dr. Frankenstein (James McAvoy) with Igor (Daniel Radcliffe) as the central character. It's written by Max Landis (Chronicle) and directed by Paul McGuigan (Lucky Number Slevin, Push).
The Forecast: You're probably thinking this sounds terrible–but the sizzle reel shown at Comic-Con was pretty amazing. A great mix of horror, humor and the macabre. And Push was an unappreciated classic. Watch a trailer here.
---
DECEMBER
Krampus (Dec. 4)
What it's about: Made in the image of horror comedies of the Eighties like Gremlins, the latest film from the man who did Trick 'r Treat follows a bunch of dysfunctional families who get visited by the opposite of Santa Claus, Krampus—who punishes those who are naughty.
The Forecast: There's just something about this odd mix of humor and horror that feels like a hit to me. Maybe it's a long shot, but the ingredients are there.
In the Heart of the Sea (Dec. 11)
What it's about: In 1820, the whaling ship Essex encountered a whale of such proportions, it inspired the book Moby Dick. This film, directed by the legendary Ron Howard, focuses on how the men on board dealt with the incredible, almost supernatural ordeal.
The Forecast: Originally slated for release earlier this year, this film got bumped to an Oscar-friendly release date. Which seems like a good sign for the movie, which stars Chris Hemsworth, Cillian Murphy and Tom Holland, aka, the new Spider-Man.
Star Wars: The Force Awakens (Dec. 18)
What it's about: The long-awaited sequel to the Original Trilogy is set about thirty years after Return of the Jedi. Though Luke, Han and Leia won that day, they didn't defeat evil forever. The Empire has evolved into something called the First Order, the Rebellion is now the Resistance, and characters named Rey (Daisy Ridley), Finn (John Boyega) and Poe (Oscar Isaac) will be handed the torch by returning cast members Mark Hamill, Carrie Fisher and Harrison Ford.
The Forecast: Can director J.J. Abrams succeed where original creator George Lucas couldn't, and give us a satisfying new Star Wars epic? One positive sign is Abrams' heavy focus on practical effects and the film's dedication to the aesthetic of original designer Ralph McQuarrie. Meanwhile, though, Abrams reportedly shifted the film's emphasis somewhat from the new characters onto the returning Luke, Leia and Han—which could mean a play for nostalgia, or it could mean a satisfying end to their story. See a trailer here.
The Hateful Eight (Dec. 25)
What it's about: A violent snowstorm forces eight strangers just after the Civil War to shack up together in an isolated cabin. Who betrays whom, or what happens next, can only blossom from the twisted mind of Quentin Tarantino. We're including this because it's mother-effing Tarantino. Plus he has a habit of drifting into alternate history.
The Forecast: The film will have a limited run on Christmas day, exclusively on 70mm film, before going wider in early January. That sort of thing is usually only done for truly special movies, which Tarantino and his distributors the Weinstein Company, think this one is. And our early glimpses of the film do look spectacular.
---
Contact the author at germain@io9.com.