Did you wait too long to buy holiday gifts? Don't worry, we've got you covered. Skip the heinous store lines and "sold out" signs. There's plenty of stuff that you can make yourself, or has immediately delivery. Here's our list of last minute gifts that will make your loved ones think you planned ahead.
Bake Something
Everyone loves the gift you can consume. So get thee to the kitchen, and make your loved ones a dish inspired by something they loved. The internet is absolutely stuffed with amazing genre-inspired recipes. Here's a recipe for the Game of Thrones Lemon Cakes! Also pictured: Peeta's Stuffed Cheese Buns from The Hunger Games with the recipe at Yammie's Noshery, along with Beorn's Honey Cake from The Hobbit, via The Geeky Chef.
Another favorite are these Star Wars Cookies — which are made out of regular cookie holiday cutters, so all you need is a little creativity, or you could just follow what the website Sweet Sugar Belle did here (I would).
G/O Media may get a commission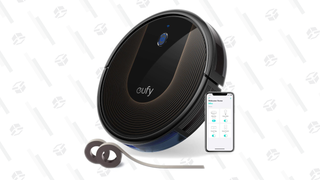 48% Off
Eufy BoostIQ RoboVac
---
Comics/Books
We are living in the age of digital reading. Take advantage of this, and get people reading material for their beloved devices. The first five issues of Brian K. Vaughn's Private Eye are available here. Prepare your "the comic/book was better" friends to gloat, with the first two volumes of Dan Abnett, Andy Lanning and Paul Pelletier's Guardians of the Galaxy run (which is probably what the future Marvel movie will be closest to in style and feel). And for the classic comic fan, the DC Comics' Batman 66 is available at Comixology.
Unlimited Entertainment
A subscription to Netflix Instant Watch, Hulu Plus or the latest and greatest Chrome Cast will change your recipient's life. No more DVRing or running home to catch the episode you missed, it's all right there online. And for next to nothing. There is no excuse for your friend to be behind in Scandal, Misfits, Once Upon A Time, or WHATEVER. Also great for your parents who are afraid of their cable box.
Museum Memberships
This year I was gifted a membership to the Brooklyn Museum and it may just be the best thing I've ever received. Not only does a Museum Membership provide a never ending source entertainment it also (usually) gives you free access to special exhibits and an invitation to a whole host of live performances and lectures. Here's the list of a few of io9's favorite museums, with excellent membership programs. And if you know of any other good places you want to add, please let us know in the comments.
Great Membership Programs:
American Museum of Natural History (New York), California Academy of Sciences in (San Francisco), Shedd Aquarium (Chicago), The Ontario Science Center, Academy of Natural Sciences (Philadelphia), Museum of Science, Boston, Science Museum of Minnesota, Royal Ontario Museum, The Smithsonian (Washington DC), Desert Botanical Garden (Phoenix), Merchant's House Museum (New York), Fairchild Tropical Botanic Garden (Coral Gables) and the Onderdonk House.
Pay It Forward
Give the gift that keeps on giving, and also grants you bragging rights at what a wonderful human being you are. You are the best. But seriously giving to a charity in the name of your recipient is great. And if you need inspiration may we suggest Water.org, Heifer International, Against Malaria Foundation and our entire io9 Charity Gift Guide stuffed with charitable donations for people that love science and science fiction. Please let us know great places that we should be supporting.
Best Buy Will Save You
This company's new "buy it online, pick it up at the store" policy has seriously bailed me out of big-time trouble this season. Surprise: everyone in my family is getting the new Twilight Blu-Ray box sets, because the internet says they're available in the Soho Best Buy store. Which means less work for Aunt Meredith.
Craft It
And when all else fails, have a crafternoon and make some of these beauties.
---
Weeping Angel Tree Topper
Created by Cynthia at Creative Crossings this is the ultimate gift for any Doctor Who fan. Plus it's a really pretty tree topper overall. Step-by-step directions at the site.
Disco Death Star
Hot, hot, hot modified Star Wars action here. This could be an ornament, a paper weight or just a really cool thing that you have in your home and show off all the time in a frame. The Disco Death Star is TIMELESS. This was inspired by the Disco Death Star print, but Our Nerd Home made this fantasy an amazing reality. And now you too can make a Death Star Disco Ball with these simple instructions.
Stitch Something
Do you have the talent of stitching, knitting or sewing, then share that gift with the world. Nothing says "I love you" better than a knitted Doctor Who scarf. But since you don't have a ton of time, maybe just knit Doctor Who-inspired pot holders, it's still legit. Here's the pattern, have at it.
Or, if you have a passion for the cross stitching there are hundreds of amazing patterns online that you can download immediately and recreate at your own home. Above are a few patterns from Disorderly Stitches' Etsy page.
Dead Barbie Lamp
Got a bunch of creepy, old Barbies in the basement? Strip, shave, and paint those beauties into a one-of-a-kind lamp. Full instructions over at Jackie Long Legs (who has a lot of other good craft gifts we've highlighted in the past).
Paper Crafts
Does your office have a sick printer? Great than this gift is basically free. Download a bad ass Paper Craft and get to building. Or (better yet) just tuck it away into a nice folder, present it to a calm child, and ask if you can make it together. LESS WORK FOR YOU. And if you're up for a bit of a challenge may we suggest these bad ass Paper Craft Krampus Monsters from Christopher Bonnette and Uncle Ghastly.