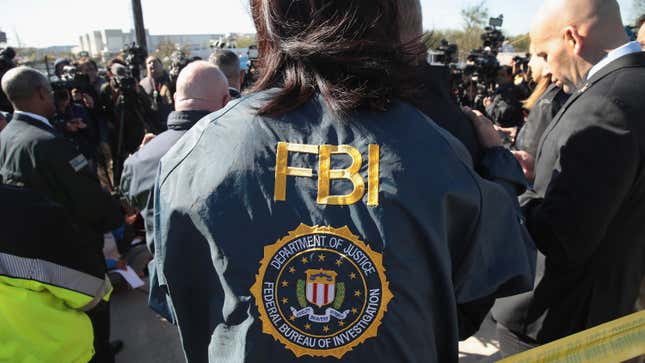 House lawmakers participating in a hearing debating one of the country's most controversial warrantless surveillance programs were left with more questions than answers Thursday. Heads of the federal government's top intelligence agencies appeared unable or unwilling to reveal to the public just how much data is being collected on US citizens via Section 702 of the Foreign Intelligence Surveillance Act (FISA). Expert witnesses testifying at the hearing were similarly unable to provide any estimate on how many people possess the ability to perform so-called "backdoor searches" on US citizens using the controversial foreign surveillance tool.

Twitter Is Shifting Right | Future Tech
"We don't actually know the scope of this collection," US Privacy and Civil Liberties Oversight Board Chair Sharon Bradford Franklin said during the House Judiciary Committee hearing.
Though the hearing was meant to focus on the FBI's alleged misuse of FISA to surveil prominent political figures, including an aide to Donald Trump, the event quickly expanded into a debate over the very existence of Section 702, a Bush-era surveillance tool intended to gather intelligence on foreign entities abroad set to expire later this year. Critics of Section 702, which included lawmakers on the committee from both sides of the political aisle, say intelligence agencies "routinely" use the law as a legal loophole to tap into US citizen's communications without a warrant.
"A law designed to provide tools to collect foreign intelligence and prevent foreign terrorist attacks has been warped into a domestic intelligence tool to intercept and catalog Americans' phone calls text messages emails and other electronic communications," Arizona Republican representative Andy Biggs said. "We must consider whether this program can be reformed or if it is already beyond repair."
'Incidental' collection of US data is a feature, not a bug
The three testifying witnesses, which included Department of Justice Inspector General Michael Horowitz and two senior members of the US Privacy and Civil Liberties Oversight Board, all agreed Section 702 needed additional oversight reforms and increased transparency.
"Compliance has been far from perfect," Horowitz, who helps lead government reports assessing the FISA program said.
The FBI, according to both of the Oversight Board members, has continually refused to provide estimates on the total amount of US communications caught up in the 702 database. Procuring that estimate with mathematical certainty, the agency reportedly claims, would be "infeasible." Responding to lawmakers, Franklin said even a rough estimate "that involves some margin of error," would still give investigators and civil liberty groups meaningful insight into the program's scope.
Though some lawmakers appeared shocked to hear Section 702 regularly sweeps up US communications, Franklin said that process was a "recognized feature" of the program, rather than an unknown bug.
"To be able to identify those potential threats inside the United States is a feature that is known and recognized and not necessarily a problem," Franklin said.
What is a problem, however, is how intelligence agencies choose to search for that US data once it's already collected and stored in the 702 database. Currently, there are few restrictions limiting how intelligence agencies can access those communications. Democratic Reps Jerry Nadler of New York and David Cicilline of Rhode Island both suggested search warrants should be required to search for US user data stored in that database.
"Exactly," Franklin agreed. "I urge that."
Lawmakers across the board expressed interest in reforming 702 before its reauthorization vote in December, though a handful of Republicans, including Ohio Rep. Jim Jordan, seemed open to doing away with the powerful surveillance tool entirely.
"How about if we just get the FBI out of that business altogether?" Jordan said to a long pause.
Others, like Texas Rep. Sheila Jackson Lee approached talks of reforms more cautiously and repeatedly praised Section 702 for allegedly helping thwart domestic terror attacks. In one of the odder exchanges during the hearing, Jackson Lee mentioned recent Penaton leaker Jack Teixeira and implied Section 702 could potentially be used to tap his communications in the event he spoke with a foreign national.
"It wouldn't be willy-nilly," Jackson Lee said.
Will this time be different?
This certainly isn't the first time lawmakers have squabbled over Section 702, but Electronic Frontier Foundation Director of Federal Affairs India McKinney told Gizmodo she believed the outcome of the debates could be different this time because it's "really not a partisan fight."
Lawmakers from both sides of the political and ideological extremes have found some common cause in reigning in FISA. The real divide, McKinney said, is between the more transparent judiciary committees and notoriously closed of intelligence committees. The latter will often cite classified or inaccessible evidence of security threats to justify maintaining the current level of surveillance powers.
"If your tool is a hammer you see everything as a nail," she said.
McKinney said she was impressed by the committee's choices of witnesses for the hearing and believed they would speak forcefully on FISA reforms. Like most high-profile hearings involving members of the newly appointed GOP majority House, however, there's always a risk they could trail off onto "side quests" or spiral into an out-of-control slugfest of conspiracy-tinged attacks.
What are FISA and Section 702?
Section 702 of the Foreign Intelligence Intelligence Surveillance Act refers to a 2008 provision added to the landmark 1978 FISA legislation. When it was first passed during the Carter Administration, FISA was intended to serve as a bulwark against unauthorized domestic spying on US citizens by intelligence agencies like the NSA and CIA. Section 702, enacted amid the slog of the worsening American wars in Iraq and Afghanistan, expanded FISA's remit by authorizing the collection and dissemination of communications of non-US citizens located outside the country.
Unlike previous FISA restrictions, Section 702 no longer required a potential government surveillance target to be a spy or other agent of a foreign government. Crucially, Section 702 compels US tech companies like Google and Meta as well as telecommunication companies to hand over communications of government surveillance targets.
Civil liberties groups like the ACLU and EFF have long argued Section 702's explicit prohibition on surveilling US citizens amounts to little more than an unrealized formality. In reality, critics say the government "routinely" uses the provision to collect communication information of Americans who, for whatever reason, may have had communication with a surveillance target outside of the US. That loophole, they say, leads to a disturbing, and legally dubious end run around US citizens' Fourth Amendment protections.
Opposition to FISA makes unlikely political allies of progressive Dems and Trumpers
Progressive lawmakers and left-leaning civil liberty groups have opposed Section 702 over fears agencies could abuse its powers to target political dissidents and marginalized communities, but the provision more recently earned the ire of Donald-Trump-stanning Republicans as well. That shift started after reports revealed the FBI used 702 to wiretap Trump campaign foreign policy director Carter Page. The Justice Department eventually fessed up to its abuse of the system following watchdog pressure and acknowledged it lacked probable cause in at least two of the four warrants it used to surveil the Trump aide.
Those revelations, alongside a general souring towards intelligence agencies on the political right, have led to a renewed, heated skepticism of FISA courts and Section 702 across a wide swath of the political spectrum. Illinois Republican rep Rep. Darin LaHood stoked that skepticism last month during a House Intelligence Committee hearing where he accused the FBI of wrongly searching his name in foreign surveillance data collected under the program. House lawmakers, according to a recent Politico report, aren't interested in hearing the FBI's make a case for upholding Section 702 as is.
McKinney of the EFF says lawmakers' findings themselves personally on the receiving end of perceived government overreach could make them more amicable to reforms.
"Nobody wants to know they are the target of a secret investigation," McKinney said.

Battle lines are already being drawn between a bipartisan mix of lawmakers who want to see Section 702 sunsetted entirely and those who would rather it continue on with reforms. Just this week, a bipartisan pair of California lawmakers in charge of the "Foruth Amendment Caucus" wrote a letter to colleagues seen by The Hill saying they intended to fight to "safeguard against warrantless searches and seizures," while still keeping the program intact.

"It is crucial to emphasize that the reforms spearheaded by the Caucus will protect American civil liberties while preserving national security," Rep. Zoe Lofgren and Rep. Tom McClintock wrote in their letter.

Mounting lawmakers' interest aside, McKinney said it has historically been difficult to get the general public to care in FISA reform, which can often feel amorphous and impersonal.
"It's either too scary for people to think that it's happening but it also doesn't fit on a bumper sticker."