Nike's limited edition 2015 variant of the Hyperdunk Supremes just got here. The sneakers aren't just pretty - they're incredibly light for a high top at 13-ounces. The translucent rubberized upper has threads running through it at a crosspattern. Nike calls it Flywire tech, but I also recognize the idea from professional sailboat race sails, which run kevlar through the material to give it resistance to stretching and tearing, as well as more tensile strength. The sole has a sliver of carbon fiber running through it, too. Then the super nerdy and awesome Back to the Future references begin.

G/O Media may get a commission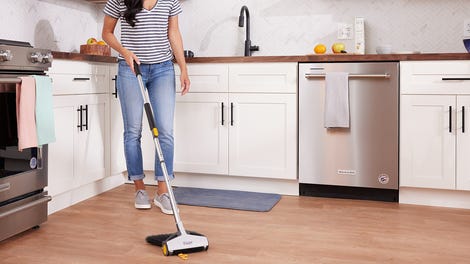 BOGO 50% Off
Flippr - BOGO 50% Off
The box itself has 2015 on its side, and the slide out inner chamber is patterned like Marty's hoverboard. The wrapping paper inside has the words "great scott!" on them. And the sneakers come with hoverboard pink laces with blue tips.
The sneakers themselves are standard hyperdunks with a few notable differences. The Nike logo on the back is the same font and color as the sneakers in BTTF2. The grey sides of the soles have blue paint specs on them, as in the movie. The uppers have triangular loops, deemphasized versions of the ultra high tops on the movie version. The lateral edge of the shoe is glow in the dark. The midsole has a pink and green hoverboard design, and if you lift it out, there's a flux capacitor logo underneath it on the heel. The tongue of the shoe has orange/red Back to the Future arrows, and three dates and times as they might appear on the Flux capacitor's controller: November 12 (the day the clock was struck by lightning), and two October days, partially obscured by a graphic.
They're Nike, so they're comfortable. I make no claims to their performance, but if they're good enough for Kobe Bryant, I suppose they'll work for blogging.
Michael Maloof of the McFly 2015 project had Nike send these to me for review because of the shared love we have for seeing these sneakers produced. They may not have power laces or electroluminescent Nike logos on them, but maybe that'll come in version 2.