Matt Smith and David Tennant are photographed together at the readthrough for Doctor Who's 50th anniversary special. Find out what to expect in G.I. Joe 3! Primer's Shane Carruth reveals the impressively practical special effects in his latest mindbending film. Robert Kirkman looks ahead to The Walking Dead's next season. Plus new videos for Godzilla, Game of Thrones, Arrow, and Under the Dome. Spoilers from here on out!
Top image from Star Trek Into Darkness.
Star Trek Into Darkness
Co-writer Roberto Orci discusses Benedict Cumberbatch's villain John Harrison and how the character relates to the movie's title:
Well he understands Starfleet because he was enlisted in a similar way. Some might see part of the title coming from the fact that he's kind of a dark shadow of members of our crew. He too has gone through the [Starfleet training] process to some degree, that some of our crew have gone through, and clearly for some reason it's failed to bring him over, so I think he represents that part of our heroes... [It's] not just as simple as it being a terrorist allegory – it's a flavor of the movie, it's an element, but it's certainly not at the center of its plot. It does speak to the fact that we wanted to embed in our universe events that are recognizable to an audience.
And fellow writer Alex Kurtzman offers this assurance that the film, for all its titular darkness, will still be true to Gene Roddenberry's original vision:
The thing that's been interesting to us is that, despite the fact that we are literally going Into Darkness, I think we all worked very hard to make sure the theme of hope, what hope costs, and what it's really about, was always alive in how we were designing our story. So we're pretty consistent with the last movie in terms of dark things happening, but holding on to the light that Roddenberry set up as a basic tenet of the Star Trek universe.
G/O Media may get a commission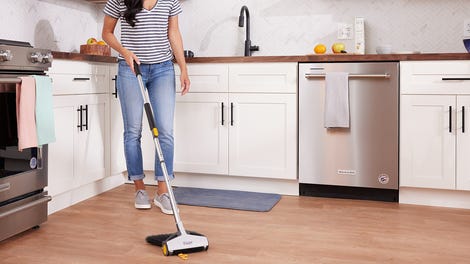 BOGO 50% Off
Flippr - BOGO 50% Off
Also, a new image shows the bridge of a ship that's not the Enterprise, and it's quite possibly the ship that crashes into San Francisco. For impressively painstaking analysis of the images and screencaps that show this ship, head over to Trek Movie.
Godzilla
Here's a set video. [Shock Till You Drop]
Upstream Color
Primer writer-director Shane Carruth explains how he created the entirely practical special effects for his latest low-budget, high-concept film:
It's all practical, there's no computer generated anything in this at all, not even the end credits.

Really? That's amazing. So how do you go about doing stuff like that? You have cameras that go inside the body so did you have people you knew who could do stuff like that?
I mean, I started shooting some stuff while I was writing, some of the microscopic stuff, the little blue spheres that would balloon up. I started doing a lot of time lapse while I was writing. I mean, I did hours and hours and hours worth of this stuff just to see if I could get it because I had an idea of what I needed it to look like. I would do that and do that and do that until I could get it. Then, we started to just develop the here's what this world looks like. Here's where you go in, here's what it looks like. It's Tom Walker, the production designer, was able to put together all sorts of wonderful things. It wound up being a back room in a house that I was renting in Dallas, and we had everything in there from chicken breasts and red dye and ground beef and we tried lots of things with the worms, bits of rope or nylon tied in knots and pulled through latex before eventually giving up and saying, "Let's just go to the store and buy some night crawlers and do this." Yeah, it was just a ton, a ton, a ton of trial and error. Nobody-Tom, not me not anybody had really any experience with how to do this, except for the bits where we can see the worm crawling under Amy's skin. That was actually someone who's a makeup artist and he had some experience with how to do stuff like that, yeah.
G.I. Joe 3
Since G.I. Joe: Retaliation has proven a decent hit at the box office, a third film has officially been announced. Producer Lorenzo di Bonaventura hints at what to expect:
"We haven't spent any time considering what the next movie is. There are elements we're really excited about. I'd like to do more ninja story. That's really fun, and I think the mythology will support some really cool things. You know, I was a really huge fan of the TV show Combat! as a kid, and there's an intimacy the show had because their budget demanded it — it's always a bunch of guys and they're going down a ditch. I'd like us to do some of that kind of stuff where you're really on an intimate level. 'Surprising' isn't the right word, but 'gratifying' how Dwayne and Channing's 'home scenes', if you would, they're not buddy scenes but they translated that way somehow. So they're basic character scenes, and they're domesticated scenes. How well that played in the scale of what we're trying to do. I'd like to see more of that."
[Collider via Comic Book Movie]
Doctor Who
The readthrough for the 50th anniversary special was yesterday, and here's a photo of Matt Smith and David Tennant together to prove it.
Unless the BBC is doing a phenomenal job of keeping secrets, there probably weren't any other previous Doctors in attendance, which in turn suggests that the Tenth and Eleventh Doctors are the only ones with major roles in the special. This still doesn't totally rule out cameos by the earlier Doctors, but it's looking less and less likely. Anyway, moving to more substantial casting news, here's a second photo the BBC released, which reveals Gavin & Stacey star Joanna Page will also be appearing in the special. [Doctor Who News]
Game of Thrones
Here's a pair of promos for this Sunday's episode and the second of the season, "Dark Wings, Dark Words." [Coming Soon]
The Walking Dead
Comics creator Robert Kirkman looks ahead to season four, starting with why the main characters remain at the prison:
That's something we'll definitely be dealing with in season 4. But just off the top of my head I would say that, knowing the Governor is still out there, and knowing he knows Woodbury like the back of his hand, it would probably be not too safe to set up shop in his hometown. But it's possible that that's something we're exploring next season.

So is the Governor now just governing Martinez?
Yeah. They've got a tree fort somewhere and he's making few new rules. It's a new place called New Woodbury. "Come here! Live with us! You're safe!"

How worried should we be about Carl?
Very worried! Growing up in this world is not doing that guy a lot of good and it's taking him to some very dark and interesting places and I think, coming back for season 4, Rick's going to have a hard time reeling that guy in and trying to find a shred of that kid's humanity and bringing it to the forefront. Because that guy's taken a dark turn.
[EW]
It's now been confirmed that David Morrissey will return as a series regular next season, so the Governor probably isn't going anywhere for a little while yet. [EW]
And elsewhere, Kirkman discusses the Governor's return:
That question will be answered [in] Season 4. We always had a plan for this guy. We always knew that it was a bigger story than would fit into one season. There's still a lot more to be done with this guy. We've known from the very first minute of Season 3 that we would be keeping the Governor around for a while.

Will the prison remain the primary set piece in Season 4?
There's always going to be new locations and new places to discover and explore. I don't want to reveal toomuch; Season 4 is still five months away. But I will say that as we see at the end of Season 3 we're definitely going to start Season 4 at the prison. We may be there the whole season and we may not be… But there are going to be some big differences from Season 3.
[TV Line]
Under the Dome
Here's the second promo for this TV adaptation of Stephen King's novel.
Arrow
Here's the sizzle reel that premiered at WonderCon.
And here are interviews with stars Stephen Amell, Colin Donnell, and Willa Holland, plus executive producer Marc Guggenheim. [TV Equals]
Orphan Black
Here's the synopsis for the next episode, "Instinct":
With a body in her car and nowhere to turn, Sarah is forced to continue her con and earn "Beth" a second chance on the force. But with a killer on her tail, her only hope of finding answers lies with another apparent 'identical,' Alison.
Lost Girl
Here's the synopsis for episode thirteen, "Those Who Wander":
Bo attempts an unlikely rescue against an army to save two people who are dear to her – unaware of the dangers facing those she leaves behind. Kenzi has an epiphany about Hale. Dyson is given an important clue to Bo's past, just as doubt is cast on his own future.
Teen Wolf
Creator Jeff Davis previews what's ahead for various characters in the upcoming third season, starting with Scott:
What I like about Scott is that he was kind of a misfit teenager who makes a lot of clueless bad choices in the first season, and we've gradually grown him up and he's becoming a man and a leader. That's the great thing about writing for television - you can see characters grow in vast ways and much more complete ways than in movies sometimes. So it's interesting to see him as a character grow ,and he's going to be a leader. The idea is going to be whether or not Scott is going to become an Alpha in his own right some day.
He also talks about Derek and Stiles:
[Derek's] character changes quite a bit this season, becomes a different person. You might see a kinder, gentler Derek coming about and that has a lot to do with Scott's influence. So it'll be interesting to see where he ends up at the end of the season... We're going to see Stiles basically branch out and move on from his crush with Lydia. He's decided it's over and he's going to be a man now and move on and not pine after a girl who will barely give him the time of day... let's just say that romance isn't easy for him this season.
There's more at the link. [EW]
Additional reporting by Amanda Yesilbas and Charlie Jane Anders.