We've seen the character designs for the Michael Bay-produced Teenage Mutant Ninja Turtles movie, but these new action figures have revealed a few secrets of their own. Here, take a look...
G/O Media may get a commission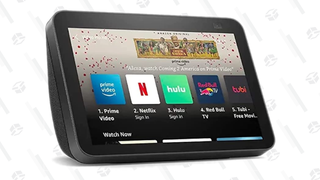 So...
1) Michaelangelo is definitely wearing a hoodie around his waist. A hoodie that can't possibly fit him.
2) I think Donatello is wearing a proton pack. Did Ray accidentally flush one down the toilet?
3) The figures look all right from the front and back, but check out Leonardo in the very last pic — he looks thick. Like pro football linebacker thick. I'm not trying to weight-shame an anthropomorphic turtle who can kill me in seconds, but I have to think having a 56-inch chest might hinder one's ninja abilities.
4) Possibly related: Raphael has something horribly wrong with his neck. Guys, I'm getting worried that this may be a movie version of Jim Lee's TMNT...
[AC Toys via Comic Book Movie]