Ant-Man may add a House of Cards alum to its cast. A set report includes a new costume and sonic screwdriver for Peter Capaldi's Doctor. An Attack The Block star could join Terminator 5. Plus, a ton of Game of Thrones interviews, including why Maisie Williams wants viewers not to like Arya. Spoilers now!
Avengers: Age of Ultron
Here are more photos of Jeremy Renner, Elizabeth Olsen, and Aaron Taylor Johnson on set in Italy. Given that we now know they're trying to escape from Ultron, it makes it more likely that we're also seeing him in these photos, although this could just be an Ultron Sentinel. Of course, the costume will likely be enhanced using CG in post-production. More photos at the links. [Just Jared, Cinefilos, via Comic Book Movie]
G/O Media may get a commission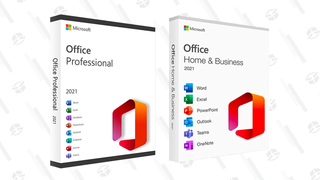 89% off
Microsoft Office Professional 2021 Lifetime License
---
Ant-Man
Corey Stoll (House of Cards) is in negotiations to join the cast, with the role he is supposed to play being unknown. He joins Patrick Wilson, Michael Pena and Evangeline Lilly as potential castmembers, with filming set to start next month. [Variety via Coming Soon]
---
The Amazing Spider-Man 2
Here are some locations from the film, plus more looks at the Rhino, Electro, and a close-up look at Spider-Man's web shooters. [MTV via Screenrant]
---
Terminator: Genesis
Attack the Block star John Boyega is not only said to have tested for a role in the new Star Wars, but he's reportedly also being sought after for this new film, to play the role of Miles Dyson's son (from Terminator 2.) He can't do both Star Wars and Terminator, so they're waiting to find out if he gets the Star Wars role. [Borys Kit on Twitter, via Cinemablend]
---
Maleficent
Here's the Japanese trailer, which includes some new footage. [First Showing]
---
Doctor Who
BlogtorWho has a set report from Nathan Creedy for what looks like the filming of episode three of the new season. The Doctor is tracking two aliens (including Moxx of Balhoon actor Jimmy Vee "wearing what appeared to be a Mass Effect-like costume with large pointed shoulder pads that came up past his head") in an abandoned building. The other alien had "grotesque features and glowing blue eyes."
Capaldi was wearing a new costume, a brown jacket described as "reminiscent of a lab coat, likely stolen by The Doctor, with pens in the breast pocket." It's also the first report we've had of the new sonic screwdriver, which apparently remains similar to Matt Smith's, retaining the green light, slimmer and with a smaller "claw" at the top. Below are a picture of the set and a video from filming, that shows the new sonic screwdriver in action. [Blogtor Who]
---
Game of Thrones
Speaking to Zap 2 It, Maisie Williams previewed what's ahead for Arya:
She gets herself into a lot of sticky situations, but they're really good situations for her. Old Arya would be nervous about it and wouldn't push things as far as new Arya pushes them. She doesn't keep her mouth shut. She says a lot of things that old Arya wouldn't. You thought Arya was kind of outgoing and blunt, but the new Arya is just a lot less aware of that, almost, and isn't trying to be cheeky; [she] just purely doesn't care. I think that's the one thing to take away from Arya this year: She feels nothing. She's not happy, she's not sad, she's not grieving, she's not vengeful. She's just nothing.
Williams said that she almost hopes people won't like Arya anymore, since she's making bad decisions and doning bad things even if they are for the "right reasons." She also gave this insight into the motivations of Arya this season:
She's completely given up on [reuniting with her family], and it almost feels like they've given up on her because she's like, where were they? She's angry. She feels like she's the only one who's been trying. Where's the search party looking out for her? Why did no one recognize her? She's angry at the fact that she's trying so hard — she was angry at the fact that she was trying so hard — and she can't see any of it coming back.
[Zap 2 It]
Peter Dinklage says that this season will be hewing close to the books, at least for Tyrion's plot:
Well, to anyone who has read the books, we stick fairly closely to that plotline, and those reversals of fortune really send him down the rabbit hole. What's interesting about this character is how much he changes [this season]. It's remarkable. When Dave and Dan and I met for the first time, they talked about this stuff, and I found it to be so interesting as an actor to go on that journey because he really ends up in a different place than he thought he was going to. It's fueled a bit by anger towards his family, and trying to find his place in the world. You see that some people rely on drunk, funny Tyrion. I think funny and drunk lasts only so long. He sobers up in many ways. And love is in his life [with Shae], and that causes a tremendous amount of damage — because he's vulnerable and he doesn't like to be vulnerable. He's completely stripped of his defense mechanisms.

We know you spend most of the season locked up.
Yeah. Oh yeah. I'm very well acquainted with the prop guys who have to handcuff me every 10 minutes. On the road in the first season, I was dirty and tied up a lot, out in the mud. It's fun. I've been too clean for two seasons. I gotta get back out in the dirt.
He also talked about filming with Nikolaj Coster-Waldau as Jaime:
I hadn't worked with Nikolaj since season one, and we had very little in the beginning in season one before I went off, so I hadn't seen him in years — I mean, I'd seen Nikolaj at events and stuff, but I hadn't worked with him. It's great. I love working with all my Lannister siblings and parents. It's fun to play the family relationship. If anything, [showrunners David Benioff and Dan Weiss] stripped it down to the bare minimum. If you're raised together, you have an unspoken dialogue many times, and it's very easy, especially between Jaime and Tyrion. They have a real friendship, a good brotherhood. They look after each other. So, it's been great to get back into that. We have quite a few scenes together this year so it's been nice.
Gwendoline Christie explained a scene in the first episode where Lady Olenna seems to approve of Brienne:
And reading the script, it's so cleverly written that when I was reading it, it was a surprise to me that Olenna would change and have that opinion, but then, as ever, it makes total sense that she should be so embracing of a woman of power, as she is herself, albeit of an entirely different form.
She also talked about what Brienne wants from Jaime this season:
Those two with their relationship, only they know what has gone on. Only those two share the experience. And what I find so attractive about it is it is so unspoken… Brienne's perspective is that she senses that it would be very easy for Jaime to return back to his old way of being, back to his old mode of behavior, and she wants him to uphold the man he has become rather than go back to being the man he was, because she sees that beneath these seemingly impenetrable layers, there is a man of honor and of heart.

So she wants him to continue with that journey. Brienne is a woman that has dedicated her life to honor and to the moral good, and is altruistic. And she sees that in him also and wants him to maintain it. She's a very pure character. It will be interesting to see the journey that she goes on. It will be interesting to see if she remains that way, if it's possible for any human being to remain that way.
[TV Line]
---
Arrow
At Florida MegaCon, while Manu Bennett was unwilling to divulge the fate of his character, Slade Wilson, he did hint that John Barrowman's Malcom Merlyn would return as the antagonist for season three. [Den of Geek]
---
The Walking Dead
Executive producer Greg Nicotero previewed the season finale, saying that, at the very least, it will start with hope:
We're going into it with hope. We've been hearing since episode four about Terminus and those that arrive, survive. They all have that glimmer of hope. The fact that Glenn says "Maggie would go there; I know it," and vice versa, they all find those landmarks and realize that in a world without cell phones, computers and cars, they have to have faith that they will find each other. Tyreese really lost his faith after Karen died, and reuniting with Carol and the girls, it's amazing and gut-wrenching to see what all these people have been through. As far as Tyreese knows, Sasha is dead and vice versa. Maggie doesn't know Beth is gone. It's all these little microcosm of stories that will all collide.
He also talked about the character we have yet to meet:
We're at Terminus and we've seen some of our group arrive there, and it's safe to say that that's where we will find [Andrew J. West's character].

What kind of a man is he? My theory is that he's a version of one of the cannibals from the comics.

That's an interesting theory. The people that have survived in this world have survived at a cost. The way Joe and his group, the way that our group have survived, they've lost people and they've had to do things. This entire season was based on the premise of, "Can you do what it takes to stay alive?" Crossing that line between the brutality and the humanizing aspect of life, and can you be compassionate and still survive in this world or are you always going to be a bad guy? In different worlds and different perceptions, who is a good guy and who is a bad guy? In Joe's perception, Joe isn't a bad guy, he's a good guy who has just figured out a way to survive and use a set of rules that work for him. So it'll be interesting to see how things play out and how fans respond to what we've set up in the last episode.
Robert Kirkman has these words of warning for the season finale:
This last half of season 4 has been a character defining group of stories for everyone but really, Rick Grimes — really finding what this guy is going to be able to do and how he is going to carry on, and is he going to get these people back together, and where is he going to go from here? And I think there are some big questions that are asked that are going to be answered in this final episode.

This is Rick Grimes being pushed to his absolute limit. And if you think you've seen that before, you haven't. And the Rick Grimes that comes out of this is really going to shock people.
Gale Anne Hurd agreed with Kirkman, saying:
Exactly. And it's always a question of how much can you come back from those moments, and those choices. And that's where season 5 will take us.
She also said that they're still working on the spinoff and explained why it's taking some time:
Right now our focus is on The Walking Dead and we'd rather have it slow and right than just be quick. We take it very seriously and AMC has been terrific in understanding — all in good time.
---
Teen Wolf
Exeutive producer Jeff Davis said that Kate's new appearance has a very specific meaning, and he touched on her agenda:
It's a blue-ish pattern, yes. The patterns and spots are very specific. I won't say what she is exactly, but she's definitely a were creature, so I think people can look it up and probably figure things out themselves.

Well, she's going to be a foe to many people, but you'll be surprised to see who she aligns herself with. She definitely has an agenda, and one of those agendas is to survive at all costs. She still considers herself an argent — and a hunter.
As to what Danny knows, Davis said:
Oh, you'll find out. That twist was partly a nod to The Lost Boys, and one of my favorite lines in that movie comes at the end: "One thing about living in Santa Carla I never could stomach … all the damn vampires." There was always a question of whether or not we'd turn Danny into something, or if he'd know about it but choose to stay out of the supernatural goings-on in order to survive. I can imagine his house is just lined with mountain ash.
Daniel Sharman may not return for season 4, with Davis saying that they had to convince him to do the rest of season 3. However, he also asked not to be killed, so he could return. [TV Line]
In an interview about the season finale, Dylan O'Brien gave a little hint about what season 4 would hold:
[Malia's] probably the only person who actually made him feel good this season, with everything he's been going through. I think they share a lot of things, innocence mostly. They're cute together. Obviously there hasn't been much between them this season — she's going to play more into next season. The finale is very much a Stiles-Lydia finale. You see the connection, which is what I love about them. They haven't had a real relationship, but they care about each other.

. . . [Malia] is a Season 4 regular, so she'll become a part of the pack.
[TV Line]
A new promo video revealed the season 4 premiere date: June 23, 2014. [E! Online]
---
Agents of SHIELD
Clark Gregg says that each appearance of J. August Richards on the show will get him closer to the comics Deathlok character:
I'm really excited with where that's going. The evolution of Deathlok as a character, as it gets closer and closer to the Deathlok character we know from the comics — every time we see Deathlok, he seems to have some new toys. It's getting really intense."

He's someone Coulson kind of connects with. He started out trying to do the right thing, and has just been eaten away by doing this, and now he's working for the wrong people, but doesn't even seem like he has a choice in the matter.
---
Once Upon a Time
Sad news! Mulan will not be returning to the show any time this season. I guess that's the price we pay for the return of Red. [E! Online]
The season finale will be called "There's No Place Like Home." [SpoilerTV]
---
Gotham
Here's a promo image of Sean Pertwee as Alfred. [Slashfilm]
---
The Tomorrow People
Here's the promo for episode 1.18 "Smoke and Mirrors." [via SpoilerTV]
---
The Vampire Diaries
Here's a sneak peek of episode 5.17 "Rescue Me." [via SpoilerTV]
---
Dominion
Syfy announced that the premiere date for this show based on the movie Legion would be June 12. [SpoilerTV]
---
Resurrection
Here's the press release for episode 6:
MAGGIE TURNS TO A MAN FROM HER PAST FOR HELP AND TENSIONS BUILD IN ARCADIA OVER THE RETURNED, ON "RESURRECTION"

"Home" – Maggie turns to a man from her past, Dr. Eric Ward (guest star James Tupper), now working for the NIH, for answers to Arcadia's mystery. She insists Ward is there as a friend, but Bellamy is suspicious of any outsiders. Rachael's (guest star Kathleen Munroe) secret falls into the wrong hands. In the wake of recent events, Pastor Tom and Bellamy try to reassure Arcadians they have nothing to fear from the returned, but some residents have other ideas, on "Resurrection," SUNDAY, APRIL 13 (9:00-10:01 p.m., ET) on the ABC Television Network.

"Resurrection" stars Omar Epps as J. Martin Bellamy, Frances Fisher as Lucille Langston, Matt Craven as Fred Langston, Devin Kelley as Maggie Langston, Mark Hildreth as Pastor Tom Hale, Samaire Armstrong as Elaine Richards, Sam Hazeldine as Caleb Richards, Landon Gimenez as Jacob and Kurtwood Smith as Henry Langston.

Guest starring are James Tupper as Dr. Eric Ward, Veronica Cartwright as Helen Edgerton, Kathleen Munroe as Rachael Braidwood, Tamlyn Tomita as Dr. Toni Willis, Lori Beth Sikes as Janine Hale, Gary Weeks as Det. Andrew Chartman, Travis Young as Ray Richards, Kevin Sizemore as Gary Humphrey, Michael Harding as Paul Thorton, Christopher Berry as Dept. Carl Enders and Matthew Cornwell as Stanley.

"Home" was written by Jessica Mecklenburg and directed by Scott Winant.
Additional reporting by Charlie Jane Anders and Emily Stamm