Frank Darabont explains why the second season of The Walking Dead is heading to the country. New Hobbit photos show off Bilbo and Gandalf. Plus a blurry set video of Bruce Wayne and Selina Kyle in The Dark Knight Rises!
Is AI Moving Too Fast? | Future Tech
Spoilers from here on out!
Top image from Harry Potter and the Deathly Hallows: Part II.
Captain America
Chris Evans explains how audiences should feel about Steve Rogers and his own personal inspiration for the part:
"This is kind of an origin story, and if by the end of the film you're still seeing 'Skinny Steve,' I think that's what the audience will like...On a more personal level, I have a friend who's a huge comic book nut. He's the best human being I know. He's an Eagle Scout — do you know what an Eagle Scout is? It's a Boy Scout who's been a Boy Scout for… way too long. He's just a good man. He does the right thing. He won't even tell a white lie. He'd rather do the right thing — his morals are intact and he's noble and honorable. He is Captain America to me, and I based the role off of him."
Marvel Studios head Kevin Feige also clarified how the villainous Hydra fits into the World War II setting:
"Hydra begins the movie very similar to the [comic book group] A.I.M., the Advanced Ideas and Mechanics group, working as sort of a special weapons division of the Nazi party."
G/O Media may get a commission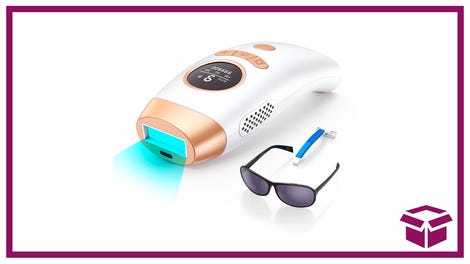 58% Off + Coupon
IPL Hair Removal Device
The article also explains how the whole "Captain America as USO entertainer" fits into the film as a whole:
Like most heroes, Cap doesn't start off as the bold, iconic hero that we know him to be. In fact, fearing a hit on public morale should their one and only super soldier die, the military forces Rogers to be a garishly-dressed character in war bond ads or USO shows. This sequence allows Marvel to not only nod and wink at Cap's somewhat goofy original costume, but pay homage to the original Captain America cover, which features our hero punching Hitler in the jaw. In the film, Rogers is punching an actor in a staged sequence to entertain the military.
There are some more details at the link. [IGN]
Here's another new TV spot, showcasing some of the scenes set in the modern day.

And here's a behind-the-scenes featurette.

---
The Dark Knight Rises
It's not much, but here's your first look at what appears to be Bruce Wayne and Selina Kyle going out on a date. They're in front of Wollaton Hall, which doubles as Wayne Manor in the film, and they meet up in the rain, heading out on the town. Bruce holds a folded-up newspaper over Selina's head, like a true gentleman.
Separately, the film is seeking young men with "extensive football experience" to play football players in scenes set in Gotham City (but filmed in Pittsburgh). [IGN]
---
Prometheus
Ridley Scott confirmed that a key motivation behind the movie was the desire to explore the mysterious Space Jockeys that were glimpsed but unexplained in Alien. He then went deeper with some, uh, interesting interpretations of current scientific theory:
"The (space) journey, metaphorically, is about a challenge to the gods. NASA and the Vatican agree that is almost mathematically impossible that we can be where we are today without there being a little help along the way. That's what we're looking at (in the film), at some of Eric van Daniken's ideas of how did we humans come about."
For the record, van Daniken's "ideas" (I use the term loosely) hold that aliens made repeated contact with ancient humans and helped along their development. I'm no expert on what the Vatican thinks, but I'll say right now that NASA doesn't even remotely believe whatever Ridley Scott seems to think they do.
Back to the movie itself - which, whatever its apparently dubious scientific background, could still be pretty great - Michael Fassbender hinted that his character David might well be the forerunner of the corporate androids seen in the Alien films. [The Hollywood Reporter]
---
The Hobbit
Here are two more photos of Gandalf and Bilbo. [Empire Online]
---
Harry Potter and the Deathly Hallows: Part II
Just in case we missed any the first time around, here's a complete collection of the character posters. [multipleverses.com]
---
Mission: Impossible - Ghost Protocol
Here are some promo images. [IGN]
---
Fright Night
Here's a complete set of character posters, including the David Tennant one we showed you the other day. [Empire Online]
---
Piranha 3DD
Danielle Panabaker explains how her character fits into the plot:
The movie takes place in a water park. My character's step-father owns the park, and she is coming to work there over the summer. And fishy things start to happen...!
[FEARnet]
---
Doctor Who
Veteran British TV actor Albert Welling will reportedly play the title character in the midseason premiere episode, "Let's Kill Hitler." [Doctor Who Spoilers]
---
Torchwood: Miracle Day
Here's the full press release for the first episode, which carries the original season title "The New World":
One day, nobody dies. All across the world, nobody dies. And then the next day, and the next, and the next, people keep ageing – they get hurt and sick, but they never die. The result: a population boom, overnight.

With all the extra people, resources are finite. It's said that in four month's time, the human race will cease to be viable. But this can't be a natural event – someone's got to be behind it. It's a race against time as CIA agent Rex Matheson investigates a global conspiracy. The answers lie within an old, secret British institute. As Rex keeps asking: "What is Torchwood?", he's drawn into a world of adventure, and a threat to change what it means to be human ... for ever.

In the launch episode of Torchwood: Miracle Day, Agent Rex Matheson is impaled in a car crash and miraculously survives, while his analyst, Esther Drummond, sets out to discover what Torchwood is. Far away, in Wales, Gwen Cooper lives in hiding with her husband Rhys and daughter Anwen – she's the last surviving Torchwood member and is determined to stay hidden. In Kentucky, convicted murderer Oswald Danes survives his own execution. And when Esther meets the mysterious Captain Jack Harkness, assassins are activated to kill them all...
Now jumping ahead, here's a short description for episode eight, "End of the Road":
Jack faces a showdown with a man he thought was long since dead. But while Rex takes extreme action, is it too late to prevent the collapse of society?
[Starz]
---
True Blood
Here's a promo for episode 3, "If You Love Me, Why Am I Dying?":

Alcide will finally show up in episode 3, and he'll be "spoken for", which will create tensions with Sookie. Joe Mangianello adds:
"The great thing about Sookie is that she drags him off on all these adventures. She's the key in unlocking that reluctant hero inside of him and he recognizes that as a good thing."
[TV Guide]
---
The Walking Dead
Executive producer Frank Darabont discusses season two, focusing on Herschel's Farm:
...we're gonna be dropping anchor at Hershel's Farm for most of the season. Last season was so challenging because it was different locations pretty much every episode. Here, we're sorta following the template of the comic book and that puts us at Hershel's Farm for a good chunk of the season. Obviously we range out from there, but it's a primary location for the season and that's a terrific advantage really.

Tell me about this farm you've found.
Well, it's got the farmhouse that was built in the late 1800s, I think. It's got such a magnificent, beautiful, Andrew-Wyeth-painting, Southern Gothic feel to it. And then it's also got just a hint of the house from Amityville Horror or from Carrie. It's got this wonderful blend of beauty and isolation and it's just a little bit creepy.
There's more at the link. [AMC]
---
Touch
Keifer Sutherland tweeted this set photo from the pilot of Heroes creator Tim Kring's new show, which finds Sutherland dealing with his mute autistic son's apparent prophetic powers. The pilot is currently filming at California's San Bernardino International Airport. [SpoilerTV]
---
Falling Skies
Here are some promo photos for episode 4, "Grace." [SpoilerTV]
---
Alphas
Here's a sneak peek of the pilot.

---
The Nine Lives of Chloe King
Here's a promo and three sneak peeks for episode four, "All Apologies":

Here are some promo photos from episode six, the somewhat obnoxiously titled "Nothing Compares 2 U." [SpoilerTV]
---
Death Valley
Here's a promo pic from MTV's upcoming zombie show. You can see a trailer and read a series description at the link. [ShockTillYouDrop; image from Fangoria]
---
Additional reporting by Gordon Jackson and Charlie Jane Anders.