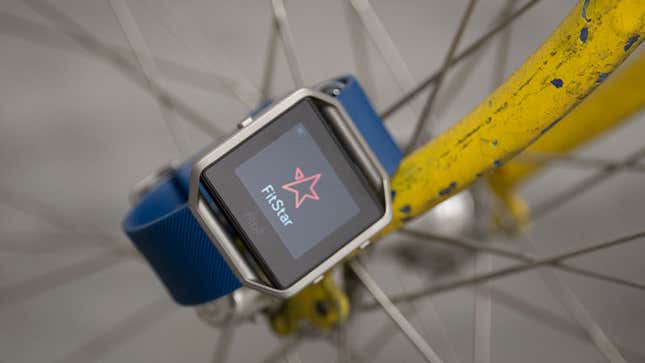 Last year, Fitbit inflicted upon us, the public at large, the ugliest smartwatch from a company that should know better. The Fitbit Blaze had great battery life and... that was it. Then, late last year, Fitbit acquired a lot of tech and assets from Pebble, the lauded smartwatch company that found itself murdered by the public's distinct lack of interest in smartwatches.

Meet Microsoft's New Surface Laptops
Now, according to Yahoo Finance, Fitbit is hard at work on a new smartwatch, and it's run into so many issues the company has been forced to delay it.
From Yahoo:
The fitness tracker company's smartwatch project has been a troubled one. Production problems have forced Fitbit to push an original spring launch to this fall, according to two sources familiar with the matter.
Despite all that Pebble knowhow, Fitbit has apparently run into big problems making the new smartwatch waterproof, and it's also had issues with GPS. "In one of the more final prototypes, the GPS wasn't working because the antennae wasn't in the right place," Yahoo's source said.
More importantly, however, Yahoo's source had nothing nice to say about the look of the watch. "It was very retro-looking with the lines and stuff—definitely not sexy," they said. Yahoo Finance corroborated that assessment after reportedly seeing the presentation deck that retailers like Best Buy and Target would have seen when Fitbit shopped the watch around.
That deck revealed a general design aesthetic that resembles a product in the company's current product line: the Blaze.
It's a shame the new watch will be so ugly when (if) it launches. As the source says, the watch will offer the ability to stream Pandora sans phone, have a 1,000 nits display—that's on par with the Apple Watch and twice as bright as most smartphones—and, crucially, last four days on a charge.

Battery life has been a major factor in holding the smartwatch back from wider adoption, so a device that can do all the normal cool smartwatch stuff and last longer that a smartphone would be spectacular. But not if it's as ugly as the Blaze.
When reached for comment, Fitbit gave us the same statement it gave Yahoo:

We know there is a lot of interest in our entry into the smartwatch category. We don't have news to share at this time and do not comment on rumors or speculation.
If you've seen the watch or know anything further about its supposedly troubled development, reach out at alex.cranz@gizmodo.com.