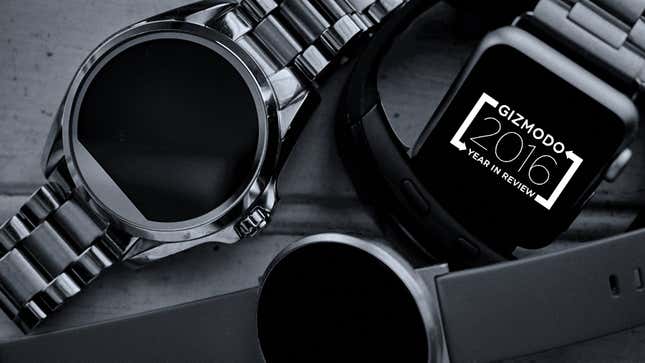 Back in April, I dropped $230 on a gadget that had me feeling that gadget love again. You're familiar with the feeling too; the thrill you get walking into a Sharper Image store or thumbing through a Hammacher Schlemmer catalog. It's that sense that you're seeing a small glimpse of the future neatly packaged and commoditized for the present.
Vizio's Latest TVs Go All Quantum
But as soon as my Apple Watch arrived in the mail, I almost immediately had a new name for it: My Great Regret. A big reason I'd purchased it was for the novel ability to turn my lights off and on with my watch, but in practice, the Phillips Hue light switch app was so slow it was easier to pull my phone out instead. But the worst part was that the watch just felt buggy. I never knew when texts and phone calls I'd get on my phone would actually push to my watch.
Relatively speaking, the only win was battery life. The Apple Watch lasted a strong 24 hours, which seemed great compared to other smartwatches, like the Moto360, which could usually only go about eight to twelve. But even then, I was scrambling for my Apple Watch charger every night, and with the need to charge a computer, phone, tablet, and e-reader, that scramble started to get tedious. Slowly, over time, I found myself reaching for my phone more and reaching at my Watch less—it's been between two cushions in my couch for over a week now. My Apple Watch has come to feel less like the future and more like the spectacularly terrible now. 
I'm not alone in my disappointment with Apple's wristable, and more broadly with smartwatches as a whole. It's the end of 2016, and it's time to be honest: The smartwatch really never should have been. If you take one look at the half-baked products out there, it's unsurprising that they've failed to excite anyone but the most devoted nerds.
The imminent demise of the smartwatch is evident in the numbers alone. At the end of last year, IDC, a major market analysis firm, noted that smartwatch sales had improved every year since Pebble kicked off the fad in 2012. IDC suggested that 2016 would see a big jump in sales from 2015, which would ultimately lead to smartwatches overtaking the simpler fitness tracker by as early as 2016. But that didn't happen. Instead, the smartwatch market went into decline.
A more recent report from IDC suggests the Apple Watch, the most popular product of its kind, saw a 71.3 percent drop in sales from last year, overall sales dropped 51.6 percent.
The smartwatch's loudest death knell was the announcement last week that Pebble sold its assets to Fitbit and that the company's distinctive watches wouldn't be made anymore. Despite both making wearables for your wrist, Pebble and Fitbit do very different things. Fitbit's focus has always been fitness, with more smartwatch-like capabilities being treated as distant afterthoughts. While Fitbit is acquiring Pebble's technology, there's no assurances that the best features of Pebble's smartwatch will survive the sale.

Pebble's death speaks most plainly to the failures of the smartwatch as a whole, suggesting that even fixing the biggest problems with smartwatches couldn't save them. There are many reasons that people don't like smartwatches, but perhaps the most resonant is their terrible battery life. As I learned with my Apple Watch, the small battery you can stuff in a wristable device can't power their fancy OLED or LED displays for more than a day. But the Pebble was better. Thanks to its e-ink display, it could last a week without a charge. And its for this reason that Pebble attracted a cult of devotees. It wasn't enough.
Why could Pebble mainstream itself enough to make money? The problem with the Pebble is the same one that remains for the Apple Watch and all the other smartwatches. Ultimately, they don't actually improve the wearer's life enough to warrant their myriad of hassles. Sure, they can give you a rough measurement of your heart rate, or tell the time, or let you know when you receive an email. But your phone can do all that too. The convenience of the smartwatch is outdone by its inconveniences—the pairing with a phone, the need to charge, and the stigma of that glowing display that's always on your wrist.
There's the potential for the dire smartwatch situation to improve of course. When the Apple Watch's latest software update dropped, I immediately found myself wearing my Apple Watch again, thanks to the speed boost and the ability to send texts from your wrist with a few scribbles across the screen. For a week or two, the fun factor of the smartwatch returned. The key for smartwatch makers will be to maintain that fun factor for the life of a device. Until that happens, the smartwatch will be just another lame gadget that's lost under a couch cushion after a week of use.