A family of Eastern grey squirrels in Wisconsin got a little too close-knit this weekend after five juveniles got their tails tangled together. The squirrels are fine, we PROMISE, so don't feel too bad for gawking at them.
As the Guardian reports, the mother of these squirrels likely used plastic and long grasses to build her nest, which appears to have led to the unfortunate entanglement that the Wisconsin Humane Society described as a "Gordian Knot" on their Facebook page.
Vets at the humane society anesthetized the five squirrels so they could work on separating the critters without getting scratched or bitten up. It ultimately only took 20 minutes to free the squirrels after snipping away at the plastic and grass and shaving the hair from their tails.
"If they had been left alone, they would have died," said Angela Speed, vice president of communications at the Wisconsin Humane Society.

G/O Media may get a commission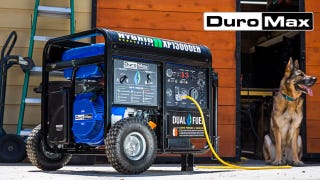 Black Friday Sale
DuroMax Generator Sale
The main concern for squirrels this young was that blood flow might have been cut off from their tails for long enough for the tissue to have died, which could easily have led to infection. But luckily for these critters, that isn't the case, and Speed says they're recovering well.
As weird as it sounds, squirrel-knot situations like these seem to happen fairly often. "[One of our volunteers] has seen this before, but we've never had five tangled like this," said Speed.
We actually reported on a similar situation in Nebraska earlier this year, even though it was with fox squirrels rather than eastern greys. It's pretty common for plastic fibers to get tangled around animals, leading to necrosis and sometimes toe or whole-foot amputation in animals like pigeons.
But this squirrel king (squirrel prince?) is fairly different from the "rat king" that may come to mind when you hear "rodents attached at the tail." Rat kings are thought to happen when black rats swarm, tangling their hairless tails together in a real knot. The topic is shrouded in myth, although Mental Floss worked to detangle the story in this comprehensive piece.
And if you need a palate cleanser after that, enjoy this photo of one of the five rescued squirrels doing normal squirrel things while being monitored in an enclosure before it and its siblings will hopefully be released into the wild.