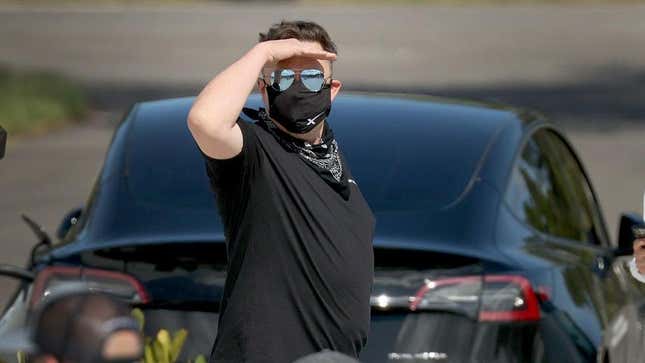 A Florida principal resigned on Tuesday after sending a $100,000 check to an internet scammer posing as Elon Musk. Jan McGee was the principal at the Burns Science and Technology charter school in Oak Hill since the school opened in 2011 and reportedly communicated with the scammer for months before sending the check from the school's account.

NPR Is Going Dark on Twitter | Future Tech
McGee said she believed the $100,000 would act as a down payment and in return, the billionaire reportedly promised he would invest millions of dollars in the school, NBC affiliate WESH first reported.
The school's business administrator, Brent Appy, noticed the payment and was able to cancel the check before it could be cashed. McGee announced she was resigning after a school board meeting when her fellow administrators said they refused to work under her.
Vice Principal Alexis Galerno, Appy, and school board members did not immediately respond to Gizmodo's request for comment.
WESH reported that school staff members said at the board meeting they had repeatedly warned McGee the person she was communicating with was a scammer and also claimed McGee had created a toxic work environment. Burns Sci-Tech is a highly ranked school with roughly 1,000 students who attend and has a lengthy years-long waiting list.
At the board meeting, some Burns Sci-Tech staff members refused to continue working with McGee and many threatened to quit if she continued to work at the school. Before leaving the building, McGee reportedly said, "I love this school more than anything else. If it means your administration is going to stay, I'm turning in my resignation."
Thousands of people are targeted by scammers each year prompting the loss of billions of dollars, which in many cases can't be recovered. According to an FBI crime report, more than $10.2 billion was lost last year, an increase from $6.9 billion lost in 2021.
The FBI warns on its website to beware of business and investment fraud in which scammers will ask for cash upfront in exchange for promises of guaranteed future returns. Individuals are advised that if the investment promises sound too good to be true, it is, adding, "There is no such thing as a guaranteed return."