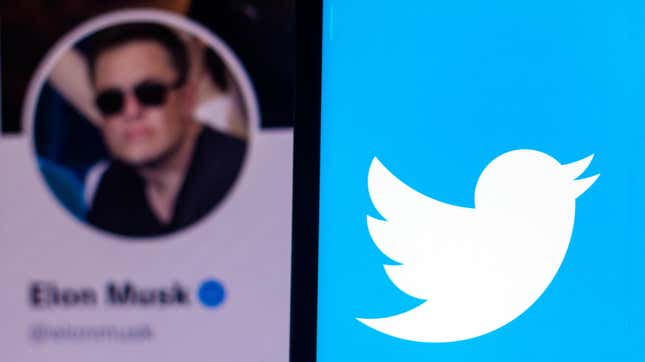 Update 3/28/2023, 4:00 p.m. ET: Elon Musk has amended his original announcement. Now, he says the plan was always that the "For You" section would continue to include "accounts you follow directly," in a tweet posted nearly a full day after the original. "Forgot to mention..." he began the hours-late tweet—embedded below:

NPR Is Going Dark on Twitter | Future Tech
The reversal is a not-uncommon hallmark of Musk's messy business decision making process, which often includes back-tracking, changes, and communications that defy standard logic.
Original post below:
Twitter is continuing its descent into disorder and disfunction with CEO Elon Musk leading the platform's nosedive. Next up: unverified users are set to lose their poll participation privileges and one half of the segregated timeline system will only include verified accounts, according to a Monday evening tweet from the billionaire.

"Starting April 15th, only verified accounts will be eligible to be in the For You recommendations," Musk posted, blaming advancing "AI bot swarms" for the decision. "Voting in polls will require verification for same reason," he added.*

*Disclaimer: Anything Elon Musk posts online is liable to ultimately not be true.

Though Musk is still clinging to the same bot takeover argument that he once tried to use to wriggle out of his deal to purchase Twitter, it's obvious he has ulterior motives here. The only way to become "verified" (i.e. gain a blue check) at this point in Twitter's history is to pay for it.
Currently, a subset of users maintain legacy check marks from the pre-Elon era. But there's no way to apply for those un-paid blue checks anymore. Instead, verification has become synonymous with signing up for Twitter Blue, the $8 per month subscription service. The cherry on top: Musk may or may not be planning to eliminate all legacy verified accounts on April 1 (it's impossible to know if he's serious or if it's an April Fools' Day prank, at this point).
Initially, Twitter Blue was just a way to get bonus features like an edit button and more organization tools. But overtime, Musk has shifted to move more of his site's features out of the "available-to-all" box and under the "paying customers only" umbrella. Text message-based two-factor authentication was limited to only for Twitter Blue users in February.
Now, the already unpopular "For You" timeline, which shows algorithmically generated content recommendations as opposed to posts from people you actually follow, will only display tweets from verified users beginning April 15, per Musk's announcement. Polls too, will be only for the few, the paying, the blue checks. And certainly that has nothing to do with the time a Twitter Poll overwhelming told Musk to resign.
On top of the stale bot argument, Musk has also claimed his promotion of Twitter Blue is a way to even the online playing field, and stop celebrity favoritism. Except the Tesla/SpaceX/etc CEO has already built favoritism into Twitter's algorithms. A short list of about 35 "VIP users" (including Musk himself) are artificially pumped up on the platform, according to a Monday night report from Platformer. Again, the real reason behind the billionaire's Twitter choices almost certainly comes back to money.
Musk has been pushing hard to try to boost Twitter's revenue through direct subscriptions. But uptake has been slow. Fewer than 200,000 people had signed up for Twitter Blue in the U.S. as of mid-January, which amounted to just .2% of the site's U.S. monthly users. Meanwhile, the site has lost significant ad revenue amid "free speech" controversies and broader economic woes.
Twitter needs funds more than ever, especially if Musk ever hopes to pay off the massive debt the company incurred through his $44 billion acquisition deal. But the billionaire's bids to turn Twitter profitable seem unlikely to pay out in the short-term. It's hard to imagine the recent slew of changes will help.
Gutting the verified system that previously helped minimize imposters of notable people and institutions, nixing a basic security feature like two-factor authentication, and shifting ever-more platform features away from standard Twitter users doesn't seem likely to increase the site's popularity (or revenue).
Which might explain why Musk has internally hinted that his social media platform is now worth less than half of what he bought it for. Whoops.

Update 3/29/2022, 3:47 P.M.: This post has been updated to clarify that only text message-based two-factor authentication has been limited to Twitter Blue subscribers.