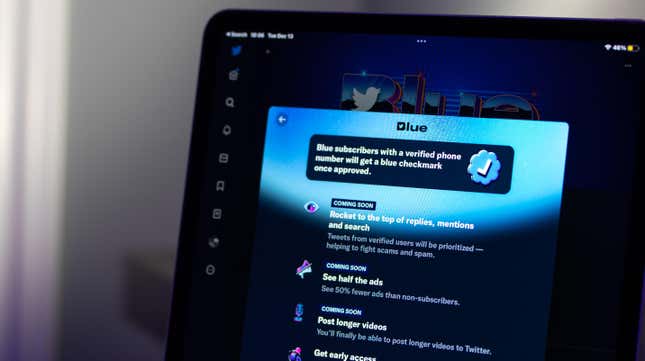 Twitter-like apps don't seem to be doing too hot as of late. Ever since billionaire Tesla CEO Elon Musk bought the blue bird app back in October, a wave of controversy has caused a massive decline in users. Worse still for Twitter and Musk, few seem willing to pay for features like Twitter Blue. While some users have moved over to decentralized alternatives like Mastodon, the latest numbers from that app also show there's fewer folks keen on posting on Twitter's direct competition.
How To Remove Followers From Twitter
The Information reported Tuesday based on a leaked internal document that by mid-January, just .2% of monthly users in the U.S., around 180,000 people, have signed up for Twitter Blue. The $8 a month service gives users the ability to undo and edit tweets, read threads in a long-form format, see half the ads other users do, and a few other customization features. It also gives users that infamous blue checkmark, which after making a mess of Twitter verification has also been lapped up by some rather unsavory folks such as neo-Nazis and known transphobes.
Since the paper mentioned the 180,000 U.S. users were just 62% of the platform's global Blue users, it indicates there's just 290,000 people around the world throwing $8 a month into the void, AKA Musk's open maw.
Mathing it out, global usage of Twitter Blue would only be making the company a little over $2.3 million a month, or just $27.8 million in annual revenue. Unless Twitter Blue saw an enormous spike in users in the past three weeks, the feature is generating a paltry sum considering how much Twitter has to make to pay off the $13 billion in debt Musk took on to buy the platform. Last month, the Wall Street Journal reported Musk has talked about selling shares to help make a $3 billion debt payment.
Though Twitter has plans to nickel and dime more than just regular users. The Information reported over the weekend that Twitter was considering making companies pay $1,000 a month for their gold verified checkmark. Considering just how bad things got when the platform introduced paid verification, it seems like just a new way to drive big companies, and more importantly advertisers, off the platform.
Musk Tweeted Sunday that the last three months were "extremely tough" as he had to "save Twitter from bankruptcy." He then claimed the site was on the path to break even, though of course he did not offer a timeline for that plan in just 280 characters. The Twitter owner previously claimed his massive wave of layoffs and cost-cutting kept the company afloat as it was on course to post a $3 billion shortfall last year. Now that Twitter is a private company, and especially because the blue bird app has practically no PR department save Musk himself, its hard to verify any sort of financial claim.
Are there any short-form posting apps that can hold users' attention? After Musk took over Twitter, the decentralized platform Mastodon, often described as Twitter meets Discord, became the new, popular kid on the block. Twitter users left in a so-called "exodus" and flooded Mastodon. The site rose to more than 2.5 million active users across 8,600 instances.
But as Wired first reported Tuesday, Mastodon's active user numbers have slumped hard toward the end of January. Mastodon's own API shows active user counts have dropped to just 1.43 million by the end of January. The decline has been steady since the start of 2023, even though the number of servers has been on the rise.
Unlike Twitter, Mastodon isn't a centralized platform where all posts are funneled to users based on likes, follows, and the almighty algorithm. Mastodon runs on thousands of separate servers collectively called the Fediverse. Each instance is operated by admins, many of whom volunteer their time and their own money to keep things running. The influx of new users over the past few months caused disruptions in service, but even after things stabilized these new "tooters" struggled to comprehend a less user-friendly user interface.