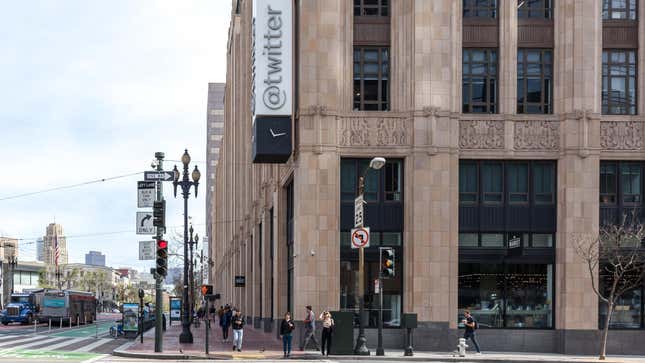 From a people-power perspective, Twitter is inarguably a husk of what it once was. Since Elon Musk took over the social media platform at the end of October 2022, the company has lost more than an estimated three-quarters of its staff to layoffs and voluntary departures. On Wednesday, the cuts continued.

NPR Is Going Dark on Twitter | Future Tech
The company has slashed about 40 additional jobs in its data science and engineering sectors, according to a report from The Information. A source close to the matter also confirmed Wednesday layoffs to Gizmodo and noted that the product software engineering, monetization, and advertising prediction teams were the most impacted.
The ad predict team was tasked with using machine leaning technology to determine the best way to target advertisements to Twitter users, and developing ad algorithms. Without that engineering expertise, Twitter's ability to optimize its ads and accompanying revenue could be in jeopardy, reported The Information.
And ads are already something Twitter has been struggling with in its Musk-era. Interest in paying for ad space on the platform has dwindled since October. High profile companies like General Motors and United Airlines announced pauses on their Twitter advertising among concerns about platform moderation. Overall, the site's U.S. ad revenue was down 80% from internal expectations for the time of year, according to a December 2022 report from The New York Times.
In response, the company's desperation is starting to show. In a move that's likely at least partially a financial decision, Twitter announced it would allow political ads on its feed after a nearly four year long prohibition, on Wednesday.
Then there's the cost-cutting measures. Musk has significantly reduced employee benefits and even allegedly skimped on Twitter's California headquarters' rent. This week's layoffs are at least the fourth round of employee cuts since the beginning of November, and at least the third since mid-December. Shortly before acquiring Twitter and becoming its CEO, Elon Musk reportedly told investors he planned to slash the company's staff by about 75%. Though he later denied that plan, it has come to fruition.
At least three-quarters of the formerly ~7,000 Twitter full-time employees no longer work at the company, according to an analysis from Tech Crunch. And in late December 2022, a source close to the matter told Gizmodo that about 7,500 staff had been reduced to about 1,750. That same source also noted that the number of contractors had been drastically reduced too, from about 5,000 to about 1,000.
The rapid cuts and layoffs have already led to at least three lawsuits against Musk and the company, alleging everything from gender and disability discrimination to a failure to adhere to California labor laws. And Twitter's legal trouble is likely only just beginning.
More than 3,000 employees were slashed in the first round of the company's mass layoffs on November 4. Under federal and California state law, those workers should've continued to receive pay for a 60-day period that ended on Wednesday. And, beyond that period, laid-off employees should've been offered severance agreements and information about continuing medical coverage. In response to critiques of the November layoff, Musk tweeted that everyone cut "was offered 3 months of severance." Yet employees say that hasn't happened.
After two months, former employees hadn't received any details on additional severance or COBRA health insurance, according to a Thursday report from Bloomberg News attributed to three laid-off workers. Former Twitter employees, like Sam Stryker, also took to the platform to voice their experience.
Though, after media attention and former employee complaints, Twitter is finally set to distribute severance agreements today, according to a report from Fortune. The draft agreement reportedly offers an additional 30 days of severance pay (on top of the 60 days of continued pay staff should have been getting). Former Twitter staff who sign the agreement would also waive their right to participate in any of the three pending lawsuits against the company, according to Fortune. The draft agreement further includes a relatively standard non-disclosure clause.

Gizmodo would reach out to Twitter to get a response about the legal allegations and more information about the severance agreement situation, but the company no longer has a public relations department, and hasn't responded to any of Gizmodo's inquiries since Musk's takeover.