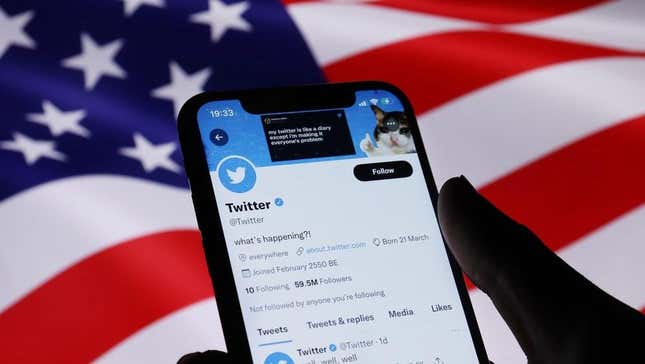 After almost four years, Twitter is reversing its ban on political advertising. The company announced Tuesday it was "relaxing" its policy for "caused-based" advertising, which relates to political and social issues, and would make a similar move with overtly political ads in the coming weeks.
The Elon Musk Twitter Saga, Part 1 of Who Knows?
"We believe that cause-based advertising can facilitate public conversation around important topics," the company announced from its Twitter Safety account. "Moving forward, we will align our advertising policy with that of TV and other media outlets. As with all policy changes, we will first ensure that our approach to reviewing and approving content protects people on Twitter."
The change removes one of the few remaining policies from a more progressive era in Twitter's history that saw the company become a leader in content moderation. The company first banned political ads in 2019. At the time, criticism of social media had reached a fever pitch amidst stories about the spread of misinformation during the 2016 US presidential election. After years of intentionally lax content moderation policies, form CEO Jack Dorsey pushed Twitter to become the most proactive major social media platform when it came to addressing social problems online. Facebook and Google quickly followed suit with their own short-lived political ad prohibitions, but Twitter continued its ban years after Facebook and Google welcomed politics back onto their platforms.
Elon Musk has taken Twitter far in the opposite direction. Musk proudly refers to himself as a "free speech absolutist," arguing that you should be allowed to say anything on Twitter that isn't illegal (though Musk makes exceptions to ban people for things like criticizing him or tracking his private jet).
But the unbanning of political ads may have as much to do with revenue as it does ideology. Musk drove Twitter's ad platform off a cliff, scaring away many of his company's biggest advertisers worried about skyrocketing hate speech and other unsavory content under the Tesla CEO's reign.
Twitter likely doesn't stand to make a significant amount of money from its new advertising policy—at the time of the original political ad ban, the company said political advertising didn't bring in much revenue. But Twitter seemingly faces such dire financial problems—Musk has talked openly of potential bankruptcy—that it can probably use all the cash it can get.

Musk may be on the far end of the tech CEO spectrum when it comes to content moderation, but the tide has shifted across the board. When Dorsey announced Twitter's political ad ban in 2019, the ex-CEO tweeted that "political message reach should be earned, not bought." Dorsey has since changed his mind. More recently, Dorsey wrote that content moderation is, in general, a bad idea, and we should move towards a decentralized internet instead where no single company has the power to control public conversations.
Under Musk, Twitter repeatedly reverses big policy changes in as little as 24 hours, so you can't rely on the company's suggestion that it will align its advertising policy with TV media outlets. But to indulge the billionaire, it's worth pointing out the problems with that logic. In general, a television audience mostly sees the exact same ads (though that's changing). On the internet, advertisers have the ability to micro-target different messages to specific people. That gives the biggest spenders more power to tailor attempts to manipulate segments of the population and makes it harder to hold advertisers accountable.