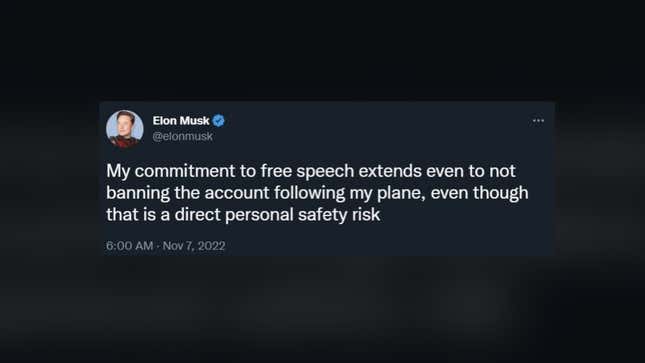 Update 12/14/2022, 9:47 p.m. ET: @ElonJet was suspended from Twitter indefinitely—again. Elon Musk said he was taking legal action against the account's owner.
NPR Is Going Dark on Twitter | Future Tech
Update 12/14/2022, 6:19 p.m. ET: @ElonJet returned to Twitter Wednesday evening after being suspended for the majority of the day, tweeting, "Wait Hello? How long does delay mean @elonmusk... hour? we need some well defined rules."
Twitter has banned and unbanned @ElonJet, the popular bot account that tracked CEO Elon Musk's plane, days after the account's owner accused the social media platform of shadowbanning it.

Navigating to the account returned the message, "Account suspended: Twitter suspends accounts that violate the Twitter Rules."
Musk wrote Wednesday evening of the decision, "Real-time posting of someone else's location violates doxxing policy, but delayed posting of locations are ok."
Over the weekend, Jack Sweeney, a first-year student at the University of Central Florida in Orlando and the operator of the account, claimed that an anonymous Twitter employee had told him the company had severely limited the visibility of @ElonJet beginning on Dec. 2. The reported move came roughly four weeks after Musk made a big deal about how he wouldn't ban @ElonJet because of his "commitment to free speech."

"My commitment to free speech extends even to not banning the account following my plane, even though that is a direct personal safety risk," Musk tweeted on Nov. 6.
By Monday, Sweeney said that it looked like Twitter had reversed course and reinstated @ElonJet's visibility. However, the company seemed to have changed its mind again and taken an even more drastic move by early morning Wednesday, when some users noticed that @ElonJet had been suspended.
Sweeney later said that his account was permanently suspended, posting "It is" along with a screenshot of the notification he got from Twitter upon logging. Late Wednesday, Sweeney's personal account @JxckSweeney was also nuked, returning the same "Account Suspended" message as @ElonJet, and roughly 30 of his other accounts had likewise vanished. He said he would be moving to Mastodon with the same handle, @elonjet@mastodon.social.
Suspending an account even after he promised not to would be nothing new for Musk, whose interpretation of "free speech" has been all over the place, driving chaos at Twitter. In a funny twist, Musk's original tweet saying that he wouldn't ban @ElonJet from Nov. 6 currently has a Community Note on it which reads: "The implied account in this tweet is elonjet, which is currently banned."
Back in January, Musk told the student via DM that he would give him $5,000 to remove the account because it was a "security risk." Sweeney rebuffed Musk's offer, but said he would consider taking down @ElonJet for $50,000 and an internship at one of the tech billionaire's companies. In response, Musk blocked Sweeney on Twitter. Months later, after Musk announced his intent to buy Twitter, Sweeney said he had made contingency plans to keep the bot active on other platforms in case @ElonJet disappeared on the blue bird app. Faithful @ElonJet fans need not worry. You can still track America's most infamous tech billionaire on Instagram, Facebook, and Telegram.
Gizmodo reached out to Sweeney on Wednesday morning for comment about @ElonJet's suspension but did not get a response by the time of publication. Twitter no longer has a communications department to contact for comment.