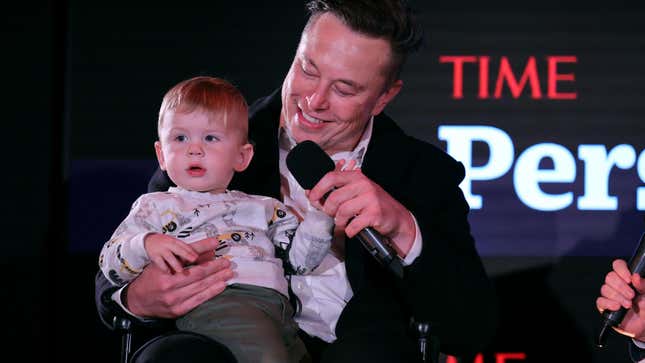 Elon Musk is borderline obsessed with global birthrates, but the Twitter CEO is apparently less interested in supporting his own employees' family planning goals. The father of (at least) 10 children, who had twins with an executive at one of his other companies in 2021, has cut Twitter staff's fertility benefits in half, according to a report from Insider and a tweet from Zoë Schiffer, a journalist at the tech newsletter Platformer.

Twitter Investor Sues Elon Musk Over Sneaky Stock Purchases
In the past, Twitter staff have received up to $80,000 in lifetime coverage for expenses related to fertility treatments, egg and sperm freezing, donor retrieval, surrogacy, and/or the cost of adopting children, according to Insider. Now though, that benefit has been cut in half, as communicated to employees through an email from the third party provider, Carrot. Beginning on January 1, 2023, employees will only have access to $40,000 in coverage, the email reportedly said.
Though $40,000 might seem like a lot, a single cycle of in-vitro fertilization (IVF) treatment can cost between $15,000 and $30,000, according to Forbes. Usually, it takes several rounds of IVF for a person to become pregnant. Adoption costs vary widely, but can also easily end up in the tens-of-thousands of dollars for private or international adoptions. Surrogacy averages about $100,000, according to Investopedia.
In growing his own brood, Musk and his various partners have taken advantage of these fertility technologies. The Tesla CEO and his first wife, Justine Wilson, had five children via IVF. The billionaire also reportedly used IVF to conceive twins with Neuralink exec (i.e. his employee), Shivon Zills, in 2021. The musician Claire Boucher (AKA Grimes), Musk's on-and-off again romantic partner, used a surrogate to have the couple's second child.
Aside from his personal hypocrisy, slashing Twitter staffs' fertility benefit is also in direct contradiction with what he previously promised to do. Way back in July 2022, before he even officially owned the company, Musk claimed that he would boost childcare benefits for workers at his companies, in an effort to lower the cost burden of raising children. Though childcare is different from fertility benefits, both are common and expensive facets of having and rearing kids in the present day.
For years, Musk has publicly promoted the scientifically unfounded idea that declining birth rates are a threat to humanity and society as we know it. He's repeatedly said that if people don't have more kids, civilization will crumble. Though demographers and other experts disagree with Musk's population theories, you'd think such a deeply held belief would at least come through in the policies of the many companies he manages. But evidently, his desire to cut costs at Twitter comes first—before the theoretical fate of civilization.
Since the beginning of Musk's reign at the social media platform, he's hollowed out the company's workforce, demanded staff spend longer hours at their desks, and even allegedly fallen behind on rent to try to keep costs down as Twitter flails financially.
On top of the reduction in employee fertility benefits, the company is also reportedly scrapping commuter reimbursement and meal allowances, according to Platformer's Schiffer. Coffee and snacks, however, will still be available.