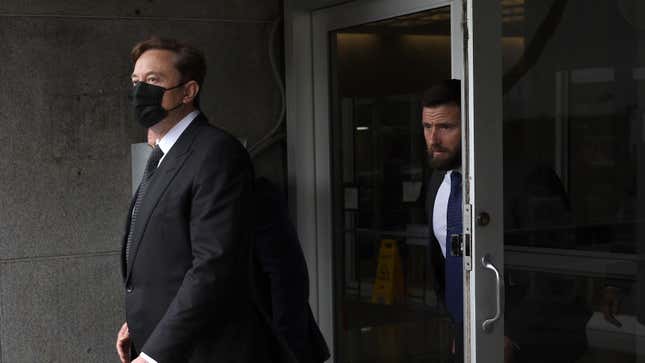 Billionaire Twitter owner Elon Musk said he would finally let the blue bird app fly free under a new CEO, though only after we reach the end of 2023 after he finally manages to "stabilize the organization and just make sure it's in a financially healthy place and the product road map is clearly laid out."
Musk made these remarks at the 2023 World Government Summit in Dubai Wednesday morning local time, according to Bloomberg. He was interviewed virtually by United Arab Emirates' minister of cabinet affairs Mohammad Abdullah Al Gergawi. While he said Twitter was "still somewhat of a startup in reverse," he told the people gathered that Twitter "should be in a stable condition around the end of this year."
In December, Musk polled his userbase, AKA those who followed his account, whether he should step down as "chief twit." Out of 17.5 million responses, over 57% said he should step down. Musk promised he would abide by the results of the poll, though he never mentioned exactly when he would leave. Then again, the Tesla CEO had already publicly said his plan was to "reduce my time" at Twitter offices and stick somebody else in the leadership role.
The billionaire owner of Twitter said he wanted his new platform to remove misinformation. He also told world leaders to speak authentically, and told the crowd "I'm constantly attacked on Twitter. I don't mind."
That flies directly in the face of credible reports showing Musk being incredibly petty about how he's seen on Twitter. After all, he deleted an initial poll about him stepping down when the results didn't seem to be going his way. Just recently, he reportedly fired a Twitter engineer who suggested the reason he isn't getting as much attention on Twitter was because people simply aren't as engaged with his account.
Musk has been on the job since October last year, and it's questionable whether anything about Twitter is currently "stable" or if there's any semblance of a "road map" for new features. Since he laid off more than half the company, there's been repeated outages and bugs cropping up alongside some new features rushed to deployment. And all those new features seem to be seat-of-your-pants decisions made by Twitter's de facto CEO. Tests for features like longer tweets were quickly proved to be unpopular and ugly, and even Musk thought so. Changes to the format of the app that made the algorithmic "For you" tab default was rolled back after a few months. Musk planned to restrict use of the Twitter API behind a paywall, but stalled that plan after outcry from developers.
And of course there's the changes he made to Twitter Blue, letting anybody with $8 buy their way to verification. Reports based on leaked documents show that Twitter has made very little money on Blue subscriptions, so there's a question of how Twitter plans to become financially "stable" by the end of this year. After Twitter's botched rollout of Twitter Blue last year, ad revenue has significantly declined. This is especially concerning since there's still an estimated outstanding $12.2 billion left in loans hanging over the company. Musk has reportedly been trying to raise billions of dollars to help fund loan repayments.
Because Musk already has several companies, they're all demanding of his time. The face of Twitter also has major moneymakers like Tesla and SpaceX to worry about, though he reportedly told attendees at the World Government Summit that both companies demand less of his time.