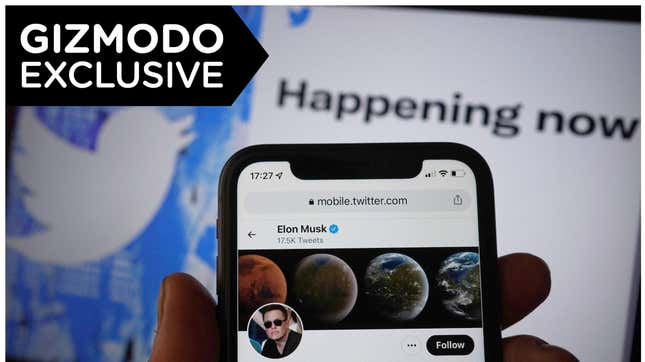 Twitter CEO Elon Musk presented the revamped Twitter Blue subscription service as an antidote to scam content. When the service launched late last year, however, it spurred a raft of fake accounts that cost at least one pharmaceutical giant billions in stock market value. Now Twitter users say the struggling product—which has fewer than 300,000 paying subscribers worldwide—has another problem, one that points to a very basic failure: free verification badges.
Twitter Verification is a Hot Mess
Multiple users whose profiles boast Twitter Blue verification checkmarks have told Gizmodo that they haven't paid for Twitter Blue in weeks or even months. One Twitter user going by "THE Cumshot Gamer" shared a video in which they navigate to the Twitter Blue section of their account. It immediately prompts them to subscribe to Twitter Blue. Their public profile still shows a blue checkmark, which has a hover-over popup that reads "This account is verified because it's subscribed to Twitter Blue."
"The plague of this blue checkmark and it also being free is like a greek tragedy," THE Cumshot Gamer wrote on February 6.
What's wrong with Twitter Blue subscriptions?
The bug appears to be an oversight for Elon Musk, who has placed significant hopes in the revenue that Twitter Blue could generate in order to service the interest on the loans he took out to buy the company, though the product has borne little financial fruit. It's unclear how widespread the problem could be. Twitter did not respond to Gizmodo's request for comment on the issue. Since Twitter's massive layoffs eliminated its public relations department, Elon Musk himself has handled the bulk of the company's public relations via his own account.
THE Cumshot Gamer told Gizmodo that they were able to successfully change their profile picture and pass a re-verification check despite not having paid for the service in months.
"If you change your profile picture a week before your subscription is up, Twitter removes the check badge to 'verify' account details," THE Cumshot Gamer told Gizmodo. "When I did it, the verification process lasted past my subscription end date and when they were done 'verifying' I got the check back, lol."
Another Twitter user and hacker affiliated with the hacktivist group Anonymous, Aubrey "Kirtaner" Cottle, says he also has found a way to beat the system. Cottle told Gizmodo that he only paid for one month of Musk's revamped Twitter Blue service. He said he subscribed in December, cancelled in January, and still has a Twitter Blue checkmark on his profile.
"MONTH TWO OF FREE BLUE VERIFICATION LOL," Cottle posted on February 6.
Another Twitter user, Alex Kerker, told Gizmodo a similar story.
"My subscription expired, and I decided not to renew it," Kerker said. "When I logged on to Twitter the day after expiration, it was still there."
Kerker shared a confirmation of their Twitter Blue subscription expiration with Gizmodo. The notice was sent on January 24. He still has a Twitter Blue checkmark as of February 8.
How much money does Twitter Blue make?
As of this writing, Twitter Blue is projected to generate $28 million in annual revenue from fewer than 300,000 subscribers worldwide—180,000 of those are in the U.S.—which is less than 1% of the $3 billion that Musk has said he hopes the program will bring in. A list of Twitter Blue subscribers developed by programmer Travis Brown shows a similar number.
"I've wondered about some kind of bug," Brown said when informed of the free badge bug by Gizmodo. "There are a lot of accounts that seem to go back and forth between subscribed and unsubscribed."
Among those accounts was "THE Cumshot Gamer." Brown's analysis appears to confirm the process described by "THE Cumshot Gamer" in which they temporarily lost and later regained their verified status, despite nonpayment.
"They showed up as not-Blue for a couple of days in early January, but the other usernames you provided seem to have been continuously shown as Blue since signing up," Brown told Gizmodo.
Initially launched by Twitter in 2021 at a price of $3 a month with limited features, Twitter Blue has never significantly contributed to the company's bottom line. Advertising comprises the vast majority of Twitter's revenue. After Musk took over Twitter in October 2022, he raised the price of the premium Twitter tier and promised an overhaul of the product that would introduce a number of new features. Most of the announced features have yet to materialize, but the program can boast an increase in the number of "verified" members of the Taliban on the platform.
Most recently, Musk promised a form of ad-revenue sharing with Twitter Blue subscribers, inviting comparisons with MLM schemes. In the hastily tweeted announcement of the revenue sharing program for "Twitter influencers," Musk provided scant details on how it would actually work, leaving users with more questions than answers. Given users' reports of free checkmarks, how will Twitter Blue know who to pay if it doesn't even know who is paying them first?
We don't know what percentage of Twitter Blue users have stopped paying for the service while managing to keep their checkmark, potentially inflating the total number of "paid" subscribers. Without internal data, it's effectively impossible to confirm. But what is clear is that Musk has "big money problems" and a leaky subscription service with low uptake is unlikely to solve them.