Ford and Microsoft's Sync is already pretty great—and the new generation Sync that S-Balm's revealing at this very moment at his keynote is better—turn-by-turn voice direction and more, cooed by Sync's lovely Samantha.
Sync has never tackled nav info, so it'll be interesting to see how this pans out. The traffic service will send you a text message with alerts along your route, which is then read aloud by the system. Ford reckons this will save you gas and time.
The turn-by-turn feature sounds great: say the name of a business, category of business or address and get turn by turn directions spoken to you. You can also call up the business found via your Bluetooth phone.
And better yet, your Sync settings and info is all saved to your phone, and can be used in any Sync vehicle you climb into, all the while keeping the grade-a iPod/iPhone/musicphone integration.
Pictured: Sync 1.0, via our friends at Jalopnik, who have more on the next-gen Sync as well.
G/O Media may get a commission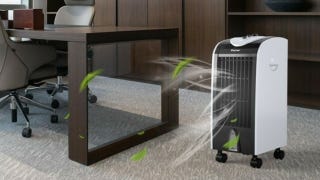 Save $10
Evaporative Portable Air Conditioner Cooler with Filter Knob
NEW FORD SYNC FEATURES HELP DRIVERS SAVE TIME, FUEL WITH PERSONALIZED NEWS, TRAFFIC DETAILS

• SYNC with Traffic, Directions and Information provides personalized, real-time information to help drivers get to where they're going with information they need. New services come with no monthly subscription fees for the first three years.
• Users' customizations stay with their phone and can be used in other SYNC-equipped vehicles and can be upgraded free as new services are available.
• New features launch later this year on select 2010 models and will roll out across the entire Ford, Lincoln, and Mercury lineup by 2011.
• SYNC sales expected to top 1 million in 2009.

LAS VEGAS, JAN.7, 2009 – Ford is expanding its connectivity leadership by introducing exclusive new SYNC real-time information features that deliver personalized news updates to drivers' mobile phones while helping them navigate around trouble spots, saving time and fuel.

"Our vision with SYNC is to be a leader in connectivity, making it affordable for millions – just as Ford has done with safety and fuel-saving technologies," said Ford President and CEO Alan Mulally. "In less than 18 months since we launched SYNC, Ford has delivered two more major new features, and we have more in store.

"We are a car company that through market-driven, customer-focused innovation is learning to think and act like an electronics company, leveraging partnerships with fresh, innovative technology leaders," added Mulally, who delivered the Consumer Electronics Show keynote address on Thursday.

The success of SYNC – the award-winning communications and entertainment system developed by Ford and Microsoft – continues to grow. Ford's game-changing vehicle connectivity model and affordability have helped make it one of the widest technology introductions in the industry, launching on 12 vehicles simultaneously.

SYNC-equipped Ford, Lincoln and Mercury vehicles sell nearly twice as fast as those without, and a Ford survey of SYNC customers showed nearly 80 percent of respondents "definitely would" recommend it to a friend.

Since the introduction of SYNC in the 2008 Ford Focus, Ford quickly has integrated the technology. By summer 2009, Ford's entire North American lineup will offer this must-have technology, demonstrating its rapid, consumer-driven adoption. Ford expects to have 1 million SYNC-equipped vehicles on the road by the third quarter of 2009.

"We define connectivity as a way to keep people moving through their lives – not simply as an on-board computer," said Mark Fields, Ford's president of The Americas. "Our approach focuses on connecting people to the information they need, whenever and wherever they need it. These new features are aimed at enhancing the driver's entire quality of life."

Ford's next-generation system – SYNC with Traffic, Directions and Information – leverages industry-leading voice-recognition software, integrated GPS technology and a customer's Bluetooth-capable mobile phone. Debuting this spring, it will provide simple hands-free access to personalized traffic reports, precise turn-by-turn driving directions and up-to-date information including business listings, news, sports and weather.

The new services will be available on nearly all 2010 Ford, Lincoln and Mercury models with no initial monthly subscription fees, thanks to three years of service included with a new vehicle purchase.

"Ford is unique because we continue to build on the power of the SYNC system that lets customers connect to off-board services through their own mobile devices," said Doug VanDagens, director of Ford's Connected Services Organization. "With that foundation, there is no limit to the data we can offer. Working with our partners – the best of the best in the technology world – we will continue to provide new services in a timeframe on par with the consumer electronics industry."

According to 2008 year-end data, Smartphones were a clear consumer must-have, offering such advanced capabilities as a keyboard, Web browser and some PC-like functionality. Research findings suggest that growth in this industry is expected to continue at 40-percent year-over-year.

SYNC's new suite of services allows customers the ability to integrate with off-board services and provide a personalized infotainment experience to the driver by utilizing the customer's own phone. That powerful match is what differentiates SYNC in the marketplace and what will expand Ford's connectivity leadership long-term.

"Today, Ford leads the industry leader in infotainment," said Derrick Kuzak, Ford's group vice president of Global Product Development. "As we transform our vehicle lineup, we intend to continue making smart technology a key differentiator for Ford, Lincoln and Mercury products."

Ford is partnering with Microsoft and other recognized companies – INRIX, TeleNav, Tellme (a Microsoft subsidiary), M/A-COM and Airbiquity — to enable the new services to connect to real-time data.

"We're excited to see Ford's great innovations developed on top of our Microsoft Auto platform that continue to improve how people spend time in their car," says Robbie Bach, president of Microsoft's Entertainment and Devices Division.
"The combination of software and services, including the industry leading technology from Microsoft Auto and Tellme, are delivering entirely new voice-enabled experiences that make the time spent in the car more entertaining and more productive," Bach added.

To take advantage of Traffic, Directions and Information, customers simply have to pair their Bluetooth-enabled phone with SYNC and activate the service via www.syncmyride.com.
Once that's complete, the feature becomes "portable," meaning customers can access the information in any Ford, Lincoln or Mercury vehicle equipped with SYNC and the Traffic, Directions and Information function.

TRAFFIC
SYNC's new traffic feature will literally save drivers time and money by providing personalized traffic reports based on best-in-class content.

"We are able to provide traffic speed, flow and incident information to drivers in 95 markets nationwide," said VanDagens. "In addition, drivers can personalize the system to alert them of changing road conditions."

In a text message to the user's device, drivers will get the location and severity of accidents or new road construction causing areas of heavy congestion. Users can personalize the system to send them an alert before they leave home or have SYNC read the text message in their vehicle.

"SYNC is working for you before you're even out of bed," VanDagens said. "That's what we mean by a quality-of-life experience."

DIRECTIONS
According to Telematics Research Group, Inc., navigation-enabled mobile phones are becoming consumers' top choice for navigation services. This shift will open up new applications and services – and SYNC is positioned to take full advantage of this market shift using its powerful partnership network.

Drivers requesting directions now can use a variety of search criteria including a 14-million-plus business directory to find their destination, be it a favorite coffee shop or the location of a business meeting.

Turn-by-turn directions are downloaded to the vehicle and are spoken to the user over the vehicle's audio system and displayed on the radio.

Like the new traffic service, directions incorporate real-time traffic information. Through a set of more conversational voice commands, the user need only speak the name, category or "nearest."

The new directions service also offers users a choice of how they'd like to receive the information:
• Automatic connection to business telephone using the driver's personal device;
• Turn-by-turn directions to the business location using the vehicle's audio system; or
• Text message to user's device with business listing and map.

Information
Another new feature of SYNC will help drivers' personalize and categorize their favorite media topics, such as sports, weather and news using voice commands or through www.syncmyride.com.

Examples include:
• Personalized sports reports featuring scores and highlights for any professional or college team;
• Current weather conditions and forecasts based on city, state or zip-code; and
• News of all types – entertainment, business, top stories and technology.

"SYNC has been developed to allow users to create their own experiences," said VanDagens. "Some people may wish to check their stock portfolios; others might want their hometown baseball scores. With SYNC's unique architecture and the powerful Tellme voice service, there are no boundaries to the information users can access."

New short-cuts added
SYNC has gotten smarter as well, and is providing a variety of new "short-cut" commands. Users recall comments such as, "Call Joe at work," and, "Play artist ACDC." New commands include, "traffic to work," and, "directions to home." Using the website, users can save a variety of locations such as home, office and airport – any location in the U.S.

These new capabilities are in addition to SYNC's established hallmark suite of services, from hands-free, voice-activated cell phone, text messaging and digital media player integration to the more recent security and convenience additions of 911 Assist and Vehicle Health Report.
"We understand how important it is for customers to feel connected to their lives – even on the road," Kuzak said. "Ford is committed to continue working with the top technology companies in the business to deliver even more of the features consumers really want."