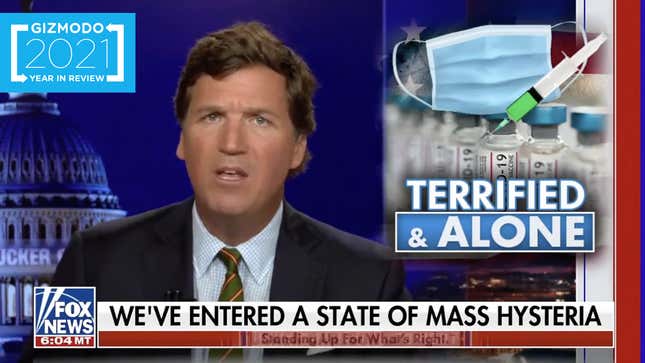 Fox News spent the better part of 2021 telling its viewers blatant lies about the covid-19 pandemic. The network has claimed covid-19 vaccines are dangerous, that masks don't help slow the spread of the virus, and that immigrants are worsening the pandemic in the U.S. Tucker Carlson, the most popular host on Fox News, even claimed covid-19 is somehow making men more feminine.

A recent study from the Kaiser Family Foundation found that Fox News viewers are more likely to believe covid-19 falsehoods than people who consumer other mainstream news sources. And yet, Fox News itself has a covid-19 vaccine mandate, despite talking heads on the channel railing against them.

Today we're taking a look at the worst lies Fox News told its audience about the covid-19 pandemic during 2021. Here's hoping the conservative networks tones things down in 2022 and starts telling people the truth, as cases skyrocket in the U.S. and hospitalizations trend upward. But we're not going to hold our breath.