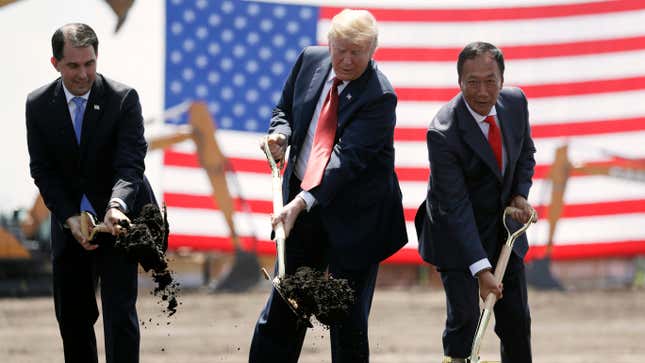 Foxconn is selling off two of its large facilities in Wisconsin after years of neglected promises to bring thousands of jobs to Eau Claire and Green Bay. The Taiwanese manufacturing company has pivoted from one potential production idea to the next since it broke ground in 2017 and gave then-President Donald Trump an opportunity to take photos and claim he's bringing jobs back to the United States.

The company said it was building "innovation centers" around Wisconsin including an LCD factory that never came to fruition. In 2019 and 2020, The Verge reported that little progress had been made on the project and two buildings were sitting empty. Now those two buildings are being sold off along with any hope of a Foxconn employment boom.
Green Bay Mayor Eric Genrich said in a Twitter post that he is optimistic that the sale of the Green Bay facility, known as the Watermark building, will "lead to better utilization of a fantastic waterfront building." The Green Bay Press-Gazette reported that only three of the six floors in the Watermark building are in use, adding that two of its first-floor retail spaces are vacant, leaving only the other two in use.
Jeff Mirkes, executive director of Downtown Green Bay, told Wisconsin Public Radio that the Foxconn building could have positively impacted the city's downtown area, but is looking toward future possibilities for the building.
"Without a doubt, we take a look at what could have been, but in business — large and small — businesses always deviate from their plans," he told the station. "We had a worldwide pandemic that also may have contributed to some of the changes in their business plans. We really want to look ahead to the potential because there is so much potential for this property."
Meanwhile, in Eau Clarie, the 15,000-square-foot property, known as Haymarket Landing, has reportedly been vacant for several years, Community Development Director Aaron White told WPR, but with the sale of the building, it could open the town up to actual profitable possibilities.
"The innovation center concept really would have been a really nice addition to downtown, bringing some job and technical opportunities that would have fit very well for the area," he said. "With that not moving forward, making sure that space is in the hands of a developer or an owner who will actively engage in filling it, managing it, maintaining it, and keeping it full is definitely the best case for the city," he told the outlet.
Foxconn paid nearly $12 million to purchase both properties, the Green Bay Press-Gazette reported in 2018, and it promised to bring 13,000 high-tech jobs to its locations in Wisconsin, at first saying it would be an LCD factory before backtracking on the idea. Chief Executive Terry Gou, told Reuters in 2019 that it may not make sense to create an LCD factory in the U.S., saying it might be more suited to be built in Asia. "In terms of TV, we have no place in the U.S.," he said at the time. "We can't compete." Instead, Woo told the outlet that Foxconn wanted to build a "technology hub" that would be the base for research facilities and packaging and assembly operations.
"After productive discussions between the White House and the company, and after a personal conversation between President Donald Trump and Chairman Terry Gou, Foxconn is moving forward with our planned construction of a Gen 6 fab facility, which will be at the heart of the Wisconn Valley Science and Technology Park," the company said in a statement to The Washington Post in 2019.
Trump used Foxconn as a building block (or smoke screen) during the first year of his presidency, telling manufacturing executives at a White House meeting at the time: "I'm delivering on everything we promised." The day after Foxconn said it would invest in building its facilities and bring jobs to the U.S., Trump said the company "is going to spend a tremendous amount of money on building a massive plant," adding, "and probably more than one."
Foxconn has a history of letting down communities, promising to invest $30 million in a high-tech factory in Harrisburg, Pennsylvania in 2013 and saying it would bring 300 jobs to the area, but the promise eventually faded into the ether. Not unlike the Wisconsin factories, a local official recalled to The Washington Post, that after the announcement of the Pennsylvania factory, "It just seemed to fade to black."