When President Trump attended a "groundbreaking" for a new Foxconn plant in Wisconsin this past June, headlines suggested that tens of thousands of jobs could be created. But things in Wisconsin are looking a little more modest these days for Taiwan-based Foxconn.

As the Milwaukee Journal Sentinel reports, Democratic members of the state government are raising concerns that Foxconn doesn't plan to deliver on some of the promises it made earlier in the year. Republican Governor Scott Walker set aside $4 billion-worth of subsidies and infrastructure spending for the company in exchange for its pledge to bring the new plant to Wisconsin. But Foxconn has a history of under-delivering and will no longer commit to building the kind of plant that was planned back in June.
Foxconn had originally planned to build so-called Generation 10.5 fabrication facilities that produce glass for TV screens as large as 75 inches. But it's looking like Foxconn has downgraded the plant to a Generation 6 facility which produces much smaller sheets of glass for tablets and phones.
Back in 2013, Foxconn promised to bring a manufacturing facility to central Pennsylvania and hire 500 workers in the process. But the $30 million factory was never built. Now there are concerns that Wisconsin taxpayers could meet a similar fate.
The Wisconsin facility is planned to be a 20-million-square-foot campus roughly halfway between Milwaukee and Chicago, though it's not immediately clear if the footprint for the facility will change if the company produces smaller glass there. President Trump even visited the site on June 28, 2018 with the CEO and Wisconsin politicians like Paul Ryan in toe. Despite the shovels present in their photo-op, the facility hasn't been built yet.
G/O Media may get a commission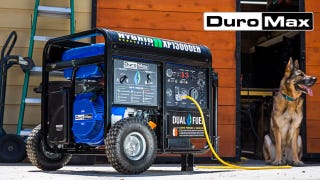 Black Friday Sale
DuroMax Generator Sale
President Trump's rambling, incoherent speech was confusing but not at all uncharacteristic of the bizarre commander-in-chief.
There are also environmental concerns over the proposed plant, as Foxconn plans to suck up roughly 7 million gallons of water from Lake Michigan per day to produce its screens.
As Minnesota Public Radio points out, the factory may have difficulty finding workers since Wisconsin's unemployment rate is at just 2.9 percent. Unemployment is incredibly low nationally at just 3.9 percent, but wages are still flat. It's not necessarily hard for many people to find a job in America, but it certainly is hard to find a good-paying job. It's not clear that the Foxconn plant will change that.
Gizmodo has reached out to Foxconn for comment about its plans for the site and has not immediately heard back.
The plant is scheduled to be opened "by 2020" according to Governor Scott Walker, though that's another target that could change. If the facility does open, it will represent a big political win for President Trump, who wants to bring manufacturing jobs back to the United States. But whether the Wisconsin Foxconn plant is anything more than vaporware remains to be seen.