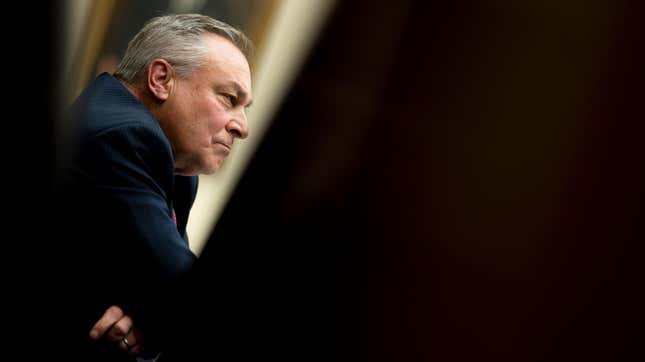 When Snow White bit the poisoned apple, she fell into a deep coma. The folks who bought into the promise of the failed crypto exchange FTX were much like our young Ms. White. They were all assured that putting their digital currencies on the crypto exchange would make their dreams come true. Now all those customers who still held their crypto in the exchange or invested in the company are collectively out billions of dollars.
Will More Celebs Continue to Join Crypto? | Gizmodo Interview
The man leading the company through its bankruptcy, John Ray III, has said they are close to returning at least some of the lost funds to the millions of customers who lost money in the exchange's collapse. This Prince Charming kiss might breathe a little life back into the finances of a few unfortunates. However, Ray's latest comments show that a few major stakeholders are pushing him to give them another taste of the apple because, apparently, it just tasted too damn good.
Ray spoke to The Wall Street Journal, which on Thursday said that some FTX customers have pushed those handling the bankruptcy to reboot the platform. The thought is that opening the exchange back up would possibly lead to customers getting their funds back quicker. Ray told the Journal "Everything is on the table," and then confirmed "If there is a path forward on that, then we will not only explore that, we'll do it."
There are certainly some folks on Twitter who have propositioned opening FTX back up, but  those voices in Ray's ear are likely coming from big FTX creditors and investors. The FTX creditor committee represents close to 1 million unsecured creditors who are owed funds from FTX. At the same time, that committee is headed by a small few, including major crypto firms like Wintermute Asia and Pulsar Global, as well as major investors like Zach Bruch, another young crypto evangelist who has tried to create the "Amazon of NFTs."
At its peak, FTX was valued at $32 billion. Though federal prosecutors have said the exchange's collapse lost $8 billion in customer funds, FTX and Ray still haven't disclosed the total shortfall they need to make up to credit customers. Last week, lawyers for FTX told investors they recovered around $5.5 billion in assets, some cash but mostly crypto. A good chunk of that was made up of Solana tokens, bitcoin, FTT, FTX's native token. Even still, the attorneys said they found less than they were hoping to regain.
And of course, there's Sam Bankman-Fried, the once-lord of FTX who's now facing a criminal trial over alleged fraud. Bankman-Fried has been accused of treating FTX clients as his own personal piggy bank, moving their assets to his hedge fund Alameda Research, but the crypto founder has declared his own innocence. He's since been crowing to anyone that would listen that "FTX US is solvent" and also claimed Ray has been "squashing" efforts to turn the exchange back on.
Ray took over the FTX bankruptcy back in November. As the man who had previously walked Enron through getting creditors back some of their dough, people took notice when he lambasted Bankman-Fried's former company and leadership team for having no kinds of "corporate controls" to speak of.
FTX isn't the only exchange going through bankruptcy proceedings. The crypto lender Voyager and the exchange BlockFi are also in the midst of Chapter 11 proceedings. BlockFi had exposure to FTX, and has asked the court to again allow customers to withdraw their crypto from the platform. Voyager has agreed to sell its remaining assets to Binance, the last major crypto exchange still standing. The crypto exchange Celsius is dealing with its own bankruptcy, as well as lawsuits from the New York attorney general and the Securities and Exchange Commission. A judge recently told Celsius higher ups that the company technically owned all of customers' assets, making it that much harder to give the $4.2 billion (priced at the time) in crypto back to customers.