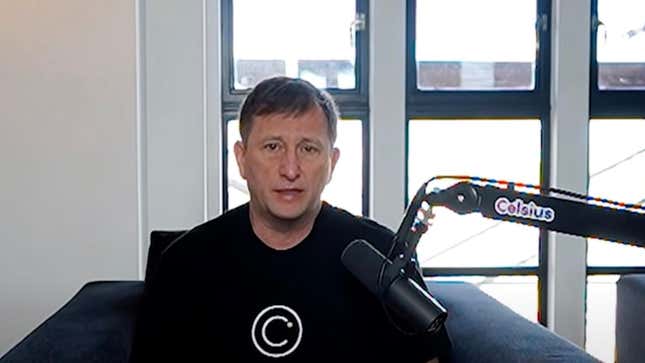 Alex Mashinsky, the Celsius co-founder and former CEO who suspiciously cashed out $17 million in crypto prior to halting customers' crypto withdraws and ahead of the company's eventual bankruptcy, has found himself on the receiving end of a scathing civil lawsuit accusing him of defrauding hundreds of thousands investors out of billion of dollars by misrepresenting the shaky platform's safety.
The suit, filed Thursday by New York Attorney General Letitia James, alleges Mashinsky engaged in a years-long scheme to defraud customers between 2018 and June 2022. During that time, Mashinsky allegedly used false and misleading representations to convince investors Celsius was a safe alternative to banks while simultaneously downplaying the fact his company burned through millions of investors' funds engaging in risky investment strategies.
Celsius, which billed itself as a modern day Robin Hood lending platform, enticed crypto enthusiasts by promising them unprecedented returns on digital assets as high as 17%. Starry eyed investors eager to realize those returns dumped over $20 billion in digital assets into the company. Behind all the theater, however, Celsius was allegedly struggling to generate enough revenue to pay its customers those wildly high yields. Those lack of funds allegedly led Celsius to engage in risk investments, including investing hundreds of millions of dollars in unregulated decentralized finance. The company would go on to lose millions from these investments. Mashinsky, the case alleges, failed to disclose those losses to investors and concealed Celsius' hemorrhaging financial situation.
"Alex Mashinsky promised to lead investors to financial freedom but led them down a path of financial ruin," James said in a statement. "The law is clear that making false and unsubstantiated promises and misleading investors is illegal. Today, we are taking action on behalf of thousands of New Yorkers who were defrauded by Mr. Mashinsky to recoup their losses."
The suit claims Mashinsky personally made false or misleading statements about Celsius' overall safety, its total number of users, and investment strategies. Mashinsky attempted, without evidence, to convince users his crypto lending platform was safer than highly regulated baking institutions. In reality, James says, "neither Celsius nor its customers had any hope of receiving the same protections as banks." James' suit attempts to permanently ban Mashinsky from engaging in the sale or offer of securities or commodities and prevent him from serving as the director or officer of a company doing business in New York. Mashinsky could also be forced to pay damages for violating New York state's Martin Act, a law used to tackle securities and commodities fraud.
Celsius was one of numerous crypto firms that abruptly prevented investors from withdrawing funds amid a tumultuous crypto collapse that saw the value of its Celsius crypto token become practically worthless. Though the company assured customers the pauses were temporary, Celsius went on to declare chapter 11 bankruptcy just one month later. Making matters worse, Mashinsky and former Chief Strategy Officer Daniel Leon allegedly pulled out the combined $17 million in cryptocurrency assets in the months leading up to the company's eventual demise.
New York isn't the only state interested in the Celcius meltdown. In total, at least 40 separate states have all launched their own investigations into the platform over fraud allegations.