Polaroid may be all but dead, but there are still instant film cameras to be enjoyed by the nostalgia-craving public. Fujifilm's latest, the Instax Mini 90 Neo-Classic, is an odd little thing with more options that you're used to from instant film cameras.
What Is It?
It's a $200 fixed focal length camera that shoots Fujifilm Instax instant film and actually produces tangible, physical, touchable objects with photos on them. What a world.
Who's It For?
Photo experimenters, party-goers, analog stylistas, Polaroid fans, and just anyone wanting to add a bit of unique fun to their photo-taking repertoire.
G/O Media may get a commission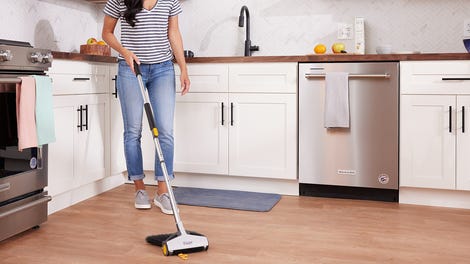 BOGO 50% Off
Flippr - BOGO 50% Off
Design
Fuji's past Instax cameras have been complete eye-sores. But it's clear that this time around, they wanted something that would harness the retro trend so prevalent in camera design nowadays. Mission accomplished—sort of? The Mini 90 has the classic black and silver to match Fuji's X series mirrorless cameras. Beyond that, it barely resembles a camera any real human would want to use.
This thing is an ergonomic nightmare. When I first picked it up, it took a few moments to actually figure out how I was supposed to hold it. Because the actual pictures are meant to be vertically oriented, the camera is designed that way too. This leaves the shutter button on the front of the camera, half-way down the body. The viewfinder is on the right-hand side, which is odd to get used to. When you turn the camera on its side things make a little more sense, but it's still a struggle since there's nothing to grip next to the lens.
Using It
Despite the wacky design, the Mini 90 is pretty simple to use. Loading the 10-exposure packs of film is easy as pie. Just click it right into place and close the hatch.
The great thing about the Mini 90 are the various modes, which give you more control than you would have on most instant film cameras. Figuring out what they all do can take some time, and probably some wasted film. Like the good old days! The mode button on back cycles through them all, and there is a small LCD display showing what one you have chosen. Also on the back is a battery door that holds a rechargeable lithium-ion pack. It lasts plenty long, but hard to judge since you're not exactly taking this thing out and shoot hundreds of shots at a time.
Some of the modes are more useful than others. There is party mode, which uses the flash with a slow shutter speed to achieve a slightly lit-up background in dark areas (and some streaky lights), a high shutter-speed mode for action shots, a landscape more for focusing on far away subjects, a double-exposure mode, and a bulb mode for long exposures. There's also a ring around the lens that can change modes too, but we found it more cumbersome than the rear button. It seems like Fujifilm included the ring just to make the Mini 90 seem more like a big-kid camera, which is kind of annoying.
Separate from the modes are some other options: Macro is useful for close-ups, Light/Dark settings are a rudimentary exposure compensation tool. There is also a timer option, and red-eye control. It's a nice set of controls for what is basically a toy camera!
The pictures that magically emerge from the side of the Mini 90 are exactly what you would expect from, say, a Polaroid. Muted colors, low levels of detail, etc. Being successful with this thing is all about knowing its limits. It's terrible in low-light without the flash and far-off landscapes will lack detail. Plus, you need to take pains to avoid harsh shadows and shooting at direct sunlight. The limitations actually makes you appreciate how amazing today's digital cameras are.
But there is no doubt that when you do get it right you will end up with a wonderfully unique little thing to pass around, give away, or keep in your pocket. This is the undeniable lure of film, and it is championed by the Mini 90. If you just can't live without the ability to Facebook every damn pic, you can rephotograph the film with your smartphone and share them online, which is arguably even more fun than a plain old digital photograph.
Here are a few photos I took:
Below are double-exposures. To make a successful one, you really need to consider what you are shooting and learn from your mistakes (it's hard to see what's going on in these two). They also tend to overexpose in daylight:

With flash / without flash, lit by a window:
The Light and Dark modes only change the image's overall brightness slightly. In the two photos below, the one on the left was in the standard mode, and the one on the right was in Light mode:

These last two exposures were photographed up-close to give a better sense of detail:
Like
The Mini 90 provides some controls that actually make the camera useful in a variety of circumstances—macro mode is a great example. The feeling of taking instant film photos is very different than what we are used to with smartphones or digicams. It's a nice change of pace! The photos (when they come out OK) definitely possess a character that is missing from digital.
No Like
The mystifying design is tough to get used to and is just barely too big to be comfortable in a coat pocket. The pictures are really really tiny, and it takes a lot of experimentation to know how to produce good results. Some of the modes don't make much of a difference, like the Light and Dark modes. There is still no way to judge exposure before taking a picture. Low quality optics don't make for very detailed images. You're paying double what you'd probably expect to. Then there's the cost of film. The list price for 20 shots is $20, but on Amazon it's way cheaper at about $13 for 20 shots.
Should I Buy It?
With tiny images that miss more often than they hit, we aren't convinced that the bells and whistles of the Mini 90 are worth the $200 price tag for most. If you have an intense desire for little analog prints that you can give away, put on your fridge, or just collect in a shoebox though, maybe this camera is right for you. If you're strapped for cash, you could go for an Instax Mini 50s which is under $100 on Amazon. It will produce the same images but lacks all the mode options of the Mini 90. That might be a better bet for what's ultimately a toy.
If you want the true Polaroid experience you could always hit Ebay for one of the classic cameras and order some film from the Impossible Project. The Fujifilm Mini 90 is available for preorder at Amazon now for $200.