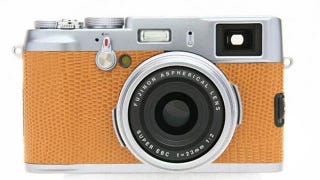 The Fuji X100's old-school, Leica-aping aesthetic drives people bonkers with envy. It shouldn't be possible to make people drool over the camera more than they already do. Then Fuji dressed the X100 with a special edition look.
Fuji is treating its 12.3 megapixel wonder to a leather-covered special edition that's going to make the retro-camera nerds freakout. It's no surprise that the X100 SE bears a striking resemblance to the obscenely expensive Leica Hermes Edition M7 released a few years ago. Resist the immediate impulse to sell your grandmother's jewelry. While it's almost certain the X100 SE won't cost $15,000 like its doppelganger, we probably won't ever see it stateside. Looks like it'll only be available in Asia. Too bad. [Facebook via Wired]
---
You can keep up with Mario Aguilar, the author of this post, on Twitter and Google+.