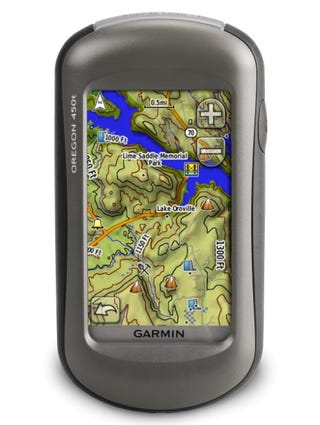 Garmin's 450T GPS is their highest end without an integrated camera, and so, the best discrete outdoor GPS they make. It has a barometer, altimeter, waterproofness, tilt-compensated compass and a receiver sensitive enough for quick fixes in canyons and forests.
The 450 has a 3-inch, 240 x 400 pixel screen, 850MB of internal memory and a MicroSD slot. It works off AAs but with lithium or NiMH cells you can get 16 hours of life. There's a $400 450 model (lacking the t, which is $500) that misses the full payload of North American topographical maps, covering "major trails, urban and rural roads, interstates, highways, coastlines, rivers and lakes as well as national, state and local parks, forests and wilderness areas".
I'm all about cheap, internet enabled smartphone GPS apps for walking and turn by turn, but for the serious outdoorsman who doesn't want to risk ruining or running down batteries in their phone, and wants a full payload of maps for when the internet goes down over the north side of that big mountain, this $500 outdoor GPS seems like the one to have. But man, think about how much smartphone and GPS app $500 buys you these days. You'd have to be really, really serious about the outdoors these days to get a device like this. I'm personally on the fence.
[Business Wire, Garmin Blog, Garmin]
Garmin® Grows in Outdoor Recreation, Adding New Oregon® Handhelds, Garmin Connect™ Compatibility and Free Custom Maps Utility

OLATHE, Kan.—(BUSINESS WIRE)—Garmin International Inc., a unit of Garmin Ltd. (NASDAQ: GRMN), the global leader in satellite navigation, today announced the Oregon 450t and Oregon 450 touchscreen GPS devices, the newest of Garmin's next-generation outdoor handhelds now compatible with the online community at Garmin Connect as well as Garmin's free Custom Maps utility for transferring paper or digital maps onto your compatible handheld.

"More than ever, Garmin offers intuitive touchscreen options for anyone exploring and enjoying the world around them"

"More than ever, Garmin offers intuitive touchscreen options for anyone exploring and enjoying the world around them," said Dan Bartel, Garmin's vice president of worldwide sales. "Oregon 450t and Oregon 450 provide a bridge between the slimmed-down Dakota™ family and the top-of-line Oregon 550t, all of which work seamlessly with Garmin Custom Maps in planning your adventure and Garmin Connect for reliving the experience and sharing the memories."

Responsive to the touch of a finger, yet resistant to the rigors of nature, Oregon 450t and Oregon 450 simplify navigation through a glove-friendly touchscreen interface. This bright 3" color display is easier than ever to read and use in all conditions. Other key upgrades include user-selectable dashboards, enhanced track navigation, high-speed USB for faster map transfers with your computer, photo navigation and the 3-axis tilt-compensated electronic compass, which shows your heading even when you're standing still, without the need to hold it level. The new dashboards give users the ability to customize the appearance of various pages on your Oregon, including the geocaching, compass, stopwatch and elevation functions. For hikers, cyclists and trail runners, the enhanced track navigation will prove especially useful. When navigating to a destination on an active track, users will see the changes in elevation ahead of them as well as where they've been. Also, waypoints and other key locations along the active route – such as start, end and high and low elevation points – now appear on the map and active route pages. The new Oregon units also include a barometric altimeter, paperless geocaching and wireless exchange of tracks, waypoints, routes and geocaches with compatible Oregon, Dakota, Colorado® and Foretrex® devices.

Both units boast a worldwide shaded relief basemap, and Oregon 450t adds preloaded 100K topographic maps for the entire United States and state-of-the-art 3D elevation perspective. Coverage on the 450t includes major trails, urban and rural roads, interstates, highways, coastlines, rivers and lakes as well as national, state and local parks, forests and wilderness areas. In addition, you can search for points of interest by name or proximity to your location and view descriptive details for terrain contours, topo elevations, summits and geographical points.

Customizing maps for your Garmin outdoor handheld – and downloading your activity afterward - were never easier. Through a few simple steps, Garmin's Custom Maps can bring the details, labels and landmarks of your existing paper or electronic map to a compatible Garmin Oregon, Dakota or Colorado. Compatible with both PC and Mac, this free utility complements the myriad of mapping products already offered for Garmin devices, including City Navigator®, NT for turn-by-turn directions on city streets, Blue Chart® g2, for marine charting, and TOPO U.S. 24K and 100K map software for incredible terrain detail (each sold separately). The power of Custom Maps is exemplified through paper and digital maps labeled for specific events and purposes, such as a college graduation invitation that lists campus buildings; a roadmap of a parade, marathon, 5K or bike race; a park pamphlet showing trailheads; land-management maps of wildlife and game areas; or a historic illustration of an area as it once stood. To walk through the steps, to find and share maps and to join discussions about Garmin Custom Maps, visit www.garmin.com/CustomMaps.

Experiences will live on long after the activity has ended, thanks to Garmin Connect's newly announced compatibility with Garmin outdoor handhelds, adding an expansive new product line to the free-to-join online community of more than 17 million activities – with more than 38,000 new activities per day – for sharing, storing, analyzing and enjoying. Outdoor and fitness enthusiasts alike can share activities on Facebook and Twitter, export to Google Earth or relive the activity in table view, calendar view or on a variety of maps including our new embedded Google Earth view.