Though Garmin-Asus' Nuvifone M20 may soon steal the spotlight, the original phone—now called G60—will still be first to market. Here are its final specs, and a new screenshot gallery of the Garmin-designed interface.
Deadly Mississippi Tornado Kills More Than 2 Dozen | Extreme Earth
• 3.5" touchscreen display
• HSDPA 3G plus Bluetooth and wi-fi
• Built-in accelerometer
• Pre-loaded maps of your region (so North America or Europe or wherever)
• 3-megapixel geo-tagging camera
• Ciao! location-based social tool
Here are shots of the G60's Linux-based interface:

G/O Media may get a commission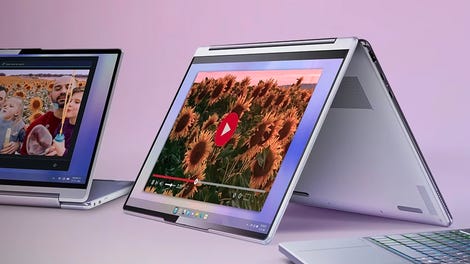 up to 70% off
Lenovo Spring Clearance
The newly announced Garmin-Asus has yet to solidify its carrier deal, but the promise is still "first half of 2009." We're looking forward to checking it out in Barcelona next week.
Garmin-Asus nüvifone™ Product Line on Display at Mobile World Congress
Garmin-Asus announce nüvifone G60 specifications

BARCELONA, Spain/February 12, 2009/Business Wire - Garmin-Asus, a co-branded alliance between Garmin® Ltd. (NASDAQ: GRMN) and ASUSTeK Computer Inc. (TAIEX: 2357), will feature the Garmin-Asus nüvifone product line at its co-branded exhibit at GSMA Mobile World Congress in Barcelona, Spain, February 16-19, 2009 (Hall 7, #7C37). The Garmin-Asus nüvifone product line currently includes the newly announced nüvifone M20 and nüvifone G60.

The Garmin-Asus nüvifone product line represents a significant step forward in location based service (LBS) technology and offers a superior and innovative value proposition for those seeking an all-in-one, LBS-centric phone, mobile web-browser and personal navigator. Although every Garmin-Asus nüvifone has LBS at its core, each device has unique characteristics because they're designed for specific audiences. The nüvifone G60 is designed for the active on-the-go user who wants an easy-to-use device and appreciates the peace of mind that comes from a device that answers common questions like "Where am I?", "Where am I going?" and "How do I get home?"

The quad-band GSM nüvifone G60 with 3.5G was designed for high speed downlink packet access (HSDPA) networks and supports Wi-Fi for fast data connections. When used on a HSDPA network, the nüvifone G60 has the ability to download files at a fast transfer speed that makes internet searches and downloading large files a breeze.

The nüvifone G60 has a large 3.55-inch display that features three primary icons – "Call," "Search," and "View Map." Secondary icons appear on the side of the home screen and can be organized by the user's preference. Customers can easily scroll through the icons by swiping their finger across the large touchscreen display, and a built-in accelerometer allows every screen to be viewed in either portrait or landscape orientation.

The nüvifone G60 was developed with an LBS-centric design philosophy. Location information is added to everyday applications including email, SMS, photo sharing, social networking and more in order to enhance applications and share location information with others.

Navigation is at the heart of the nüvifone G60. The nüvifone G60's sat nav operates like a Garmin nüvi® with preloaded maps of North America or Eastern and Western Europe, and has millions of points of interest (POIs) including hotels, restaurants and street addresses. The POIs can be easily accessed for turn-by-turn voice prompted directions. If a turn is missed along the route, the nüvifone G60 automatically recalculates a route and gets the user back on track. In addition, the nüvifone includes quick access to online points of interest through internet enabled local search. The nüvifone harnesses the power of the worldwide web and information about local merchants and attractions is continually updated.

Users can also supplement the POI data with LBS-centric applications from Connected Services, a suite of online applications and dynamic relevant data from Garmin-Asus that adds location intelligence to navigation, phone and browser functions. The expandable list of applications and content includes real-time traffic information, White Pages, weather, flight status, local events, and movie times.

The nüvifone product line also includes Ciao!™, a ground-breaking LBS application that helps users stay up to date on their friends' whereabouts and status by linking numerous location-centric social networks. Through Ciao!, nüvifone users will see their friends' location on a map and then be able to navigate to that location with ease. Nüvifone users can also choose to have the nüvifone automatically update their social network location information.

The nüvifone G60 features an advanced mobile HTML web browser. Users can surf the web on their phone via Wi-Fi or 3G networks, and the information is presented similar to a PC browser. The nüvifone G60 supports POP3 and IMAP4 email such as Yahoo, Hotmail and Gmail. The touchscreen soft keyboard is customizable to QWERTY or A to Z, making it easy to send and receive messages. The nüvifone G60 also includes predictive text to help prevent typing errors.

The LBS-centric nature of the nüvifone G60 shines through when using the three megapixel camera with auto-focus. The camera automatically geotags images with an exact latitude and longitude reference of where the image was taken. The user may then save the image so they can navigate back to the location, or email the geo-tagged image to others. The nüvifone also provides direct access to millions of geo-located landmark and sightseeing photographs available through Google's Panoramio picture sharing site. The Panoramio photos are searchable and are sorted by the distance from the current location.

Although cell phones have long been considered an important device for safety, the nüvifone G60 takes it one step further by allowing individuals to place calls and identify their exact GPS location while making a phone call. With one touch of the screen during a phone call, the "Where am I?" features tells users their exact latitude and longitude coordinates, nearest address, intersection, hospital, police station and gas station. And to help drivers find their car in an unfamiliar spot or crowded parking lot, the nüvifone G60 automatically marks the position in which it was last removed from the windshield mount.

Garmin-Asus expects to announce the nüvifone G60's pricing and availability in the first half of 2009. Journalists should contact Garmin-Asus media representatives to arrange product demonstrations or interviews. Additional information about the nüvifone product line is available at www.GarminAsus.com.