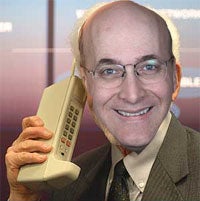 When the Pittsburgh Post-Gazette needed an expert to tell them why music phones like the recent Verizon Chocolate phone have run into some choppy waters, there was only one man to call: our Charlie White.
But these phones all come with some "unwelcome surprises." Besides the cost of music downloads, they often require special headphones (run-of-the-mill headphones won't fit in many cell phones) and extra memory cards for holding music files.

Those kind of "gotchas" point to growth pains for mobile phone companies, said Charlie White, associate editor of Gizmodo, a tech and gadget blog.

"There's still kind of a problem with the cell phone companies. They want to make some money from selling music. ... There's a little bit of an awkwardness there," White said yesterday from Milwaukee.
More schooling to be had on the Post-Gazette's site.
Musical phones tagged with extra expenses [Post-Gazette]