Google had a big 2015: It changed its logo, divvied up its business into startups like Sidewalk, Calico, X, Fiber, and consolidated all those companies into one brand named Alphabet. Now Alphabet is very, very close to being named the world's most valuable company—yes, more valuable than Apple.
Who Should Be the New Doctor Doom? io9 Picks
The suite of companies that now form Google's overarching powerbrand has been doing very well, and was valued today at over $500 billion, nearly closing the gap with its Silicon Valley rival Apple. Meanwhile, Apple has not been doing as hot. Humans simply are not buying phones like they used to, which could destroy Apple, since the company relies on iPhone sales for more than half of its revenue.
Meanwhile, what does Alphabet have going for it? Well, Google (and I meant the original Google) is still the king of advertising, of course, even when it masquerades as an "urban think tank," and Alphabet's offerings are heralding a new age of autonomous vehicles, secret robots, and scary-fast internet. 2016 will be another great year for Alphabet. It might not be that good for Apple at all.
If this indeed happens, and Google ends up ascending to the top spot in all the land, you'll want to familiarize yourself with the new ruler of Earth, Larry Page. In a sprawling New York Times profile (for which Page himself refused to comment), the co-founder and CEO is portrayed as a chill dude who mixes it up with non-billionaires:
Larry Page is not a typical chief executive, and in many of the most visible ways, he is not a C.E.O. at all. Corporate leaders tend to spend a good deal of time talking at investor conferences or introducing new products on auditorium stages. Mr. Page, who is 42, has not been on an earnings call since 2013, and the best way to find him at Google I/O — an annual gathering where the company unveils new products — is to ignore the main stage and follow the scrum of fans and autograph seekers who mob him in the moments he steps outside closed doors.
G/O Media may get a commission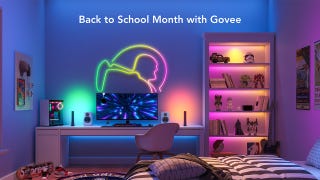 Back to School
Back to School Month with Govee Sale
Just a regular guy running the most valuable company ever.
Also I guess that $1 billion Google gave to Apple to stay on its phones was a pretty smart investment after all.
[NYT]
Google co-founders Larry Page (bottom) and Sergey Brin in 2004. AP Photo/Ben Margot