Google I/O, the company's mammoth annual developer hoopla, goes down this week. Here's what you can expect to learn and see from Google during the three-hour keynote extravaganza in just a few hours. (Updated)
Not Much New Hardware?
While last year's I/O was a parade of Nexus devices, Chrome/Android chief Sundar Pichai told Wired that this year's conference will focus more on what the Chrome and Android ecosystems are good for than on introducing radical new products.
Given that this year's chatter has been pretty light (so far) it's possible we won't get any new blockbusters on that scale; at most, we might see a zippier Nexus 7 (more on that later). Still, downplay as Pichai might, it's hard to imagine Google spending three hours with the tech world's rapt attention and not introducing something shiny to play with.
---
No Chrome-Android hybrid (yet)
G/O Media may get a commission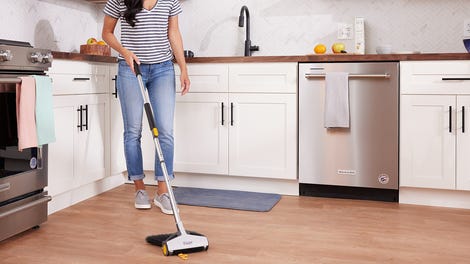 BOGO 50% Off
Flippr - BOGO 50% Off
When Google put the head of Chrome in charge of Android as well, it seemed apparent that the company was planning to merge the two operating systems at some point down the road. We're not there yet, though. In the aforementioned Wired interview, Pichai basically evaded the question, saying it's not going to happen—or at least not yet.
What you can expect to see, though, is the platforms starting to inch towards a more integrated ecosystem. Indeed, Google's competitors are on their way already: Microsoft effectively created a combination desktop and mobile OS with Windows 8. Similarly, Apple appears to be moving in that direction with the latest releases of OS X and iOS.
---
A healthy slice of Key Lime Pie
The star of this year's I/O will unquestionably be improvements to Android, although that could be everything from an incremental update to a version overhaul. Some say it will be called version 4.3 while others say it will be called version 5.0. The former would be a new iteration of last year's Jelly Bean, while the latter would be a jump ahead to the next letter in the Android alphabet: Key Lime Pie.
It would break with tradition if Google didn't give us a totally new version at I/O, but given that we haven't heard too much about a full renovation, a Jelly Bean bump and a Key Lime Pie both seem likely. Again, though, if you've got three hours to kill, you might as well fill it a major announcement and not just tiny updates.
Image by Dustin Dennis/Shutterstock
---
A Redesigned Google Maps
This Morning, a sign-up page for a redesigned Google Maps reportedly went live but was taken down.
The rumored new features for Google Maps include Google Now-like intelligence that serves you the information you want to know. There are also rumors that Google will integrate Google Earth directly into Google Maps, which would be very handy indeed.
We didn't mention Maps in our original round-up, but it makes a lot of sense that Google would introduce some visible upgrades to the beloved service because, well, it's beloved. It's got the maps edge over everyone. Fingers crossed.
---
Google Play Games
You know what people like to do on their phones? Temple Run! Angry Birds! Well, after nabbing a new Chief Game Designer for Google Play, all signs seem to indicate that Google is about to launch its own Game Center-like focal point for gaming apps. Makes sense!
The evidence? Android Police dove into the code on Google Play Services v3.1.36 that's supposedly rolling out to phones, and discovered that this latest version contains a new "Play Games" with architecture for matchmaking and achievements, much like its iOS counterpart. All of the phones we have on hand are still running v3.0.27 so we can't confirm this for sure, but the evidence looks solid.
---
A tower of Babel
Rumors about a unified hub for all of Google's various chat services have been circulating for a while now, with some saying that the originally reported "Babel" code name will be ditched for the Hangouts name Google has been using for its group video chat since the launch of Google+ in 2011. Either way, expect to see a major unified chat experience—which if executed properly could end up being the most important announcement of all.
---
A Google streaming music subscription service
If the mounting rumors over the last few months are true, Google has been plotting some kind of music subscription service along the lines of Spotify of Pandora. This service would be an addition to Google Music storage locker and store that has been around since late 2011. The service seems like an obvious move, and if Google has the rights locked up, there's no reason not to launch it at I/O.
The service could come in a couple of different flavors. Some suggest that the subscription will come as either part of Google Music or YouTube. The former would make sense because, uh, Google Music already exists. Meanwhile, YouTube just launched subscription channels, and at least one report seems to think that the music subscription could be YouTube branded.
---
What's next for Glass
Does Google even have a project that's more devy than Google Glass right now? Last year at I/O Google tossed a bunch of people wearing glass out an airplane and showed-off their X-Games potential. The company also announced Glass Explorers program, which is just now starting to bear fruit. We'll definitely be seeing some announcements and news on this front—we're just not entirely sure what's coming.
---
A new Nexus 7 tablet is possible
At last year's I/O, Google introduced the Asus-built Nexus 7 tablet, which remains to this date the best Android tablet you can buy. It would make sense for Google to introduce a follow-up this year, right? Well, at least one analyst thinks so, and has been hyping an Asus follow-up to the Nexus 7, which he says will be powered by a burly Snapdragon 800 processor and will come all dressed up with a glorious 1080p display.
Sounds so exciting that it could be too good to be true so we'll file this one under wait-and-see. Analyst reports tend not to mean much more than "analyst pipe dream."
---
Google TV or media streamer (but not the cursed Nexus Q)
Over the last few years, Google TV has evolved from a joke into a half-decent platform. Unfortunately, hardware manufacturers have failed to implement it as either a set-top-box or a native OS inside a TV. Or at least, have failed to implement it well. At this point, Google needs to deliver some hardware of its own, or provide some promising features that will tempt OEMs to take another flier on its TV product.
Last year, Google took its first crack at creating a media streamer of its own, and the resulting Nexus Q was such a disaster in its very conception that Google yanked it before it even finished shipping pre-orders. Google maintains it wants to ship the product, but All Things D says we won't hear about the ill-fated orb this week.
---
No new phone, but maybe some special editions
The Nexus 4 is so wonderful in large measure because it runs that hot hot stock Android amazingness. But there are downsides to the hardware. For example, it doesn't have LTE and the camera is garbage. Well, it would be great to get a new phone, but we haven't heard any reliable rumors save a highly dubious murmur about a white version of what already exists. Does that video above look right to you?
As for other existing Android hardware, there's an ultra-thin rumor about a Samsung Galaxy S4 "Google Edition" that will run stock Android instead of Samsung's TouchWiz skin. That sounds like wishful thinking—and we do wish it!—so if it doesn't happen, take it up with Geek.com.
Google-owned Motorola has been working on an X device, as well, but there's no indication that it will launch at I/O. Given how much Google has kept Moto at arm's length on the hardware side since the acquisition, it seems reasonable to expect that it'll keep for another day.
Fortunately the Galaxy S4 and HTC One have proven that there's plenty of Android hardware innovation to be had outside of Google itself.
Anything we missed? Anything you especially want/don't want to see? Let us know in the discussion below.