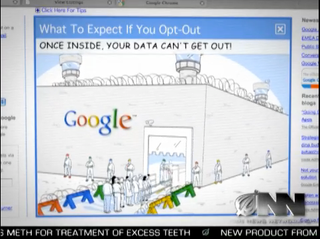 Today's Onion News Network video attacks Google's scary-if-you-think-about-it access to all our browsing habits and personal data. If you want privacy, no problem: Just relocate to a giant boxlike mountain prison, and you'll be secure (and dead). Zing!

Google Opt Out Feature Lets Users Protect Privacy By Moving To Remote Village
Like all the best Onion pieces, this video takes the bizarre and scary concepts we ignore despite being right in front of our faces, and spells them out in blunt, hilarious language. As the "Google Exec" says, "If you don't want to give us complete access to your most private thoughts and feelings, that's fine! You can just toil on the hinterlands, and die young."
But my favorite part has to be the consistent juxtaposition of Google's bright happy basic colors on all the terrifying privacy guards and equipment. On the other hand, even if this horrible airless prison was real, I'd probably still get excited about the next Android phone. You win, Google. You win everything, ever. [The Onion]